No, Billie Eilish Does Not Have a 'Turning Red' Character
Billie Eilish and FINNEAS wrote original music for Disney and Pixar's 'Turning Red.' Even though FINNEAS has a minor character, Eilish does not appear in the animated film.
The 2021 release, Turning Red, includes a fictional boy band, 4*Town, and original songs created by sibling duo FINNEAS and Billie Eilish. Although FINNEAS has his character in this Disney and Pixar animated film, Eilish does not appear in cartoon form. 
Billie Eilish and FINNEAS wrote some of the music for Disney and Pixar's 'Turning Red'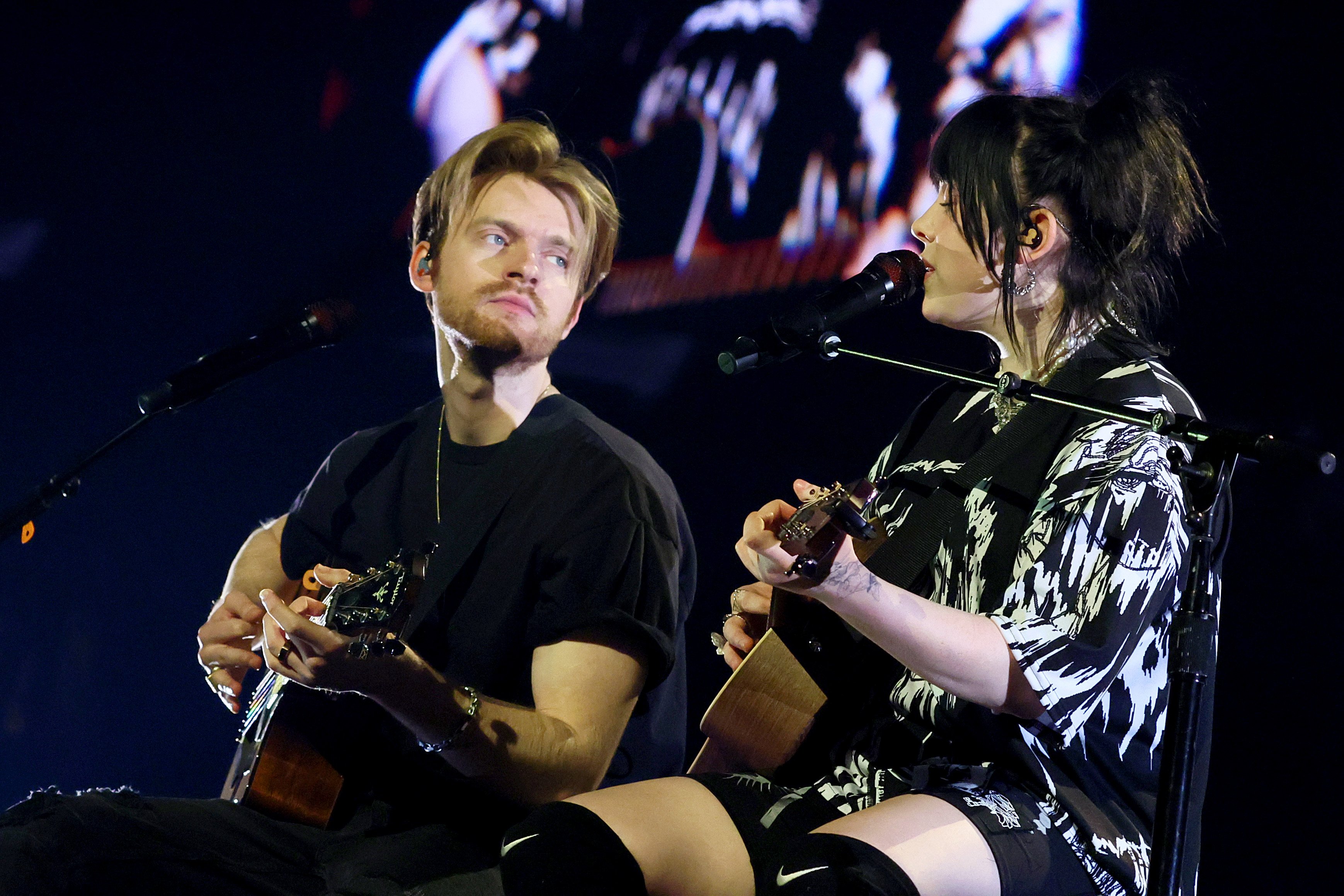 Hot off the heels of films Luca and Soul, Disney and Pixar released Turning Red. This production tells the story of Mei Lee, a teenager who turns into a giant red panda whenever she's excited. With such a big family secret, Mei Lee navigates school, friendships, and even concerts. 
One thing that connects this character to her friends is their shared love for the fictional boy band 4*Town. This group performs actual songs co-written by Eilish and her brother FINNEAS. That includes their "hit song," "Nobody Like U."
Eilish said that she "loved the film," adding that writing the 4*Town songs "has literally been the most fun [the sibling duo] had writing."
"We wrote three songs," Eilish said during a Pixar official featurette. "One that's the confidence booster. One that's more of a love ballad and then one that is the hit song that everyone knows." 
Is Billie Eilish in Disney and Pixar's 'Turning Red'?
Although she worked on the music for Turning Red with her brother, Eilish does not appear in this animated film. Still, Eilish is a fan of the overarching message of this film, especially the connection Mei and her friends have because of this band.
"Mei and her friends' passion for 4*Town — it really resonated with me just because I was the same," Eilish added. "It's so accurate to how it feels when you're that kind of fan."
Even though Eilish is not included in this production, her brother FINNEAS appears as one of the boy band members. That's Jesse, while other singers stars in this production as 4*Town performers — Jordan Fisher as Robaire, Topher Ngo as Aaron T., Grayson Villanueva as Tae Young, and Josh Levi as Aaron Z.
Billie Eilish got her own animated character for 'Happier than Ever: A Love Letter to Los Angeles'
Turning Red wouldn't be the first time Eilish partnered with Disney and their streaming platform. In 2021, this artist released her live concert film Happier than Ever: A Love Letter to Los Angeles exclusively on Disney+. 
There, she appeared on stage and in cartoon form, telling the story of her recently released album, Happier Than Ever. FINNEAS also starred in Happier than Ever: A Love Letter to Los Angeles, accompanying his sister. 
As a Disney+ exclusive production, Turning Red became available for streaming beginning on March 11. The Disney and Pixar film was initially slated for a theatrical release, with Disney then making the movie available to all subscribers.