Billie Eilish, What Is the Singer's Natural Hair Color?
One way Billie Eilish stood out is for her style of music and personal style. She has been switching things up since her debut and that includes her hair color. But what is her natural hair color? This is what her hair used to look like before she became famous and why she decided to keep one of her latest hair colors.
Why is Billie Eilish's hair green?
RELATED: Billie Eilish Is Thankful For Quarantine For This Reason
The singer started rocking black and green hair in July 2019. Some fans started getting tired of it to the point where one told her on Instagram it would be "nice" if she changed it to black.
Eilish responded by explaining the meaning behind keeping the green hair in 2020. She replied with "it's called not being depressed anymore pls [sic] just be happy for me," according to BuzzFeed.
She added, "this is the longest I've had the same hair color since I was 13 & that's on mental stability and growth leave me alone lsjdkksjdjs [sic]." The singer later claimed she would change her hair after her Apple TV+ documentary, The World's A Little Blurry is released.
What is Billie Eilish's natural hair color?
RELATED: Billie Eilish Said She Felt the 'Most Vulnerable' the Week After She Won Her Grammy Awards
The singer might have dyed her hair many colors before. But her natural hair color is blonde. She has shared throwback pictures of herself on social media showing this.
She went on to become famous in 2016 with "Ocean Eyes." The music video shows her having light hair that looks purple with the lighting.
The singer hasn't been afraid to rock lighter colors that are closer to her natural hair after that. She's had platinum blonde hair and even gray hair at one point.
Her decision to dye her hair hasn't been the only style choice that she has explained. Eilish also revealed why she wore a specific type of clothing.
She explained why she wore baggy clothes for a long time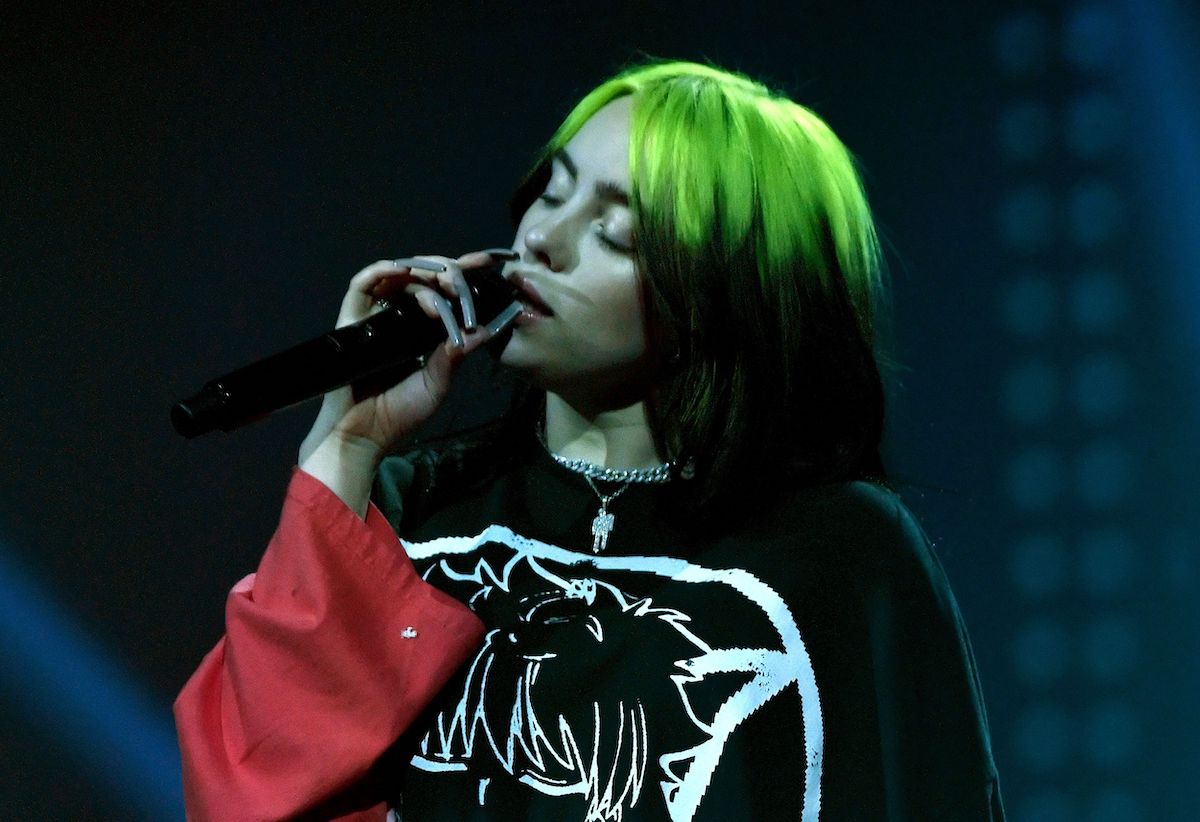 RELATED: Billie Eilish Calls Out Body Shamers: 'This Is How I Look'
Eilish's unique style also included baggy clothes like hoodies and loose pants. She later revealed the real reason for her look was to avoid comments on her body and being sexualized.
"That's why I wear baggy clothes," she said as part of Calvin Klein's campaign, according to Seventeen. "Nobody can have an opinion because they haven't seen what's underneath."
She continued, "Nobody can be like, 'she's slim-thick,' 'she's not slim-thick,' 'she's got a flat a**,' 'she's got a fat a**.' No one can say any of that because they don't know."
It looks like Eilish's style is partially a reflection of her mental health and wanting to protect herself. In the end, she has stood out for having a more unique style.