Billie Eilish Won the Video For Good Award for Her Song 'Your Power'
At age 19, Billie Eilish has already won several awards for her music and videos. At the 2021 VMAs, Eilish took home the award for Video For Good. Here's why the award was so meaningful to her and what she said in her acceptance speech.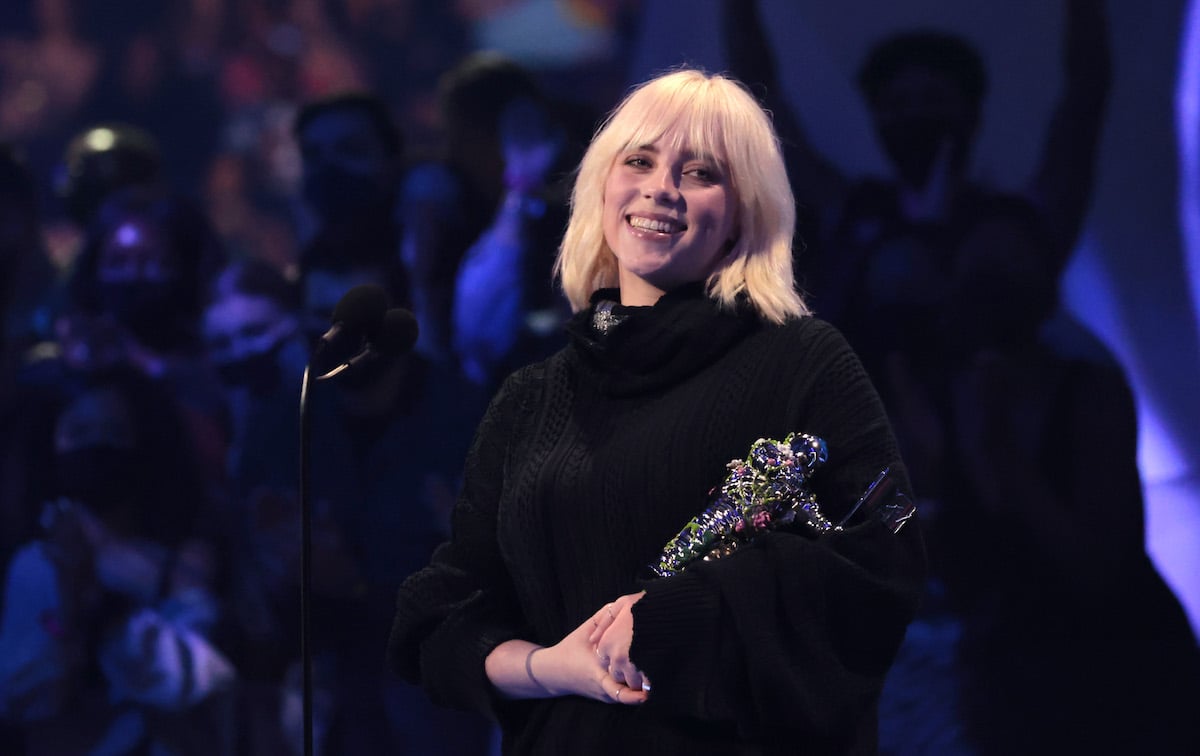 Billie Eilish already has several Video Music Awards
Eilish received a whopping 10 nominations for VMAs in 2019, her breakout year when she released her first full-length album, When We All Fall Asleep, Where Do We Go? Of those 10 nominations, Eilish took home three awards that year, including the award for Best New Artist. 
In 2020, Eilish received six nominations, including one for Video For Good for her song, "All The Good Girls Go To Hell." The song features lyrics about climate change, and the accompanying video depicts a winged Eilish plummeting from the sky and struggling to emerge from a pit of an oily substance. She did not win any VMAs that year.
Her video for the song 'Your Power' won the Video For Good Award
Eilish received six nominations again this year, and she won two awards. The first was for Best Latin for her song with Rosalía, "Lo Vas A Olvidar."
The second award Eilish won was the Video For Good award for her song, "Your Power." When you listen to her Happier Than Ever album on Spotify in Billie Mode, there are notes from Eilish about each song. The notes for "Your Power" say, "This song is very personal. It's about a lot of different experiences. I hope that all young women who have been taken advantage of feel heard."
The video slowly zooms in on Eilish, who is sitting on a mountain. As she sings, soulfully staring into the camera, a large snake winds its way around her body and neck. Eilish has prided herself in using real props instead of CGI effects in her music videos, and she genuinely interacted with the snake in this video.
The song lyrics seem to remind an older man not to take advantage of a young girl. Eilish reprimands the man and dismisses his excuses with lines like, "You swear you didn't know; you said you thought she was your age; how dare you? And how could you?"
Eilish told Rolling Stone that she hopes her latest album has a specific impact. "I hope people break up with their boyfriends because of it," she said. "And I hope they don't get taken advantage of."
RELATED: Singer Diamond White Walks Back Accusation of Billie Eilish Stealing 'Ocean Eyes'
Billie Eilish urged the audience to 'protect young women'
Avril Lavigne, whom Eilish has been a fan of for years and credits with influencing her music, presented the award for "Your Power." The two stars embraced on stage, and Eilish thanked Lavigne in her acceptance speech.
She also mentioned how difficult and important it was to her to write "Your Power." "You know, if I was gonna say anything about this song, I feel like I have… was trying to write this song for a really long time. And then I feel like I finally did, and it was so satisfying, and freeing, and also really f—ing sad. And I just wanna say that we need to protect our young women at all costs. For real. And we also need to remember that we all have power, and we have to remember to not abuse it. Thank you."
How to get help: If you or someone you know has been sexually abused, text HOME to the Crisis Text Line at 741741 for free and confidential support.