Billie Eilish Wore This Designer to the 2021 Met Gala on One Condition
Although she is still just 19-years-old, Billie Eilish understands the importance of reinventing yourself as an artist. Her looks have always garnered attention, whether she's rocking striking lime green hair, oversized monochrome ensembles, or elaborately decorated fingernails. 
Eilish made jaws drop again at the 2021 Met Gala. Her attire was awe-inspiring not only for its appearance but also for its significance.
Eilish used the Met Gala as an opportunity to make an important change in the fashion world that is very dear to her heart. Here's everything you need to know about her gown and what it means for the future of the fashion industry.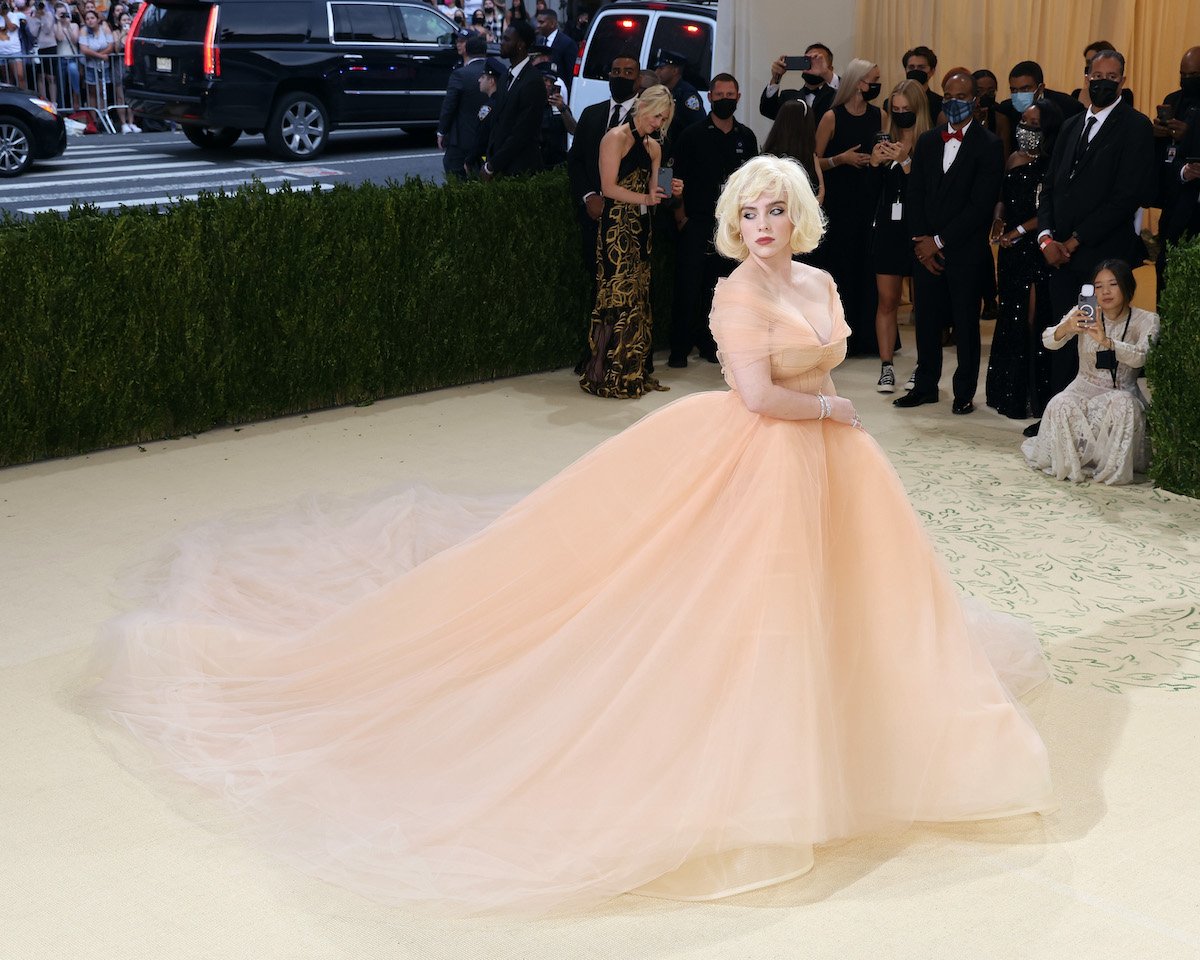 Billie Eilish looked stunning in an Oscar de la Renta gown
A ball gown might be the last thing her fans expected Eilish to wear to the Met Gala, which is exactly why it made such an impact.
She wore a nude tulle dress with a 15-foot train by Oscar de la Renta, and according to Fernando Garcia, one of the creative directors for the label (per The New York Times), "she was very interested in surprising everybody with a look she hasn't done before."
While many celebrities would be comfortable in such a dress, Eilish is known for hiding her feminine figure under baggy clothing. She usually opts for pants, sneakers, and hoodies instead of dresses and high heels. 
"It felt like a risk for her – it felt like something that made her nervous in a good way," said Garcia. "At the end of the day, she's a girl, and she wants to look pretty."
Eilish has seemingly been experimenting with her look lately. She switched her dark hair with lime green roots to a shimmering platinum blonde before the release of her sophomore album, Happier Than Ever. She also posed in a corset on the cover of British Vogue in June 2021, a huge departure from her typical oversized, androgynous style.
But for her Met Gala debut, Eilish wanted a traditionally feminine aesthetic. She gave Oscar de la Renta reference images of Grace Kelly and Marilyn Monroe during the design process.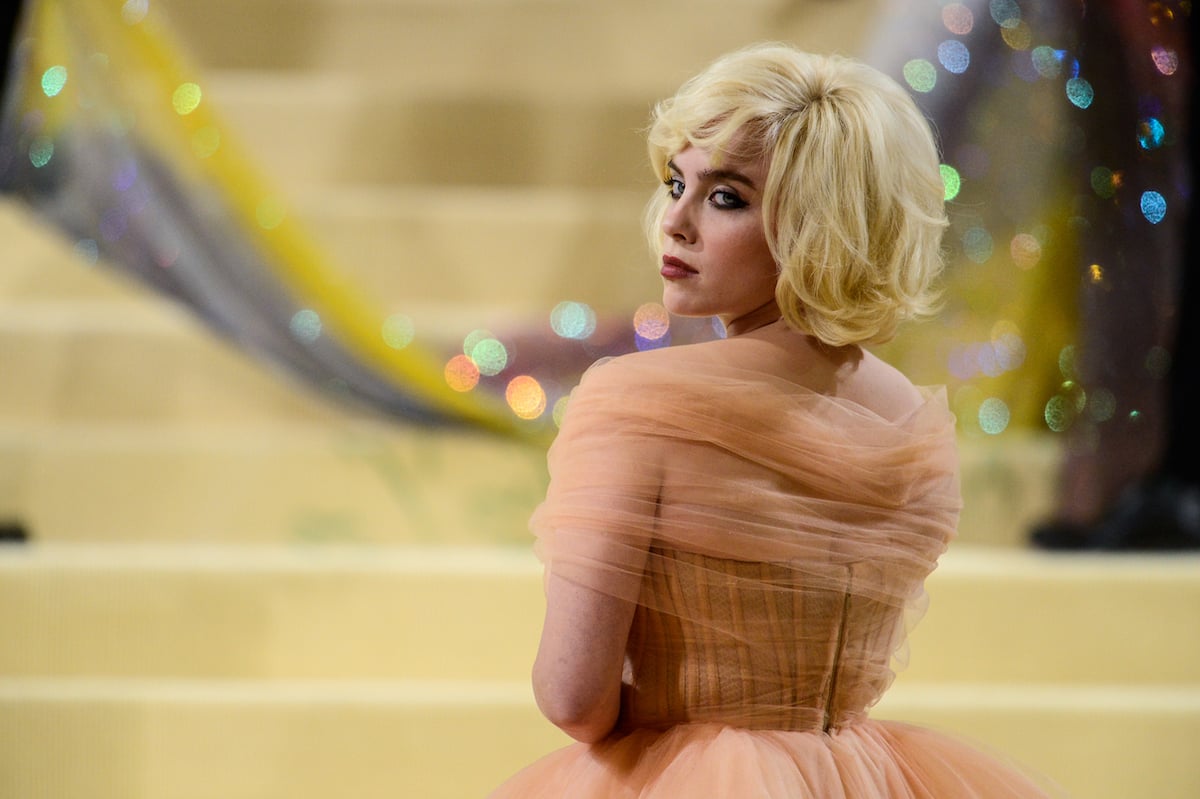 She wore the dress on one condition: 'no more fur'
Billie Eilish might be the only Met Gala guest in history to request a policy change from a designer in exchange for wearing its dress to the elite fashion event.
Thanks to Eilish, Oscar de la Renta will no longer sell or create garments out of fur. Eilish is known for being a vegan and an animal rights activist.
This isn't the first time that Alex Bolen, the chief executive of Oscar de la Renta, has heard pleas to stop using fur. Even his wife, Eliza, who is also an executive at the company, urged him to stop the practice.
But when Eilish's team told him that the pop star doesn't work with brands in the fur business, Bolen decided it was time to make the change.
In a statement to The New York Times, Eilish said that it was "shocking that wearing fur isn't completely outlawed at this point in 2021," and that she is "honored to have been a catalyst and to have been heard on this matter."
RELATED: Billie Eilish Talks Confidence and Body Image: 'I Have to Disassociate From the Ideas I Have of My Body'
Billie Eilish urged other designers to do the same in a heartfelt social media post
On Sept. 13, the day of the event, Eilish posted photos showcasing the beautiful gown on Instagram. She captioned the pictures with a post about the changes the company agreed to make regarding the use of fur in their apparel.
"thank you @oscardelarenta for designing this BEAUTIFUL dress and bringing my ideas and vision to life. it was an honor to wear this dress knowing that going forward oscar de la renta will be completely fur-free!!!!"
The unconventional pop star continued to thank the designers she worked with. "i am beyond thrilled that @fernandogarciam1205 and @tokibunbun and the entire team heard me on this issue, and have now made a change that makes an impact for the greater good, not only for animals but also for our planet and environment too."
Eilish then urged other designers to follow Oscar de la Renta's lead and change their ethical policies, too. "i'm honored to have been a catalyst and to have been heard on this matter. i urge all designers to do the same."