Billy Eichner Appeared In 1 'Unbreakable Kimmy Schmidt' Episode for a Mini-'Billy on the Street' Segment
Unbreakable Kimmy Schmidt starred Ellie Kemper as the main character. It also had appearances from Jon Hamm, Tina Fey, and, for a brief moment, the actor from Disney's live-action The Lion King, Billy Eichner. 
Unfortunately, this actor was attacked by Kimmy Schmidt after he unexpectedly ran into her on the streets of New York City. Here's what we know about this Netflix comedy series and the episode that features Eichner.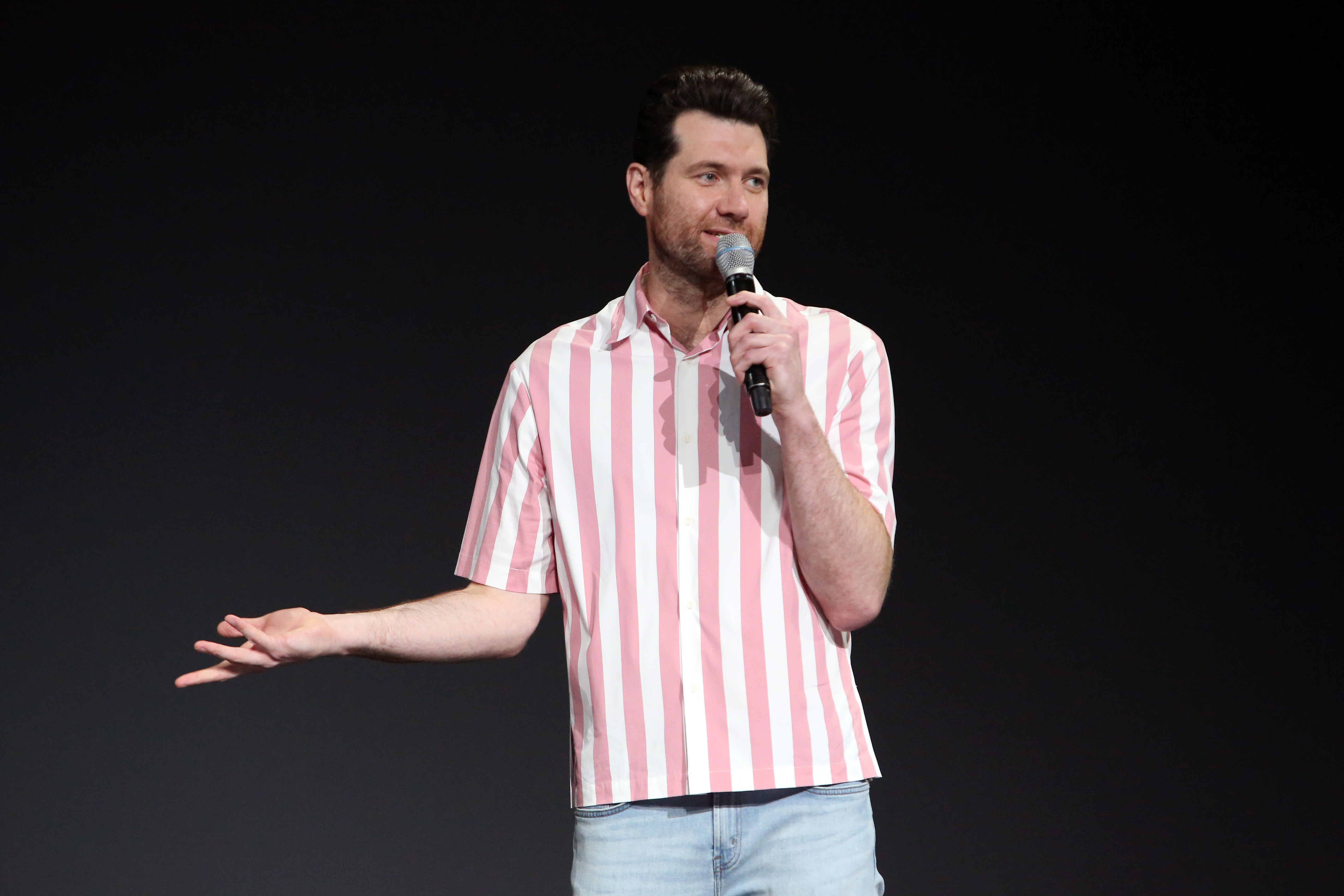 Netflix released their New York City-based original comedy series, 'Unbreakable Kimmy Schmidt'
After surviving life in the bunker with a crazy Reverend, Kimmy Schmidt proved how tough she is. However, she was still dealing with plenty of trauma while navigating her New York City life in Unbreakable Kimmy Schmidt.
This show included plenty of celebrity cameos, including one from actor and comedian Eichner. He portrayed himself, hosting a new episode of the comedy series Billy on the Street (also available on the streaming platform Netflix.)
'Billy on a Street' made a cameo in the Netflix original series, 'Unbreakable Kimmy Schmidt'
The series Billy on the Street is known for its impromptu interviews of New Yorkers, some more reluctant than others. Sometimes the host was accompanied by celebrities, including Chris Evans, the Jonas Brothers, and Mariah Carey. Other times, Eichner asked questions of regular people, sometimes gifting them a dollar as a result. 
As a series set in New York City, it was only a matter of time before Kimmy Schmidt ran into Eichner, filming an episode of his series. That was during the "Kimmy Meets a Drunk Lady" episode of Unbreakable Kimmy Schmidt.
"Miss, for a dollar, is Cate Blanchett good, or is she just tall," Eichner asked Kimmy Schmidt. Because she doesn't like being approached by strange men, Kimmy attacked this celebrity, leaving Eichner to shout, "what are you?"
This wouldn't be the only reference to life in New York, as Lillian Dolomite Kaushtupper shared her love for Pizza Rat and Titus Andromedon dreamed of performing with Disney's The Lion King on Broadway. 
'Unbreakable Kimmy Schmidt' featured several celebrity appearances
Eichner wouldn't be the only celebrity who made a cameo on Netflix's original comedy series. Maya Rudolph of Saturday Night Live portrayed the Grammy Award-winning singer Dionne Warwick, who Titus allegedly ate while fleeing a cruise ship. (Of course, he didn't eat Miss Warwick, but he did poison her.) 
Daveed Diggs, who starred in the original cast of Broadway's Hamilton, portrayed Kimmy Schmidt's crush and classmate. For several episodes, Amy Sedaris starred as the somewhat insane but always available Mimi Kanassis.
Some of these characters returned for the interactive special, Unbreakable Kimmy Schmidt: Kimmy vs. the Reverend, which debuted on the subscription service in 2020. Episodes of Unbreakable Kimmy Schmidt are available for streaming exclusively on the subscription service Netflix.