What is Fashion Icon Billy Porter's Net Worth in 2019?
Tony Award-winner Billy Porter has made headlines for his gender non-conforming outfits, and his powerful performance as Pray Tell in Pose. By also winning a Grammy for Best Musical Theater Album in 2014, Porter is halfway to an EGOT. What is Billy Porter's net worth?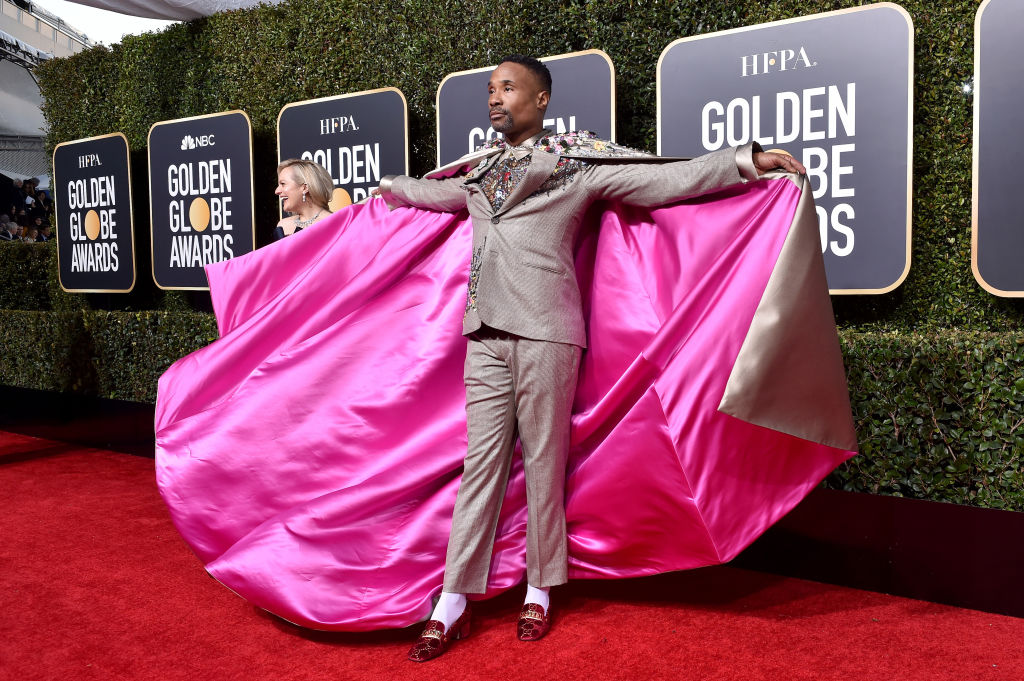 What is Billy Porter's background and is he married?

Billy Porter was born September 21, in 1969 in Pittsburgh, Pennsylvania. From 1985 to 1987, he spent his summers with entertainment group "Flash." They performed every day in a park in West Mifflin, Pennsylvania. He also graduated from the Pittsburgh Creative and Performing Arts School in 1987.
Porter then went to Carnegie Mellon University's College of Fine Arts. He graduated with a Bachelor of Fine Arts in Drama. Additionally, he received a certification from UCLA's graduate-level Professional Program in Screenwriting.

Porter proposed to his boyfriend, Adam Smith, in December 2016. The two married in Porter's friend's apartment a month later. He also has a sister, Mary Martha Ford, and they are still very close.

Billy Porter's successful entertainment career

Porter initially got his start on Broadway, starring in shows including Jesus Christ Superstar, Kinky Boots. He also wrote and starred in one-person autobiographical show, Ghetto Superstar (The Man That I Am). He was very active in the Broadway scene until 2017, when he reprised his character in Kinky Boots "Lola" for a 15-week run. Porter also had a short-lived music career where he released a total of four albums.

In 2018, Porter starred in the first season of FX drama television series, Pose, as Pray Tell. FX has renewed the groundbreaking show for another season, and Porter will return as Tell. He also played Behold Chablis in anthology horror television show American Horror Story.

He won the 2013 Drama Desk Award for Outstanding Actor in a Musical and a 2013 Tony Award for Best Actor in a Musical. Porter also won the 2014 Grammy Award for Best Musical Theater Album and has received a Golden Globe Award nomination for his work in Pose.

Billy Porter's fashion statements

Because Porter is on Pose, he gets invited to several red carpets and wants to make statements with his clothes. Porter wore a Randi Rahm-designed tuxedo, complete with a pink cape, to the 2019 Golden Globes. He realized the impact his clothing can have and aims to be "a walking piece of political art."

Billy Porter arrived at the 2019 Oscars wearing a Christian Siriano-designed tuxedo gown. His outfit made headlines, and he called himself "Cinder-Fella." Even though Porter does not dress in drag, he says wearing heels makes him "feel the most masculine" he's ever felt. He wants "gender-fluid sensibility with clothes" and has a difficult time finding designers to lend him both men's and women's looks.

What is Billy Porter's net worth?

Porter is also a vocal coach and has achieved ultimate Broadway success. He has also dropped four albums and stars in several television shows and movies. Billy Porter's net worth is an estimated $4 million.
Watch Pose Sundays at 9 P.M. on FX!