What is Billy Ray Cyrus' Net Worth?
Billy Ray Cyrus first rose to fame with his number one country hit, "Achy Breaky Heart." He then became known to millennials as Miley Cyrus' dad in Hannah Montana. Recently, people recognize him for his collaboration with Lil Nas X on the remix and video for the viral smash, "Old Town Road." However, he has had a long-standing music and acting career. What is Billy Ray Cyrus' net worth?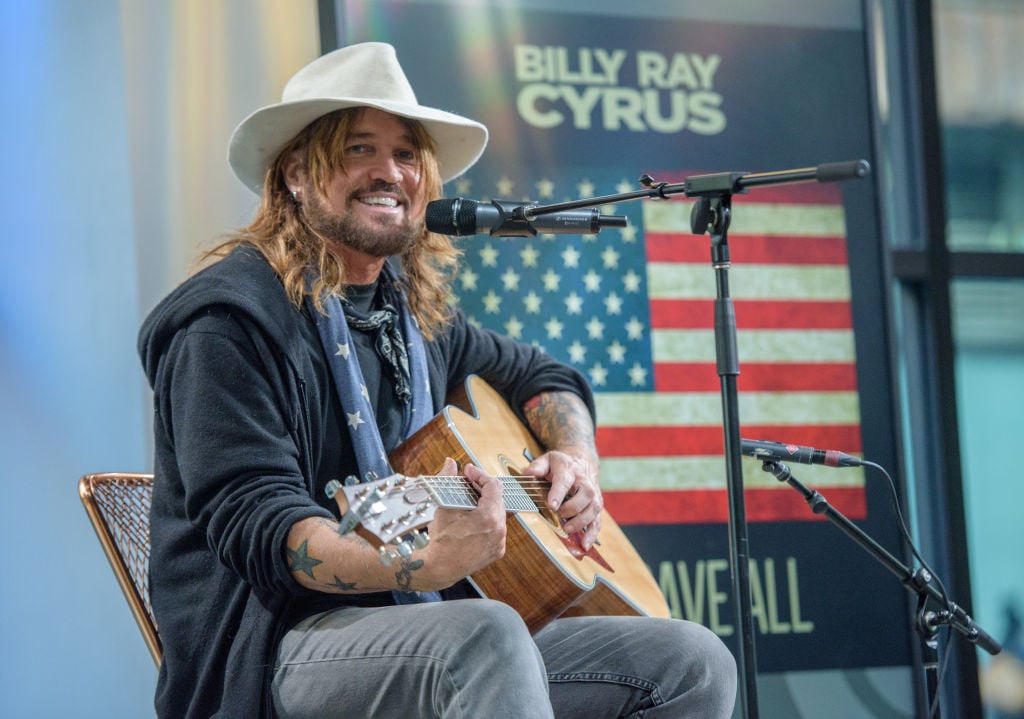 Where is Billy Ray Cyrus from?

William Ray Cyrus, born August 25, 1961, in Flatwoods Kentucky, credits his grandfather for getting him into gospel and bluegrass music. Cyrus began singing and learning how to play music at four-years-old. Georgetown College gave Cyrus a college scholarship for baseball. However, he dropped out to pursue music full time.

Cyrus first married Cindy Smith in 1986, and then they divorced in 1991. They both wrote songs together for his debut album, Some Gave All. Cyrus later married Leticia "Tish" Cyrus, an actress and producer, in 1993. He filed for divorce from Tish in 2010 because of irreconcilable differences. In 2011, Cyrus dropped the divorce.
However, in 2013, Tish decided to file for divorce, asking for custody of their youngest child, spousal support, and attorney fees. A judge dismissed the case because they did not show up for a scheduled hearing to move forward with the divorce.

Cyrus and Tish have three children together; Miley Cyrus, Braison Chance, and Noah Lindsey. Billy is the step-father of Brandi Glenn Helson and Trace Cyrus. However, he adopted them when they were young. Cyrus also has another child, Christopher Cody Cyrus, from a previous relationship, but he lives with his grandmother.

What is Billy Ray Cyrus known for?

Cyrus started his music career in a band with his brother, called Sly Dog. They formed in the early 1980s and then landed a gig as a house band for an Ohio club. In 1984, the club caught fire, burning all of Cyrus' music equipment.

He then moved to Los Angeles, where he received a deal from Mercury Records and country singer Del Reeve in 1990. He released his debut studio album, Some Gave All, in 1992 and it went on to become certified nine times multi-platinum thanks to the breakout single, "Achy Breaky Heart."

Cyrus dropped his sophomore album in 1993, It Won't Be The Last, and three of the four singles released reached the top 40 on music charts. The album peaked at number one on the Country charts and number three on Billboard 200.

His next three albums did not receive as much as success, resulting in Mercury Records dropping him from the label. Monument Records picked him up in 1999, and then he released Southern Rain in 2000. It hit number 13 on Country charts and 102 on Billboard 200.

He then formed a band with Phil Vassar, John Waite, and Jeffrey Steele called Brother Clyde in 2009. They released one album in 2010, and then Cyrus left the group and dropped a solo album, I'm American. In 2017, he changed his name to Cyrus, dropping the Billy Ray, and re-recorded his 1992 hit, "Achy Breaky Heart."

Cyrus has also appeared in several movies and television series including Radical Jack, Love Boat, and Degrassi: The Next Generation. He also starred in his own shows including Billy Ray Cyrus: A Year on the Road and Billy Ray Cyrus: Dreams Come True.

In 2006, Cyrus starred alongside his daughter, Miley Cyrus, in Disney Channel's Hannah Montana. The scripted show followed a teenage pop star who tried to live a regular life. Cyrus and Miley also recorded music together for the show's soundtrack, including I Learned From You.

What is Billy Ray Cyrus' net worth?

Cyrus earns his money from his top-selling albums, acting, brand endorsements, and philanthropy and charity work. As of 2019, Billy Ray Cyrus' net worth is $20 million.