Bindi Irwin Reveals Why She's Motivated to One Day Become a Mom
Conservationist Bindi Irwin announced her engagement to boyfriend Chandler Powell in July on Instagram and is now starting to prep for her nuptials. The Dancing With The Stars winner is planning on her wedding day being family-focused, and shared who she will have walking her down the aisle.
While the Animal Planet star is still enjoying her engagement, she has commented on her desire to one day have a family of her own. Irwin credits that aspiration to this person.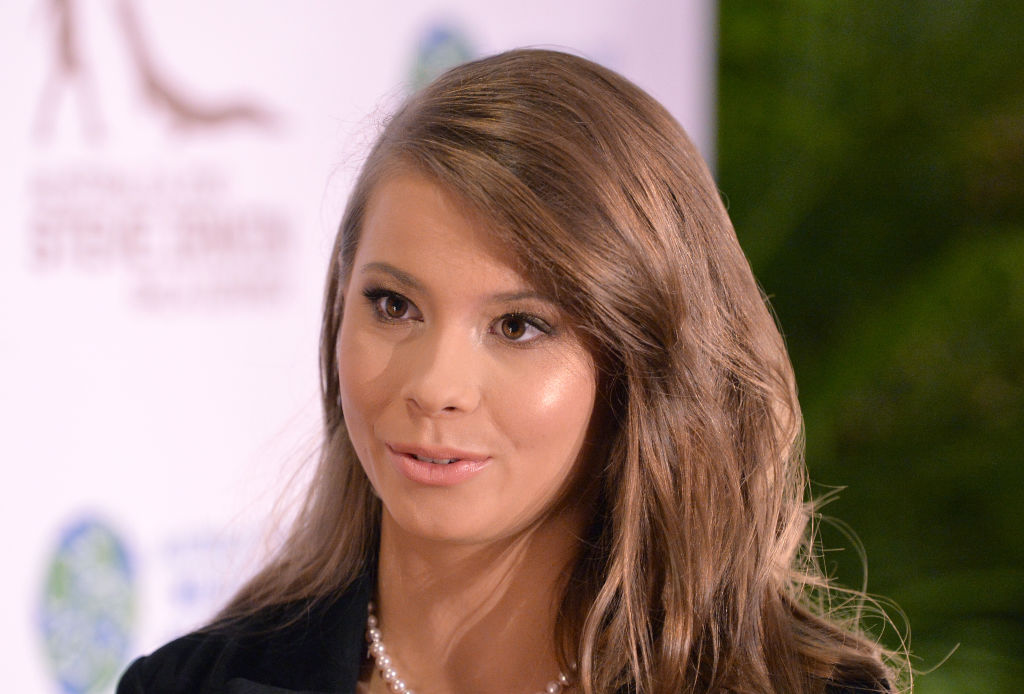 Birthday surprise
Powell popped the question on Irwin's 21st birthday in July. "On my birthday I said 'yes' & 'forever' to the love of my life," Bindi wrote on social media. "Chandler, close to 6 years ago I fell in love with you & every day since has been a whirlwind of adventure & true happiness. Here's to a lifetime of friendship, purpose & unconditional love."
Her parents, Terri and Steve Irwin, were married for 14 years before his tragic death in 2006 due to a stingray attack. Irwin aspires to have the kind of loving marriage that her parents shared. "Yes, he is my 'always'," she told Stellar of Powell. "He's so kind and solid and always there for me. I think it's really rare to find that so early in life. My mum and dad always described their marriage as feeling like a special pair of old shoes — knowing you can always depend on someone. I know it's the same with Chandler."
The Crikey! It's the Irwins star revealed that her future husband doesn't focus on exteriors but on who she is as a person. "At the end of the day, when I'm exhausted, he will be there even if I don't have make-up on or my hair is crazy and I've been wearing the same shirt for three days," Irwin gushed. "He knows what I need. I'm extremely lucky."
Big shoes to fill
In planning her wedding day, Irwin knew she had to think of the person who would take over the responsibility of walking her down the aisle since her father is deceased. She knew there was only one man for the job.
"I think that for me, it'll be really important that Robert walks me down the aisle. That's something that I really want to do," she said of her 16-year-old brother, according to People. "I'm always so grateful that Robert is there, and he has been such a big part of my life and he's always stepped up and been the one to give me a hug when I need it and encourage me forward in life."
The reality star noted that Robert's role in her special day would mean the world to her late father. "He will definitely be the one to walk me down the aisle when the time comes, and I think that will make it really special," she said. "And I think that's what dad would have wanted as well."
Irwin also has someone special selected to stand in for her dad during the father-daughter dance. "I think, if I was going to do a dance, it would be with my mom," the 21-year-old said. "My mom and I are so close. She's my pillar of strength in life and I love her beyond description."
Future family
Irwin's close bond with Robert comes from witnessing him grow up. With an almost 6-year age difference, Irwin has enjoyed being a part of her brother's different stages of life, saying it's sparked the aspiration of one day becoming a parent.
"Helping him become the person he is today makes me want to become a mum," Irwin revealed. "I've watched him grow and change and become his own person — he's so strong and science-minded, yet he's also quite fashionable — I think that's what we say these days."
For now, Irwin is determined to continue her father's legacy along with the rest of her family. "I'm living the dream! How many young people start their day watching a giraffe being born and end the day bottle-feeding a joey kangaroo?" she said. "I care about the planet and my destiny is to make a difference. We're doing it our own way, but you can feel Dad's spirit in everything we do. I've found such comfort in being able to follow in his footsteps."