Bindi Irwin Shares What Her Mom Terri Said About Her Marriage to Steve Irwin
Reality star and conservationist Bindi Irwin has plenty to celebrate in 2020. Recently announcing her engagement to boyfriend Chandler Powell and now in her second season of the Animal Planet series Crikey! It's the Irwins, the wildlife guru is thriving both personally and professionally at the the young age of 21.
The Dancing With The Stars champ holds family very close to her heart. With her upcoming nuptials most likely happening sooner than later, the reality star is taking cues from her parents' marriage.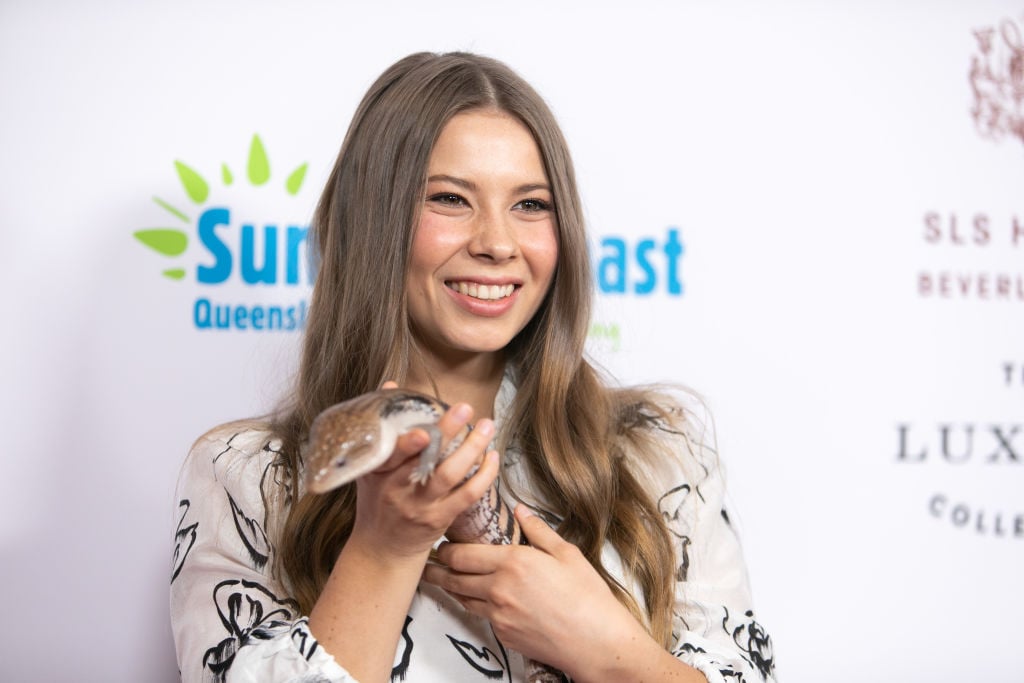 Sudden loss
Irwin's father, famous crocodile hunter Steve Irwin, was tragically killed by a stingray in September 2006. The grief of losing her father can still be overwhelming at times for the Animal Planet star.
"It was just an ordinary day and we were playing the video where we petition against harvesting of crocodile eggs," she recalled to Stellar in July. "There's old footage of Dad with the crocodiles and, even though I've seen the video maybe 50 times, that day I started crying."
Irwin revealed that her dad's absence can be felt during monumental occasions or just everyday activities. "Some days you feel the grief more than others. What gets to me are those moments when I'd love him to be here to share what we're doing," she shared. "It could be when my brother is receiving an accolade for his photography, or it might be at the end of the day when we're having dinner and laughing. I'll think: 'I wish Dad was here for this.' But he's just not there."
Upcoming wedding
On the Animal Planet series Crikey! It's the Irwins, the DWTS champ continues her father's work alongside her mom and brother Robert, and now also her husband-to-be.
Powell chose Irwin's 21st birthday in July to pop the question. "On my birthday I said 'yes' & 'forever' to the love of my life," Bindi wrote on social media. "Chandler, close to 6 years ago I fell in love with you & every day since has been a whirlwind of adventure & true happiness. Here's to a lifetime of friendship, purpose & unconditional love."
The young conservationist is not shy about her feelings for her fiancé. "Chandler is the most lovely guy on the planet and I feel very blessed that I found someone who shares my passions in life: wildlife conservation and nature," Irwin told People in 2017. "He's just always there for me. My family loves him too, which is terrific. And it's wonderful to find somebody who really will be there no matter what."
Wisdom from mom
Irwin's parents, Terri and Steve Irwin, were married for 14 years before his death in 2006. Irwin has a close relationship with her mom and frequently goes to her for advice, including on relationships.
"She said to me a few months ago, she said, 'Your dad and I used to always talk about what makes a perfect marriage, or a really wonderful marriage, and what's interesting is that for us, it was kind of that feeling of comfort,'" Irwin said, according to Fox News. "So you know, your relationship can be this wonderful, exciting adventure, but you want to find someone who, at the end of the day, you're really comfortable with."
Irwin revealed that her mom compared her marriage to the late crocodile hunter to a favorite pair of "old shoes." "It sounds really weird, but if you have your most comfortable pair of shoes, you can always count on them, you know, that they're always gonna hold up, and they'll walk you through life and they're dependable," Irwin explained. "And she said, 'That's what our marriage was. It was like the most comfortable pair of shoes… That's what you're looking for, so you can enjoy all of this wonderful adventure, but then at the end of the day, you'll come home to someone who will always be there for you and who will back you up and just be that comfort and support in your life.'"
The Animal Planet star recognized the similarities between what her parents' bond exemplified with her own relationship with Powell. "Her marriage advice is so wonderful because I feel like that's what we have," Irwin said.
Watch Crikey! It's the Irwins on Animal Planet!