Bindi Irwin Shares Why Getting Married Was More Important Than A Big Wedding
Reality star and conservationist Bindi Irwin recently tied the knot with longtime boyfriend Chandler Powell at the Australian Zoo. While the couple had been planning on a wedding surrounded by friends and family, they had to switch gears due to the current coronavirus crisis. Faced with the choice of postponing the event or moving up their nuptials, the pair decided they didn't want to wait to walk down the aisle.
The Animal Planet star shared why they decided to say their 'I do's' sooner rather than later.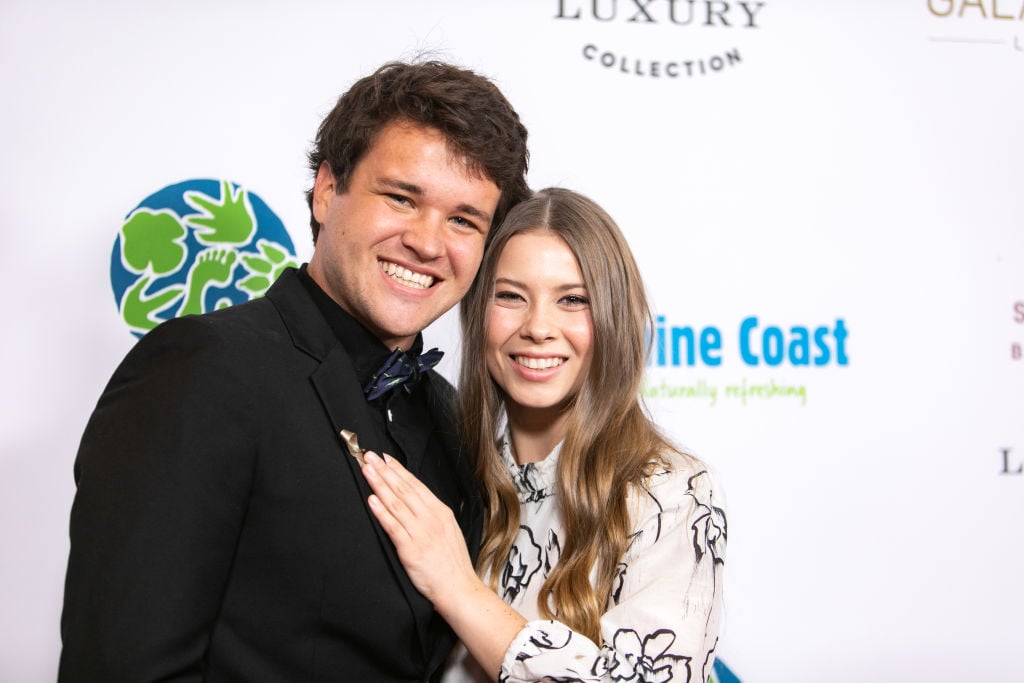 A birthday proposal
Chandler has been a close member of the Irwin family for quite some time. Joining them in continuing the mission of Bindi's father, famous crocodile hunter Steve Irwin, Chandler and Bindi work along side her mom Terri and brother Robert at the Australian Zoo to pursue her late father's cause of conservation. Steve Irwin was tragically killed by a stingray in 2006, yet his family keeps his memory and mission alive on a daily basis.
Chandler popped the question last July on Irwin's 21st birthday. "On my birthday I said 'yes' & 'forever' to the love of my life," Bindi wrote on social media. "Chandler, close to 6 years ago I fell in love with you & every day since has been a whirlwind of adventure & true happiness. Here's to a lifetime of friendship, purpose & unconditional love."
The Crikey! It's the Irwins has often gushed about Chandler and why he is the perfect mate for her. "Chandler is the most lovely guy on the planet and I feel very blessed that I found someone who shares my passions in life: wildlife conservation and nature," she told People in 2017. "He's just always there for me. My family loves him too, which is terrific. And it's wonderful to find somebody who really will be there no matter what."
Zoo wedding
On March 25, Bindi and Chandler officially became husband and wife in a small ceremony at the Australian Zoo. The young bride posted a pic of their special day along with some details for her followers.
"We held a small ceremony and I married my best friend. There are no words to describe the amount of love and light in my heart right now," she captioned the photo on Instagram, explaining the lack of attendees at the event was due to keeping in line with social distancing measures. "We've planned this beautiful day for nearly a year and had to change everything, as we didn't have guests at our wedding. This was a very difficult decision but important to keep everyone safe. We wish all of our friends and family could have been there with us, however it's lovely that we will be able to share photos and videos."
The former Dancing With The Stars champ shared the special roles her mom and brother filled in the ceremony, and how her father was remembered for her big day.
"Today we celebrated life and reveled in every beautiful moment we shared together in our Australia Zoo gardens," Bindi posted. "Mum helped me get ready, Robert walked me down the aisle, Chandler became my husband and together we lit a candle in Dad's memory. We shared tears and smiles and love. Thankfully, since we all live at Australia Zoo as a family, we could be there for each other."
Bindi's change of plans
The couple had originally set their wedding date for April 4, yet the novel coronavirus began making its way around the globe just four weeks prior. The Irwin family had to temporarily close the Australian Zoo, with Bindi and Powell deciding to cancel their wedding due to the impending ban on most gatherings and limiting weddings to just five people in Australia.
"We had been planning for almost a year," Bindi told People, "but as soon as this all started happening, we had to look at different options to make sure everyone was safe."
While the couple considered pushing up the date, they decided that starting their new life together in wedded union was more important than a lavish wedding. "We thought about postponing, because you want to share this day with everyone, but when it boiled down to it, we both just said, 'Look, we desperately want to get married, and no matter what the future holds, at least we'll be husband and wife,'" Bindi revealed. "'We can take on the world together.'"
Surrounded by "lots of animals" and just her mom, brother, and her late father's best friend, Wes Mannion, Bindi and Chandler said their 'I do's.'
"The first time I saw Bindi in that dress was the most beautiful sight in the world," Chandler said of his bride. "I immediately teared up. Nothing has ever felt more right than that moment in time."
The newlyweds were clearly thrilled with their decision to move up their special day. "Even if it wasn't by-the-book perfect, it was our perfect," Bindi shared. "These last few days have been amazing reflecting on our whirlwind of a day and also looking forward to the future. My dad would be so happy."
Congrats to the happy couple!