Bindi Irwin Takes Aim at the Paparazzi for Causing Turmoil on Her Wedding Day
Reality star and conservationist Bindi Irwin wed longtime beau Chandler Powell at the Australian Zoo in March. Having to drastically alter their wedding plans due to the coronavirus crisis, the young couple chose forge ahead with tying the knot rather than putting their nuptials on hold.
While the two were able to celebrate their union, Irwin recently revealed that there were other factors outside of the pandemic that affected their special day.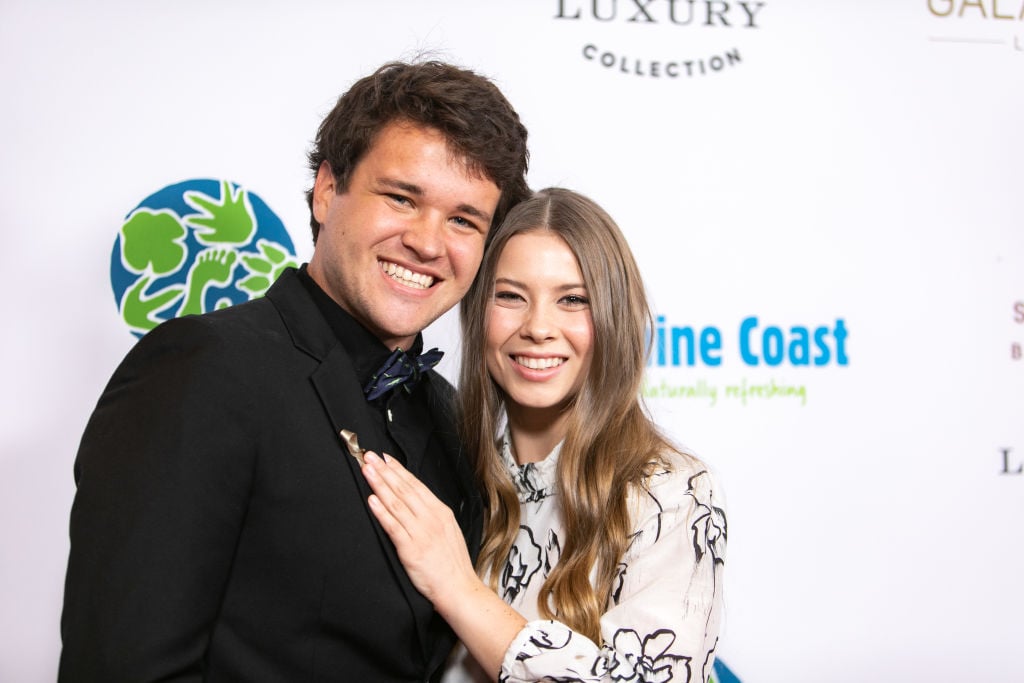 An earlier wedding day for Bindi Irwin and Chandler Powell
While the couple had originally planned to wed on April 4, they moved the date up to March 25 when quarantine restrictions were implemented. Realizing they could not have the large wedding celebration they had been putting together, Irwin and Powell decided to head down the aisle earlier and focus on their vows.
"We held a small ceremony and I married my best friend. There are no words to describe the amount of love and light in my heart right now," she captioned the photo on Instagram, noting the lack of guests was due to social distancing. "We've planned this beautiful day for nearly a year and had to change everything, as we didn't have guests at our wedding. This was a very difficult decision but important to keep everyone safe."
The bride had her closest family members – her mom Terri and brother Robert – by her side. The couple paid tribute to Irwin's late father Steve in the ceremony.
"Mum helped me get ready, Robert walked me down the aisle, Chandler became my husband and together we lit a candle in Dad's memory," she wrote. "We shared tears and smiles and love. Thankfully, since we all live at Australia Zoo as a family, we could be there for each other."
Bindi Irwin posts a recap
Over the weekend, Irwin took to Instagram to convey a simple message: "Love wins." Detailing some of the obstacles she and Powell had to overcome to make their special day happen, the former Dancing With The Stars champ emphasized that their commitment to each other took priority.
"This moment. My favorite wedding day photograph," she wrote alongside the pic. "This isn't the fairytale image capturing the 'perfect' wedding day feeling. In fact, it's quite the opposite. This picture was taken after we had to change our entire wedding. We decided not to have wedding guests due to the global crisis for everyone's health and safety. Our family and friends couldn't be there to celebrate with us. However, they all encouraged us to continue on and get married. From their love and support, we felt love win."
The Crikey! It's the Irwins star revealed that in addition to changes in the guest list, the couple had to make adjustments to their menu and decorations.
"We changed our wedding date the night before we got married but we were determined to let love win," Irwin wrote. "Everything from the cake to the flowers were different. Thankfully, we worked with local businesses to make it happen. They helped love win."
The pesky paparazzi
Despite their modified wedding date and plans, Irwin and Powell still caught the attention of the press who wanted to get their own photos of the nuptials. Irwin referenced the disturbance the paparazzi caused to their already altered celebration.
"On our wedding day we were finally about to get married and the paparazzi flew over us in a helicopter scaring our wildlife," Irwin stated. "We had to leave our stunning wedding venue on the African Savannah for their safety. I said goodbye to the place I had dreamed of getting married for so many years."
Thankfully, the DWTS star thought of an alternate plan. "At that moment I remembered the filming barn where I'd spent much of my life with my family working on Crocodile Hunter and Bindi The Jungle Girl," she explained. "I knew we could make it work and our zoo crew helped us to move everything inside. I watched love win."
Noting the pic she posted, Irwin gave context to the special photo. "At one point I sat on a chair in the corner doing my best not to think about how overwhelming things seemed," she wrote. "I missed the people who couldn't be there, my dad, Chandler's family, our dear friends, my family. Chandler stopped what he was doing and sat next to me… He proceeded to remind me that love ALWAYS wins. That's when this picture was taken."
Irwin concluded her post sharing what was most important, writing, "Our wedding day wasn't what we planned but it was an extraordinary starting point for our marriage to bloom."