Bindi Irwin Was Paid This Amount For Winning 'Dancing With The Stars'
Reality star and conservationist Bindi Irwin has a lot to celebrate as 2020 begins. Recently engaged to boyfriend Chandler Powell, who stars with her on the Animal Planet series Crikey! It's the Irwins, the 21-year-old is pursuing her dreams working with wildlife at the Australian Zoo while gaining a strong fan following.
Irwin is no stranger to reality TV. Appearing on ABC's hit competition show Dancing With The Stars in Season 21, Irwin won the coveted Mirror Ball trophy with partner Derek Hough. At one point there was some controversy over her earnings due to her being only 17 at the time, but a resolution was able to be made through the court system.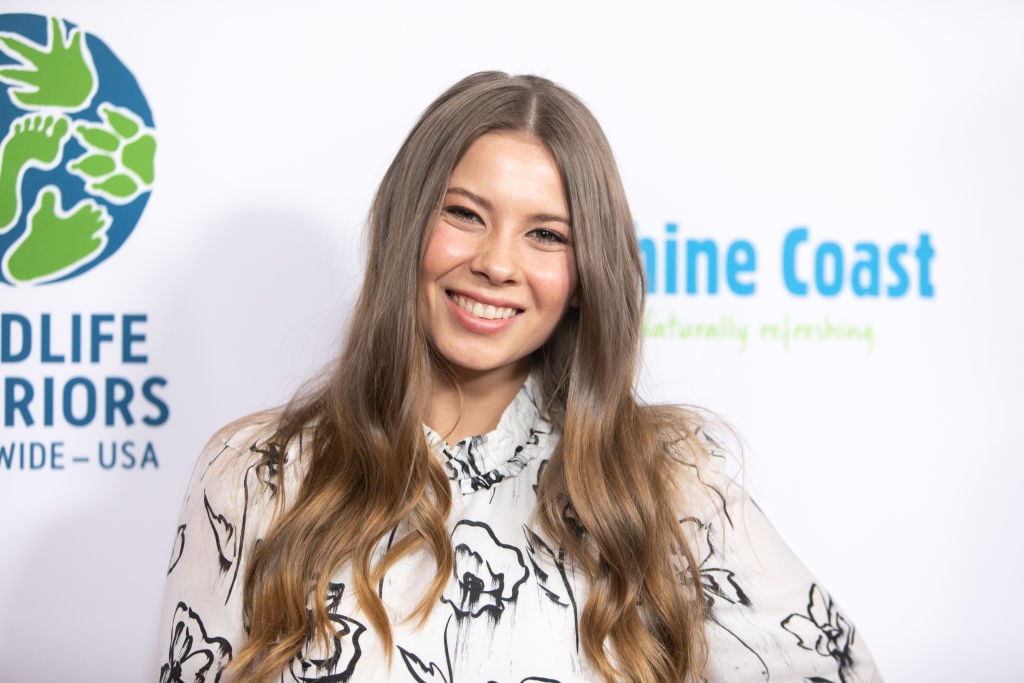 Winning the title
Competing in 2015 with Hough, Irwin had to trade in her trademark khakis for much fancier apparel. "I never knew I would learn so much about rhinestones and glitter and high heels," she joked, according to USA Today. "The most special part of this experience is to really be able to grow and touch on parts of my life that I never thought I would really go to and be able to share my journey and story with so many others."
Many remember Irwin's famous crocodile hunter father Steve Irwin, who was tragically killed by a stingray in 2006. The young DWTS champion has been consistently kept her father's legacy alive in the world of conservation. "Next is going back to Australia to be with all of our animals and continue on with all of our conservation, where I can carry on in my father's footsteps," she said after her victory.
The following year, she offered advice to DWTS finalists Ginger Zee, Nyle DiMarco and Paige VanZant. "Just take a deep breath and enjoy the last few moments of the season," Irwin told ABC News. "What's incredible about dancing is it's the closest you ever get to flying. Everyone needs to revel in these last minutes."
Contract issues
Since Irwin was a minor when she competed on the ABC reality series, there were some hold-ups on nailing down her payment for appearing on the show. According to People, Her base salary was $125,000 with additional pay as she advanced in the competition. Her mother Terri had signed away her rights to any money Irwin would earn throughout her time on DWTS, yet a Los Angeles judge was requiring a signature from her father as well. Apparently, the judge was not aware that Steve Irwin had passed away almost a decade before.
According to Business Insider, all was resolved. "We're all good. It's all sorted now," Irwin told TMZ at the time of the contract blip. "Yeah, we're all happy."
Honoring her father's lifelong cause, Irwin shared that she would be giving her winnings as a contribution to what was closest to her heart. "Everything that I make goes back to wildlife conservation," she told TMZ. "It's wonderful. It's who we are."
Business Insider reported that Irwin received $360,000 in wages from both competing and winning Dancing With the Stars.
Season two with fiancé
Now in its second season, Crikey! It's the Irwins follows the DWTS champ as she continues her father's work alongside her mom and brother Robert, and now also her fiancé. Powell proposed to Irwin on her 21st birthday in July.
"On my birthday I said 'yes' & 'forever' to the love of my life," Bindi wrote on social media. "Chandler, close to 6 years ago I fell in love with you & every day since has been a whirlwind of adventure & true happiness."
Irwin gushed about Powell in 2017 to People. "Chandler is the most lovely guy on the planet and I feel very blessed that I found someone who shares my passions in life: wildlife conservation and nature," Irwin said. "He's just always there for me. My family loves him too, which is terrific. And it's wonderful to find somebody who really will be there no matter what.
The conservationist shared that her fiancé has an important trait that she considers herself as lacking. "Chandler is endlessly patient. I think that sometimes, I'm like my dad where I'm not a very patient person, I just want to do everything right now," Irwin revealed. "And Chandler has unending amounts of patience. I learn a lot from him. He's always so kind. I'm really lucky to have found Chandler."
Watch Crikey! It's the Irwins on Animal Planet!