'BIP': Are Caelynn Miller-Keyes and Dean Unglert Married or Engaged? These Instagram Comments Are Trolling Everyone
Did Caelynn Miller-Keyes and Dean Unglert get married or engaged? Instagram commentary has fans wondering what to believe. Here's the actual answer.
It's been a hot minute since Caelynn Miller-Keyes and Dean Unglert left hand-in-hand midway through Bachelor in Paradise Season 6. So naturally, fans are constantly asking the couple if they see wedding bells in their future. For the past few months, the ABC reality stars have remained relatively low-key about where their relationship is headed. But recently, Miller-Keyes and Unglert have teased their engagement and marriage on Instagram. So what's the truth? Here's what we know.
Caelynn Miller-Keyes and Dean Unglert hint they're already engaged or married via Instagram 
Miller-Keyes and Unglert are typically playful when it comes to their social media accounts. Both parties have trolled each other online — and in real-life — on multiple occasions. So when Miller-Keyes told a fan on Instagram that Unglert proposed, no one knew what to think.
Sadly, the original commenter deleted the message. But according to Elite Daily, a fan wrote "He needs to propose" on Miller-Keyes' Instagram post with Unglert from Yosemite National Park. The former beauty queen then responded, "he already did."
Then on Feb. 14, Miller-Keyes posted another sweet photo from the couple's Yosemite trip. "Life is so much better with you in it. Happy Valentine's Day," she wrote in the caption. And once again, Miller-Keyes hinted fans don't know the extent of her relationship with Unglert.
A fan commented, "Get married!" And Miller-Keyes wrote back, "we already did."
Meanwhile, Unglert posted a Yosemite photo of his own on Feb. 16. "don't you know happiness isn't a place, it's a road you take," he wrote in the caption.
Miller-Keyes then fed fuel to the are-they-engaged-or-married fire by commenting, "Best honeymoon ever."
On Feb. 17, Unglert recorded a clip of himself shaving on Instagram Stories. The clip also captured a black ring on his left hand, leading to more speculation in regards to his marital status with Miller-Keyes. 
Kumail Nanjiani congratulates Caelynn Miller-Keyes and Dean Unglert on their marriage — sort of
On Feb. 18, Kumail Nanjiani teased Miller-Keyes and Unglert about their "secret marriage" while promoting The Lovebirds film with Issa Rae and Bachelor Nation's  Jared Haibon and Ashley Iaconetti. The actor captioned the video:
During our promo shoot for @TheLovebirdsMovie, @IssaRae and uncovered some wild #BachelorNation news. Congrats @Deanie_Babies. I think? Maybe? Never say never, right @jaredhaibon and @ashley_iaconetti. #TheLovebirds
In the clip, Haibon teased Unglert. "Did Dean just wink at my wife?" Haibon said. "You're a married man now." 
Then when Nanjiani asked whether Unglert was married, the Bachelor in Paradise star didn't exactly confirm or deny anything.
"He keeps saying that they got married when they were in Europe and he broke his leg," Iaconetti said. "I'm thinking that possibly really did happen."
As you may remember, Miller-Keyes flew out to Switzerland for her boyfriend after he got into a skiing accident. Then in the clip, Unglert explained the couple stayed in Europe for a few weeks because he couldn't fly.
So Rae theorized Miller-Keyes and Unglert got "secretly married" while in Europe. But Unglert said, "I don't understand why being married to my wife is a controversial thing but… it's more satire than anything."
Did Caelynn-Miller Keyes and Dean Unglert get married?
With all the clues hinting at Miller-Keyes and Unglert's marriage, it's hard not to believe the pair tied the knot or are — at the very least — engaged. Nevertheless, it seems the couple is not legally married.
According to E! News, Unglert and Miller-Keyes went through a "commitment ceremony" while traveling. The unnamed insider also revealed the couple's relationship has been brought "to a new level."
Even so, the publication confirmed Miller-Keyes and Unglert are truly playing up the narrative for fans on Instagram.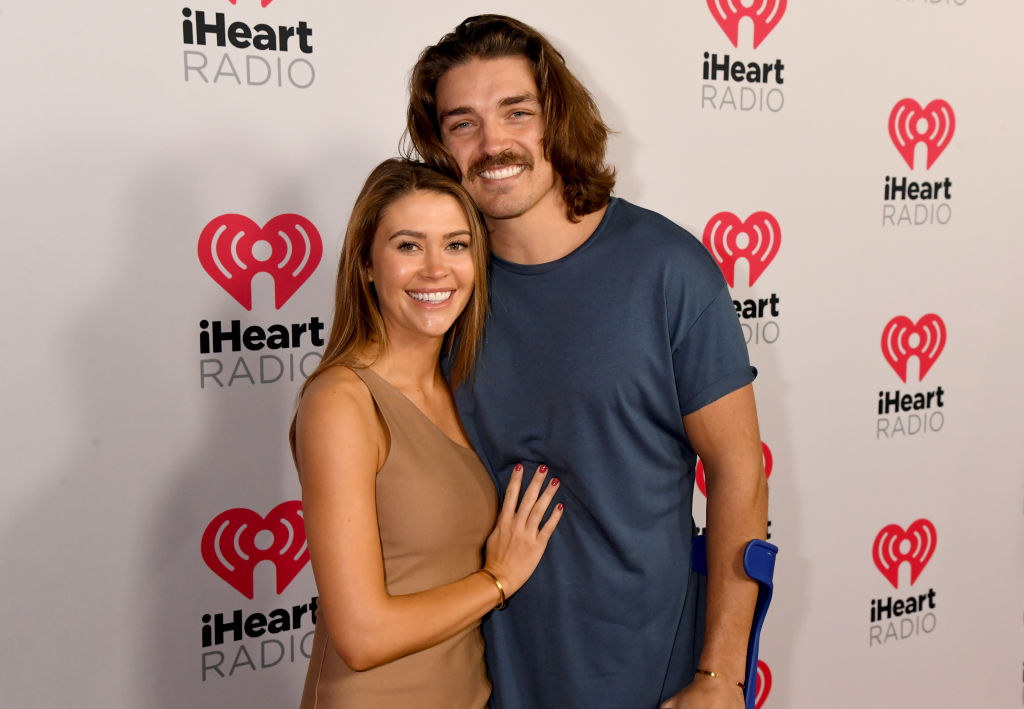 "They are trying to really hype it up and troll fans," the insider said. "Close friends of Caelynn and Dean still don't even know if they are legally married. Some think something special happened after Dean's ski accident. They're very happy and very serious and enjoy the speculation from fans."
Now, this news doesn't come as much of a surprise. As mentioned, Unglert and Miller-Keyes have always seemed to tease one another about getting married. Back in December, Unglert joked that a wedding with Miller-Keyes was "never going to happen." He told Us Weekly:
She does joke around about us getting married all the time, and I always say, 'Sorry, it's not going to happen.' I don't know, I'm super unconventional and she obviously is a little more conventional. We joke around about it. Just try to keep expectations to a minimum, you know? Like I said on the show, underpromise, overdeliver.
Read more: 'The Bachelor': Peter Weber Debunked 3 Theories About How the Finale Ends and Honestly, We're Disappointed