Blac Chyna Says Wrapping iPhone Cord Around Rob Kardashian's Neck Was Her Being 'Silly'
Years after their separation and amidst a court case, Blac Chyna and Rob Kardashian's problems with each other don't seem to be going away. 
After Blac Chyna's breakup with Tyga, her son's father, the socialite and model was left heartbroken. On the other hand, Rob Kardashian was experiencing difficulties with his mental health. The pair seemed to find solace in each other's arms. They started dating in January 2016 and became engaged in April of the same year. Just a few months later, in November 2016, Chyna gave birth to their daughter, Dream Renée Kardashian.
Rob Kardashian's family was opposed to his relationship with Chyna. They doubted her intentions for dating him. Now, years after their separation and amidst a court case, Chyna and Kardashian's problems with each other don't seem to be going anywhere. 
Blac Chyna explains why she wrapped an iPhone cord around Rob Kardashian's neck
Both Chyna and Kardashian made physical and emotional abuse claims against one another. Among other issues, this led to their split. The breakup saw Chyna, whose real name is Angela White, sue the Kardashian-Jenner clan for $100 million in damages. She alleges they slandered her E! reality TV show, Rob & Chyna, to network executives, leading to its cancellation.
According to the Insider, Chyna, the first witness in her lawsuit against the "Karjenners," defended herself on why she wrapped an iPhone cord around her then-fiancé Rob Kardashian's neck. Remembering the 2017 caught-on-Snapchat incident, she told the Los Angeles jury that they were just joking while celebrating the approval of Rob & Chyna season 2. 
About the incident that happened on FaceTime, where she pointed Kardashian's gun at his head and said, "If he ever leaves me, I'll get him," she continued defending herself. Chyna said, "We were being silly," and she stated that Kardashian found it funny.
Chyna described Kardashian as "sweet" and revealed that he loved her son, King. She said Kardashian and King were so funny together, especially as their relationship grew.
According to lawyer Lynne Ciani, family matriarch Kris Jenner used her relationship with E! Network to get rid of Rob & Chyna. She even brought in three of her daughters to ensure the show saw its end.
The Kardashian family lawyer, Michael G. Rhodes, countered the allegations. He said evidence will prove Chyna will say and do anything to get the family money and attention.
Blac Chyna and Rob Kardashian's troubled relationship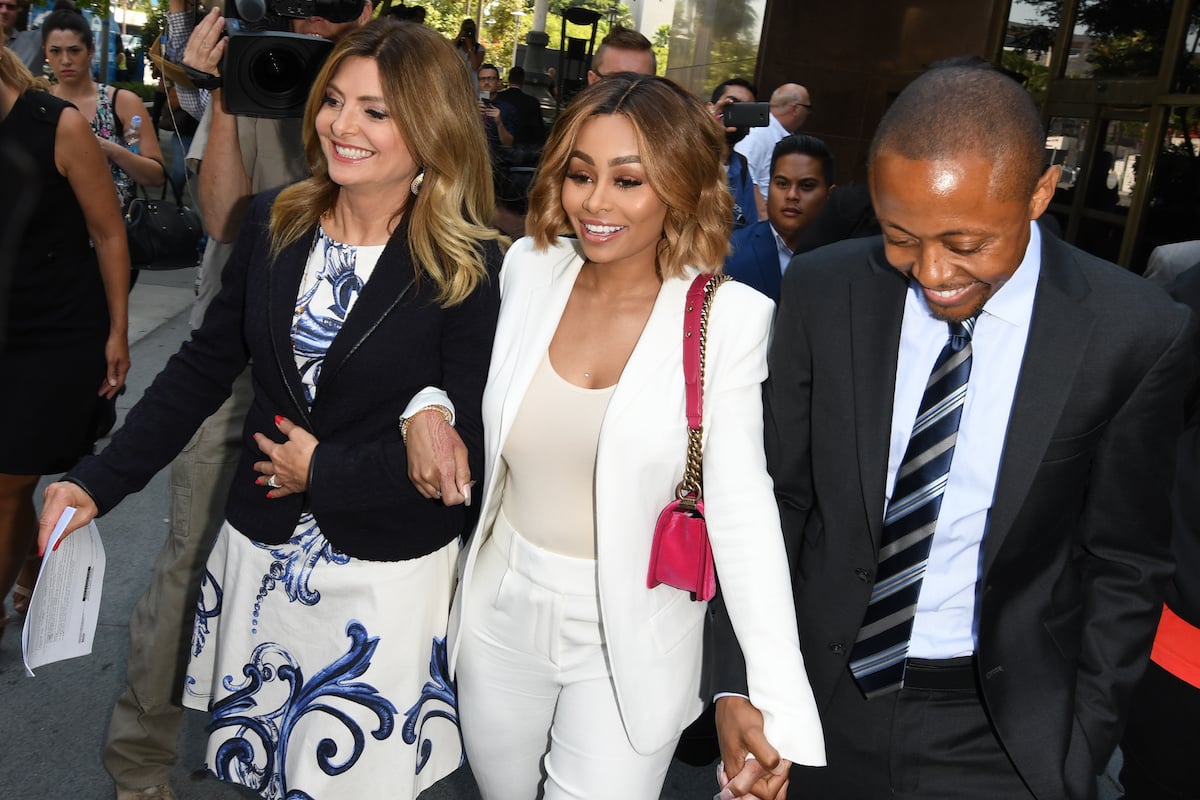 Yes, the ex-couple experienced numerous disputes, but they tried to make things work, which failed miserably. The relationship ended as quickly as it began. Chyna and Kardashian officially separated in February 2017. 
In their short time together, arguments and domestic violence allegations characterized the pair's relationship. Some of their drama even aired on their short-lived reality TV show.
Upon their separation, Chyna and Kardashian's toxicity spread to social media. Rob posted explicit images of Chyna on his Instagram and Twitter. His actions led to Instagram banning the reality star. The social media company lifted the ban later under one condition: Rob's mom's company controls his Instagram account and other social media.
After this debacle, there was a series of court battles. These involved custody over their daughter, a battery lawsuit against Kardashian that Chyna went through while they were still together, and the ongoing case against the Kardashian-Jenner family.
Was there a season 2 of 'Rob & Chyna'?
On Friday, Jeff Jenkins, the executive producer of the 2016 series, told the court that the former couple never secured season 2 of Rob & Chyna.
While testifying, Jenkins revealed that networks like Lifetime and MTV, among others, wouldn't pick up a show that featured Chyna only. This, plus the animosity between Chyna and Kardashian, made it impossible to film its season 2.
Jenkins admitted that he greenlit their first season after meeting the couple because they seemed happy together. He revealed that by the time they were filming season two, the pair were very angry, making Rob & Chyna difficult to shoot.