'Black Ink Crew': Donna Promises to 'Clear the Air' Regarding 'False Narrative' Spread on the Show
Black Ink Crew boss Ceaser Emanuel cut ties with longtime employee Donna Lombardi during part two of season 9. Following her exit, and break up with Alex Robinson, the reality TV star promises to "clear the air" surrounding what she considers a "false narrative."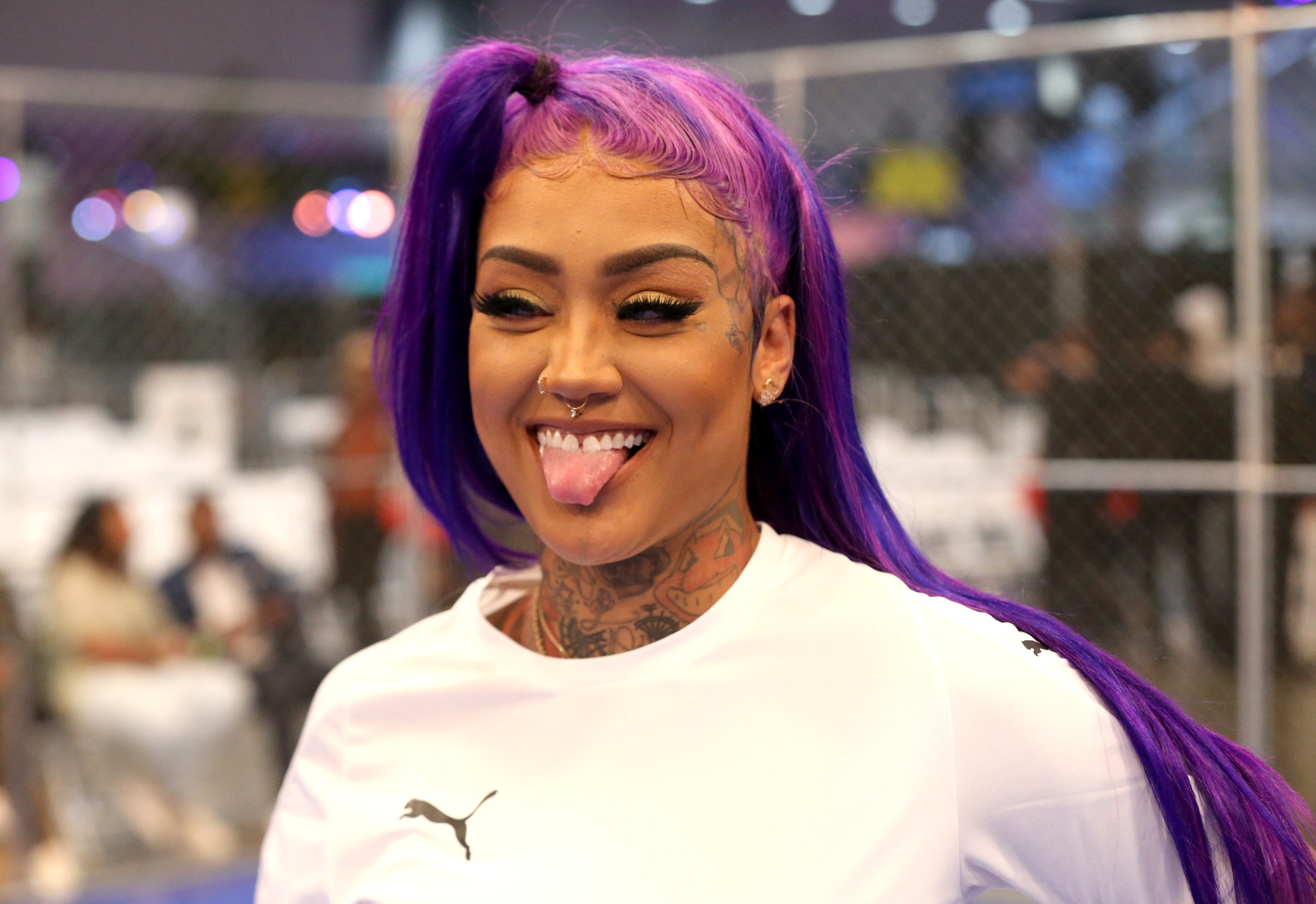 Donna Lombardi promises to tell 'what's really real' about her time on 'Black Ink Crew'
During an April 2022 Instagram Live, Taylor "Donna Marie Lombardi" Pinckney, 28, reacted to the rumors that her ex-fianceé Alex "the Vagina Slayer" Robinson, 29, is dating her former fling, Tatiana "Tatti" Ritter, 33.
She asked her followers to stop messaging her with information and clips of them, claiming their reported relationship isn't her "concern." Seemingly responding to a comment, Donna confirmed she's single and no longer a part of Black Ink Crew.
RELATED: 'Black Ink Crew': Alex Denies Rumors That He's Dating Tatti After Donna Split
Replying to someone else, she admitted she saw herself starting a family with Alex but noted, "that's not how life works." As viewers continued asking questions, Donna promised she'll reveal "what's really real" to the fans at the right time. "Not what they put in the show," she added.
However, the reality star claimed she currently "doesn't have the energy" to rehash the events due to how much the story involves. Additionally, Donna pointed out she's "moving forward" in another direction as she operates hair collection The MuvaUnii Collection, health and beauty company SuperCBDs, and upcoming clothing brand, Unii NYC.
Donna wants to 'clear the air' when she's ready
Even so, she acknowledged she's spent nearly eight years on the franchise and feels she "owes" it to her fans to "clear the air."
Donna believes a "false narrative" is being spread about her on the show and wants to tell her side when she's ready.
In Black Ink Crew Season 9, Donna stepped down from tattooing to focus on her business ventures. She got upset when boss Ceaser Emanuel seemingly didn't support her when she attempted to have her own spot in the Atlanta shop, ultimately leaving without telling anyone.
She gave her side of the story in an emotional June 2021 Instagram Live. Donna explained she "sacrificed everything" to move to New York, only arriving with $700. Additionally, she named the shop being black-owned as her motivation for wanting to work there, not for television.
Donna has previously complained about her portrayal in 'Black Ink Crew'
The alum pointed out her perceived portrayal as "angry and unwanted" on the show, admitting it frustrated her as she never got into physical altercations in high school.
She believes that the switch in production crew has something to do with the producers opting to stick with the same "narrative" instead of showing her growth.
Although Donna realizes her privilege to have a platform to launch her personal ventures, she still noted she's nearly 30 and doesn't want to stay in the same box.
Additionally, she claimed she was invited to Atlanta as everyone flew there to film the show. However, the episodes portrayed her as she forced her way to the trip. After Ceaser told Alex that Donna wasn't welcome in his shops anymore, she appeared in one more episode. Black Ink Crew airs on VH1.
RELATED: 'Black Ink Crew': Donna Lombardi Seemingly Sends Message to Co-Stars After Exit