'Black Ink Crew': Donna Says She's 'Frustrated' With Being Portrayed as 'Angry and Unwanted'
Throughout her time on Black Ink Crew, Donna Lombardi has seemingly shown up to a couple of events without being invited. She has also had several fights with numerous people. Following her recent fallout with shop owner Ceaser Emanuel, Donna took to Instagram Live, where she claimed she's "frustrated" by the show repeatedly portraying her as "angry and unwanted."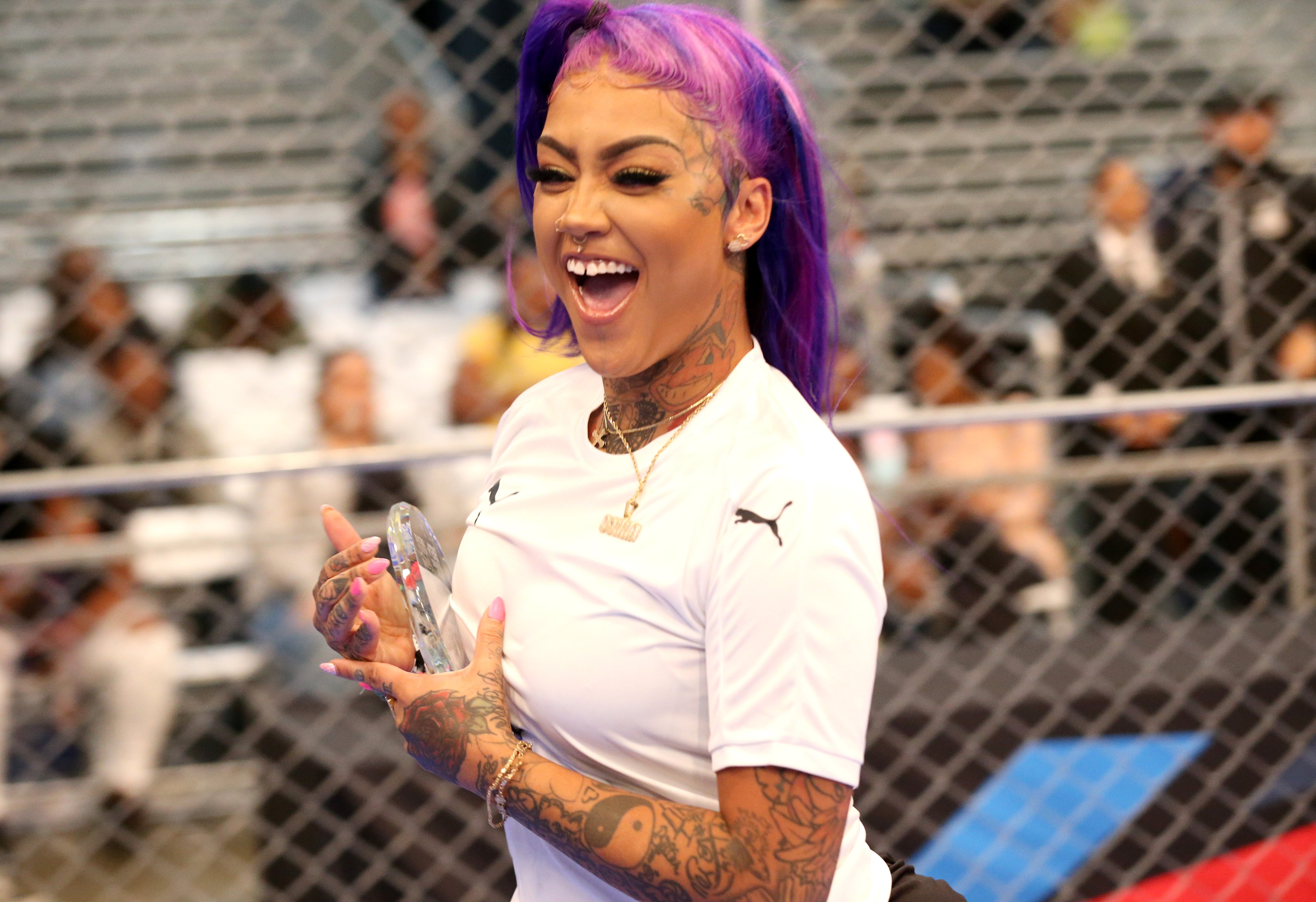 Donna Lombardi joined 'Black Ink Crew' as an apprentice
In 2015, Taylor "Donna Marie Lombardi" Pinckney moved from Ohio to New York, hoping to become shop owner Ceaser Emanuel's apprentice. She quickly became known for sleeping with a few employees, namely Richard "O S**t" Duncan, who she lived with at the time, even though he had a girlfriend.
However, Donna ended up falling for a guy named Maxwell, who proposed to her shortly before having to serve time in prison. After she married him while behind bars, Donna found out, he cheated on her with his ex, causing her to divorce him.
Around this time, she attempted to move up and begin tattooing but ended up the apprentice of Ceaser's ex, Dutchess Lattimore, until they got into it. Donna found love again with someone named Mo but infamously cheated on him with new tattoo artist Alex the V-Slayer in a public bathroom, resulting in at the end of that relationship.
Even so, she seemingly found true love with "Big Daddy" as the two are still together.
She hasn't returned since getting into another fight with Ceaser Emanuel
Throughout the seasons, Donna has gotten into several fights with the shop owner, who has fired her numerous times, and other employees, including Sky and Tatti.
During season 9, she announced she would step down from tattooing and focus on other ventures, including her wig collection and CBD-infused products, and wanted others' support.
She believed Ceaser agreed and became irritated when Tatti wouldn't allow her to set up a station in the Atlanta shop, as they reportedly didn't invite her because she doesn't tattoo anymore. Therefore, Donna and the shop owner went at it again, resulting in her and Alex leaving the mansion without telling anyone.
The former tattoo artist also started to get into it with other artists, leading producers to break the fourth wall in an attempt to calm her down. After exiting the Atlanta property, the two haven't returned since.
Donna explained why she disagrees with her depiction on the show
Following the episode, Donna spoke about her side of the situation in an emotional Instagram Live video. She started by explaining she "sacrificed everything" to come to New York, noting she only had $700 in her pocket when she arrived.
According to Donna, she came to Black Ink "inspired" by it being a black-owned shop instead of wanting to get on television. Donna continued, explaining that her perceived constant portrayal as "angry and unwanted" frustrates her as she says she never physically fought in high school.
She also noted they no longer work with the same production crew they've had since her arrival and believe the new producers want to stick to the same "narrative" instead of showing her growth. While Donna acknowledged her privilege to display her products on the show, she also pointed out that she's almost 30 and no longer wants to serve as the person who no one wants around.
Additionally, she claimed she was invited to Atlanta as everyone flew there to film the show. Even though the former tattoo artist hinted that she'd appear in upcoming episodes, she admitted she doesn't know what her "future holds on the show." Black Ink Crew airs Mondays at 9/8 Central on VH1.