'Black Lightning': How Did Fans React To Lala Coming Back Again?
'Black Lightning' is a show full of interesting villains, including Latavius "Lala" Johnson. But how do fans react to the villain? Find out here!
Black Lightning is a show full of interesting heroes and villains. One of the villains is Latavius "Lala" Johnson. He is a member of the gang the 100, and at one point is their leader.
During season one, Lala has a deal with Jefferson Pierce to keep the gang away from Garfield High School. He also seems to be working for or with Tobias, though the two men don't get along well. Tobias even kills Lala at one point, though it doesn't stick. Lala ends up coming back from the dead, but with tattoos of his victims on his skin.
So how do fans react to seeing this villain again? Find out, ahead.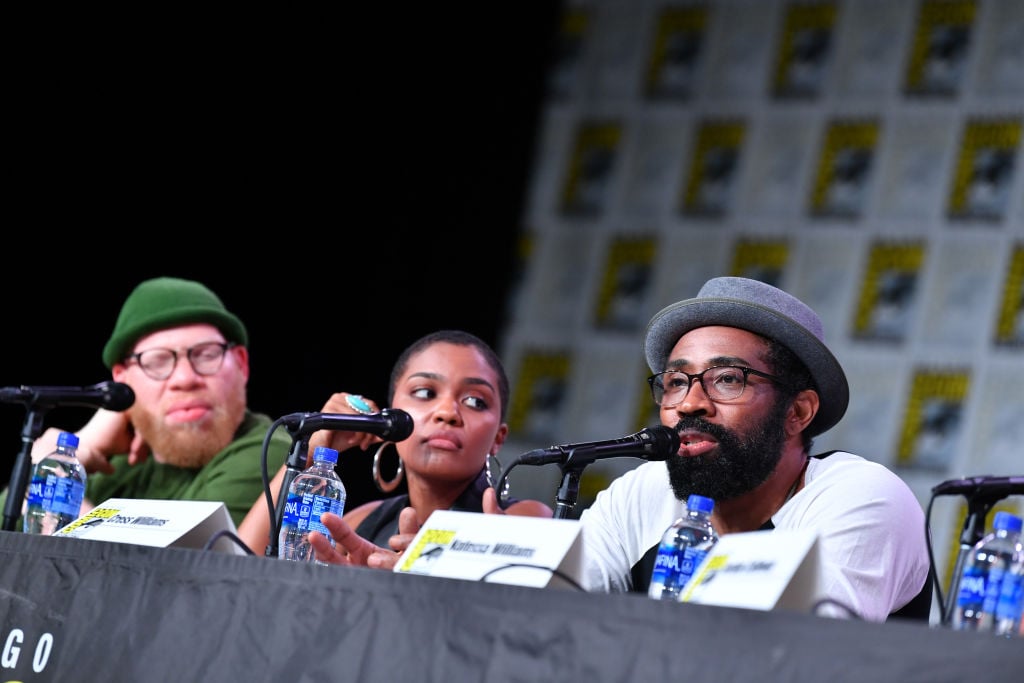 When did Lala come back from the dead?
Lala came back for the first time in season one of Black Lightning. He woke up in a room, not knowing what was going on. He quickly went back to his usual tricks, though, going to club 100, which is where many members of the gang spend their time. He found, however, that the ghost of one of his victims, Lawanda White, would haunt him and she also appeared as a tattoo on his chest.
He wondered why and how he came back but didn't spend too much time thinking about it, as he got no answers from Lawanda. He becomes the leader of the 100, and starts dealing regular drugs in Freeland instead of Green Light. Eventually, he starts seeing Will as well, his cousin and another victim who becomes a tattoo on his chest. At some later time, he gets a call from Tobias, at which point Tobias tells him "the devil deals the cards" and he eventually agrees to help Tobias take down the A.S.A.
While being interrogated by Martin Proctor, an A.S.A. agent, he reveals that Tobias sent him with a bomb in him. Proctor leaves and Lala is left, supposedly dead for real. However, that isn't the end. He comes back again and goes after Jefferson Pierce, who he believes is the source of his pain.
He eventually finds out that Jefferson is not to blame for the death of his friend Earl. In fact, he killed Earl himself. Earl then becomes another tattoo on his body and Lala decides to try to kill Tobias.
What is Lala's role in season 3?
In season 3, Lala is resurrected yet again. He wakes up in a room with the A.S.A's briefcase, which he believes belongs to Tobias. In episode 2 of season 3, he approaches some members of the 100. They are now working for Sinzell Johnson, who is a former Green Light dealer who owes Lala money.
These members of the 100 are now selling food and supplies, which are valuable in Freeland due to the A.S.A. rationing them. Lala doesn't like what they're doing, even though he would have done the same if he was still human. He confronts them and then their leader, Sinzell, shows up and shoots Lala.
Everyone is shocked when Lala immediately comes back from the dead. Sinzell runs away and the members of the 100 agree to help Lala with whatever he needs help with.
What were 'Black Lightning' fans' reactions to seeing Lala again?
According to Meaww, Black Lightning fans love Lala. One fan tweeted their amusement at the fact that "Lala getting up and the bullets dropping out of him scared everybody. " While another fan said that "My man Lala like we may be b****rds but we ain't these kind of b****rds ripping off people for food." It's strange for Lala to be the voice of reason.
Another fan remarked on that, saying, "Oh wow, so Lala is actually the one having common-sense, he actually is trying to stop this whole profiting off people who need food and crackers and that's it. Oh wow, so instant regeneration but I am loving Lala so far." While such love for a villain may be surprising to some fans, it's certainly not unheard of. Especially since Lala is quite an interesting character.
And fans wouldn't have it any other way.