'Black Lightning' Season 3 Episode 16 Recap: Victory At A Cost
Black Lightning Season 3 Episode 16 continues to excite superhero fans. In this episode, titled "The Book of War: Chapter Three: Liberation," Jefferson Pierce/Black Lightning (Cress Williams) has to face the threat caused by the nation of Markovia and their war against the people of Freeland. One particular threat is Gravedigger, a metahuman from the United States now living in Markovia. Gravedigger wants to create a place for metahumans to live within Markovia, and he doesn't take no for an answer.
Fighting alongside Jefferson/Black Lightning are his daughters Anissa/Thunder (Nafessa Williams) and Jennifer/Lightning (China Anne McClain). All three heroes have problems to deal with over the course of this episode. Fighting Gravedigger and the Markovians comes with a great personal cost.
[Warning: There are spoilers ahead for Black Lightning Season 3 Episode 16.]
Fights and kidnappings in 'Black Lightning' Season 3 Episode 16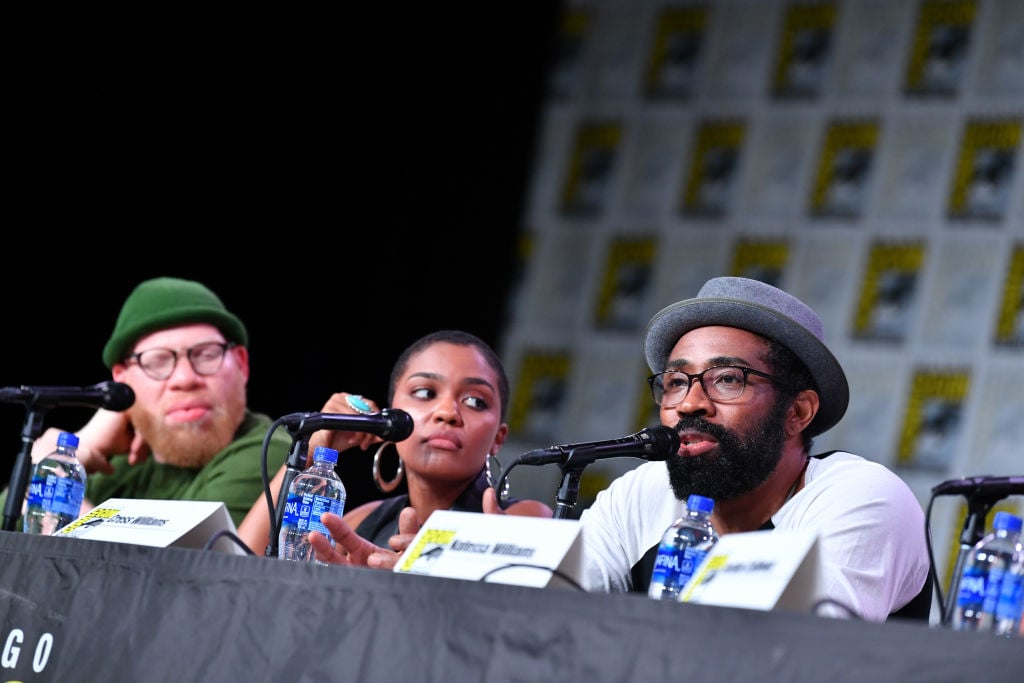 The episode starts with Jennifer/Lightning lying on the ground after fighting Gravedigger while Jefferson/Black Lightning fights him. Black Lightning tells Gravedigger that they are related, which Lynn told Jefferson in the previous episode. The Markovians take Lightning and shoot Jamillah Olsen while she's reporting on the situation in Freeland. The fight continues between Black Lightning and Gravedigger and ends with Black Lightning flying away.
Sergeant Grayle gets ready to move the metahuman kids to the Pit. Agent Odell tells Major Grey and Commander Williams that the ASA is pulling out of Freeland. He sends Grey after the briefcase and tells Williams to eliminate any classified information left behind. Peter Gambi and TC work together to try to find Jennifer/Lightning.
Meanwhile, Lightning is with Gravedigger and is trapped, having to listen to him try to gain her trust. She doesn't agree with him and he eventually loses patience with her and leaves. Later on, Lady Eve meets with Grey and tells her that Gambi has the briefcase. When Eve realizes that the ASA is planning on destroying Freeland, a fight breaks out between her forces and the ASA's and she barely manages to escape.
She calls Lala to warn him that Freeland won't exist if the Markovians aren't defeated.
A rescue and more fights in 'Black Lightning' Season 3 Episode 16
Gambi figures out where Jennifer is and her father and Brandon rescue her from the Markovians. Williams kills Doctor Jace, who is tied up at Brandon's place. The ASA commander then goes to kill Lynn but she has given herself some meta powers and she survives, knocking him out. She then continues working on an antidote to get rid of Gravedigger's extra powers.
Painkiller gets ready to kill the Pierce family but Khalil fights for control of his own body and wins. Henderson, who fought the Markovians with Two Bits and Lala and both of their forces, is now in the woods watching Gravedigger and the Markovians arrive near the Pit. Gravedigger makes the forces guarding the Pit fall asleep and goes right in. He then forces Grace to fight Anissa/Thunder and try to kill her.
More fights and a hard-won victory…or is it?
Meanwhile, outside the Pit, Black Lightning and Lightning are fighting Markovians and it isn't going too well. Luckily, Henderson is still there and shoots the Markovians but gets fatally injured in the process. Black Lightning stays with him until he dies. Thunder accidentally knocks out Grace while they're fighting.
Lightning and Brandon use both of their powers to attack Gravedigger, but they can only hold him off for so long. Black Lightning and Lynn arrive, with Black Lightning fighting Gravedigger and Lynn hitting him with the antidote, removing his extra powers. Black Lightning and Gravedigger then fight, with Black Lightning winning and Gravedigger left behind as the Pit is set to self destruct by Agent Odell.
The Pierce family and their loved ones manage to escape, but everything is not looking good for everyone. Grace is in a coma after Anissa knocked her out. The ASA attacks Gambi's place, searching for the briefcase, but are defeated by Gambi and TC. And Gravedigger, it turns out, is still alive.
Lynn argues in front of a commission about creating a boarding school for metahumans and they agree with her. Black Lightning then gives the commission the ASA's briefcase. The commission says that the ASA will be broken up and Agent Odell will be prosecuted. The Pierces then leave.