'Black Mirror' Fans Rejoice — Miley Cyrus' Songs as Ashley O. Are Available on Spotify
Miley Cyrus is back. She released her EP, She Is Coming, and starred in an episode of Black Mirror, as the uplifting pop star, Ashley O. Now, she's shaking up the pop music world with her "Ashley O." songs. Netflix's Black Mirror released Ashley O.'s songs "Like A Roll" and "Right Where I Belong," and fans are freaking out.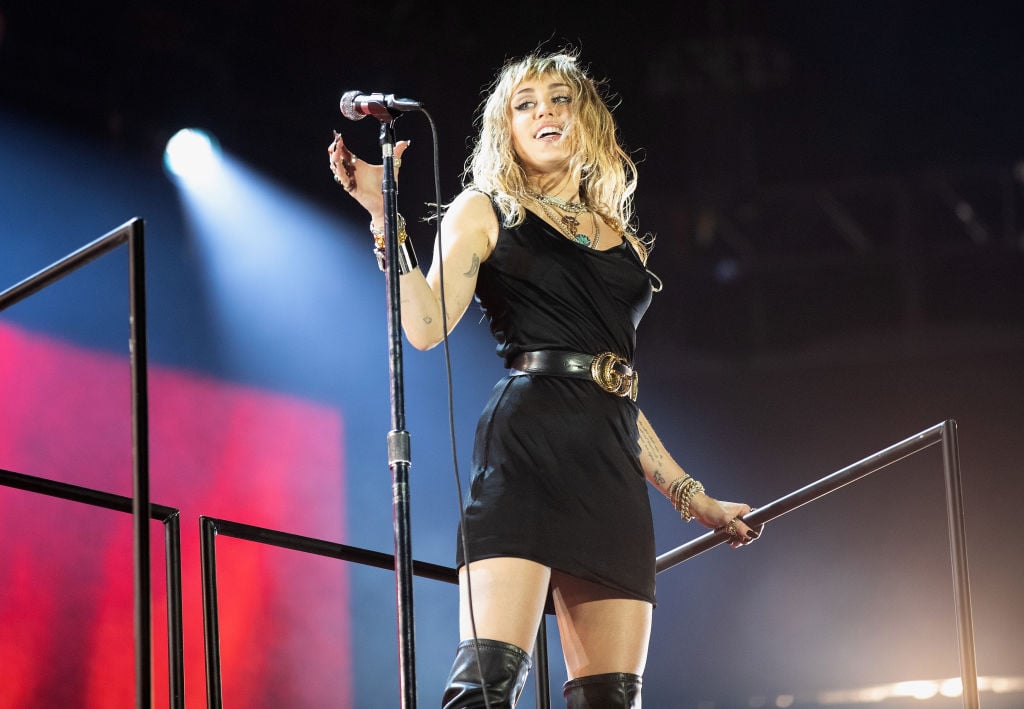 Black Mirror released Miley Cyrus' Ashley O. music on most streaming platforms
"Omg Ashley O, I'm such a huge fan!! When will the Music video for 'On a roll' come out? That song is seriously my JAM!!" tweeted one fan.
"Tomorrow," Black Mirror's Twitter account replied. Our prayers have been answered. Ashley O.'s positive, uplifting, and catchy pop songs are now available for streaming everywhere.
Black Mirror, the Netflix series that featured Miley Cyrus as Ashley O. released the songs on June 14, 2019. Already, the artist's song, "On A Roll," has over a million plays on Spotify. The show also released "Right Where I Belong," a second song featured during this episode.
Another version of "On A Roll" had already been released on Spotify. As some fans pointed out, "On A Roll" is a pop-version and an adaptation of the Nine Inch Nails song "Head Like a Hole."

Ashley O.'s music video is on YouTube

It's only fair that Black Mirror shared Ashey O.'s popular music video with everyone. Ashley O. is a famous pop star, after all. On June 13, Netflix posted Ashley O.'s music video to YouTube.

The video features best-selling artist, Ashley O., in her lilac bob. She's dancing to her song "On A Roll," sometimes surrounded by girls in long ponytails, sometimes alone in a white bathtub, filled with pink liquid. In typical Black Mirror fashion, the music video glitches at the end, before finally cracking and breaking.

Within a few hours, the music video trended on YouTube. It currently has over 4 million views. Even Miley Cyrus, the actress behind Ashley O., posted about the music video on Twitter and Instagram.

Fans have mixed opinions about this new season of 'Black Mirror'
The fifth season of Black Mirror premiered on June 5, 2019, with three new episodes. The fans have split opinions regarding this new season, some saying the episodes didn't share the spark of previous seasons.
"Fighting one was the best one. And closest to any kind of actual 'blackmirrorness.' Second episode was a long, PSA about texting while driving and the third, I don't even wanna talk about. #BlackMirror failed us this season," said one Twitter user.
Others congratulated Miley Cyrus on her return to the acting world. Some said her portrayal of Ashley O. being one of the best parts of this new Black Mirror season.
"Miley Cyrus is the first artist EVER to chart with 3 different personas on iTunes (herself, Hannah Montana and Ashley O). Queen of this generation," said one fan on Twitter.
"Bop of the summer," tweeted another fan. "When's the album coming, Miss Ashley O?"
Ashley O.'s songs and Miley Cyrus' latest EP, entitled She Is Coming, is available for listening on Spotify, Apple Music, and most streaming platforms.