'Black Panther': Letitia Wright on Her Audition With Chadwick Boseman; 'I Found My Lost Big Brother'
Black Panther is truly a film that deserves to be celebrated. Not only is it one of the highest-grossing films of all time, but it also beautifully celebrates both Black and African culture. Furthermore, it helped showcase just how important it is for Hollywood to have more diverse representation in film and television. With the passing of the late and great Chadwick Boseman, who played the eponymous role, Black Panther is being celebrated on a mass scale once again.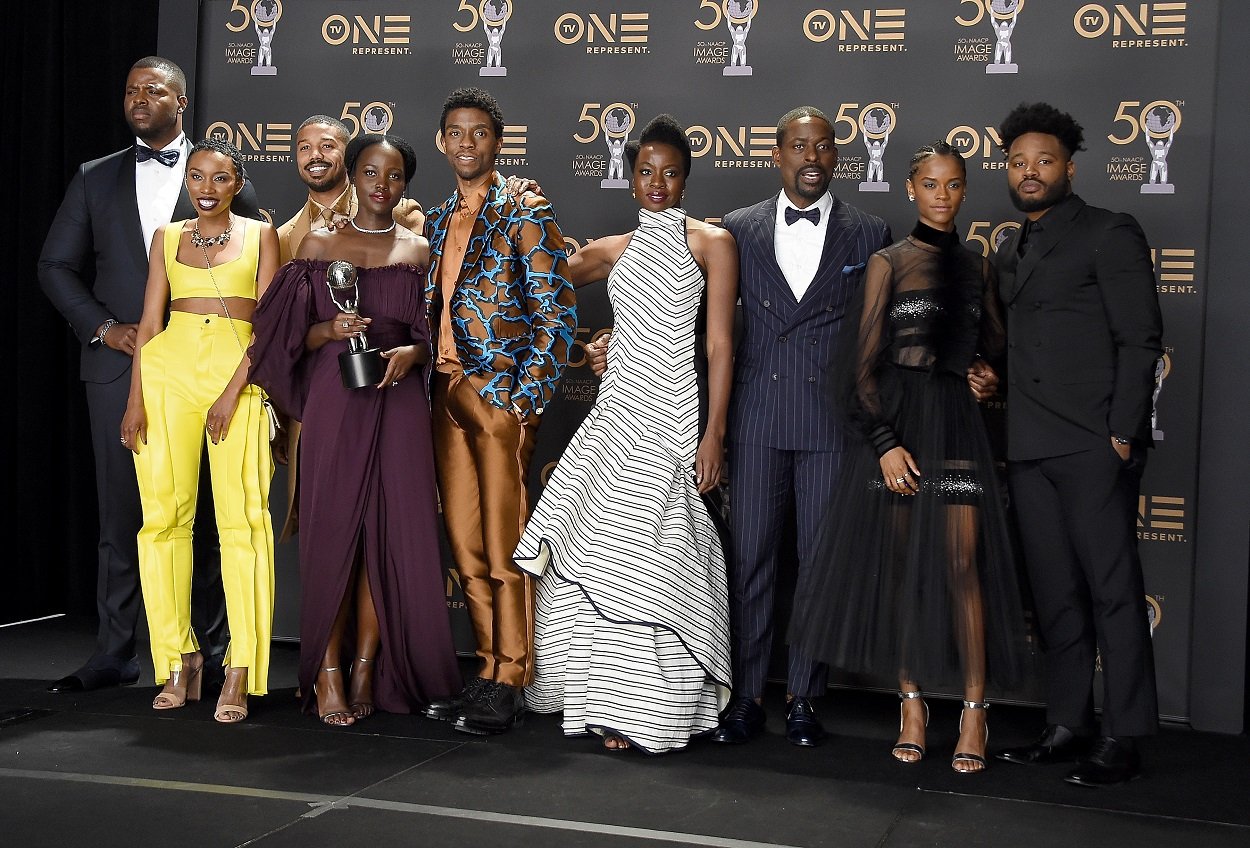 Of course, Black Panther isn't just meaningful for fans. The actors involved in the film also hold the film in high regard. In fact, for Letitia Wright, who starred opposite Boseman as his younger sister, Shuri, the movie helped change the way she viewed blockbuster films. In an interview with W Magazine, the actor shared how Black Panther helped shift her views about massive films with huge budgets.
How 'Black Panther' changed the way Letitia Wright thought about blockbuster movies
"I'll be honest I wasn't super into it," Wright shared about the idea of being in a blockbuster movie. "I love indie films so much like I love arthouse films, that's what gets me going. I can sit down and watch Whiplash like five thousand times, you know? That's what I love. Black Panter pretty much changed the way I thought about big blockbuster movies. It was like, no you can have blockbuster movies with meaning," the actor shared.
But, Black Panther didn't just change Wright's conception of blockbuster films. It also changed the course of her career. Shuri was her biggest role to date and she still remembers her audition process for the film. Most specifically, she recalls the instant sense of kinship that she has with her fellow castmate, Boseman.
Wright recalls the instant connection she felt with Chadwick Boseman
"The audition process for Black Panther was super simple at the beginning," Wright recalled. "It was just sending tapes of myself doing some like mock scenes. A month later, I was told they needed me in Los Angeles and Chadwick came in. It was like I found my lost big brother I had never had before. I just kind of fell in love with him as my big brother. Yeah, not a bad chap to fall in love with," the actor added.
After her audition with Boseman, Wright returned home and awaited the news. Funnily enough, when it finally came, she was out in public and had a pretty hilarious, albeit understandable, reaction when she learned that she'd booked the role. "I went back home to London and I was leaving my house and my agent texted me, as he does, and he's just like 'Call me when you can.' I was like 'OK, God this is about Black Panther' and he's like 'You booked the role of Shuri,'" Wright recalled.
How Wright reacted when she learned she'd been cast in 'Black Panther'
"I screamed," the Black Panther actor confessed. "I was at the bus stop about to get the bus, that's when life was normal and I could get the bus, I go 'Yes Jesus! Yeah!' And people like passing on the road like 'What is going on with that girl at the bus stop? Like she's getting a bit rowdy over there.' And then the bus came and I tapped my Oyster card, which is equivalent to a MetroCard, and I sat there amongst these amazing beautiful people going to the station and I just booked the biggest role of my life."
We love that Black Panther is just as meaningful to the cast as it is to the fans. The film is currently streaming on Disney+ in case you're in need of a trip to Wakanda.