Black Widow and Other Female Superheroes from the MCU Finally Got the 'Jeopardy' Treatment
Black Widow often finds herself in jeopardy, and she often causes jeopardy for villains. Last week, however, Black Widow was on Jeopardy, the game show, along with other female superheroes.
Even though Black Widow's release has been delayed indefinitely, the iconic game show still picked a good time to spotlight female superheroes, with women getting the spotlight in front of the camera, and behind it. That helps make up for the fact that Jeopardy sort of got their answer wrong. 
Who are great female superheroes?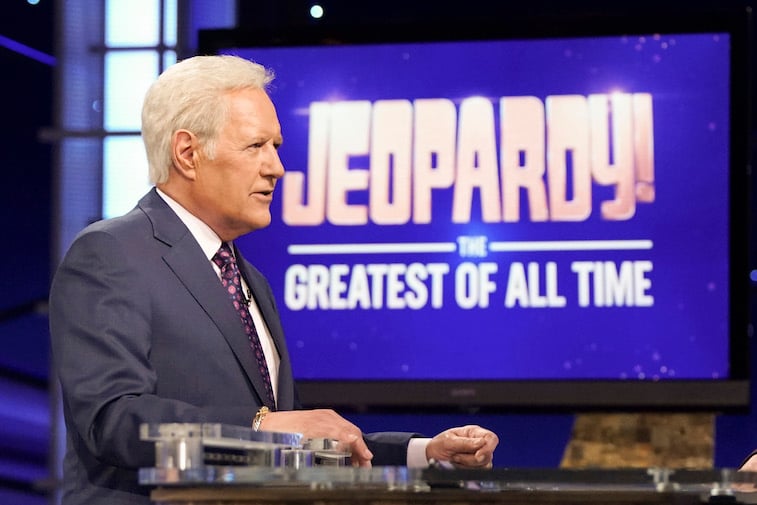 Jeopardy's March 26 show featured the category "female superheroes." According to Marvel's website, one of the answers was "Zoe Saldana teams up with Rocket and Groot as Gamora, the green-skinned member of this superhero team." The correct question being "What is Guardians of the Galaxy?"
It wasn't just Marvel getting the spotlight. According to Reddit, another answer was "This superhero's magical weapons include a lasso of truth and indestructible bracelets able to deflect bullets."
The response was "Who is Wonder Woman," who, like Black Widow, has a new movie coming out this year, and who also had her release date pushed back. Wonder Woman 1984 was supposed to come out June 5 – now it's due out August 14. 
A third clue said "Being widowed by Yakuza began the journey of this Suicide Squad member whose name means Samurai Sword." That one might be trickier for casual fans who only know Margot Robbie's Harley Quinn, but the correct question is "Who is Katana." The Suicide Squad sequel recently wrapped filming and is due out in August 2021 and with any luck will be able to keep its release date.
What is the mistake 'Jeopardy' made?
When Jeopardy had its Black Widow moment, the answer was phrased this way: "It's the superhero name of Natasha Romanova, a big screen butt-kicker played by Scarlett Johansson." That answer is technically wrong while also being right.
Here's the distinction: By including Johansson in the answer, the show got it wrong because she has never been referred to by exactly that name in the movies.  In the MCU, she has only ever been Natasha Romanoff. However, as  Screen Rant explains,
Romanova is correct if you're talking about comic book history. Romanova is the character's birth name. It gets even more complicated in the comics, because one of her clones is named Romanoff. 
In their article about the show, Marvel's official website actually uses the Romanoff spelling. However, the comics bio states "Natasha Romanoff was born in the Soviet Union as Natalia Alianovna Romanova (Наталия Альяновна Романова).
Although her exact parentage is unknown, it is rumored that she is related to the late Romanov dynasty—the former rulers of Russia—but those claims have so far been unproven. " Given that Natasha has had so many aliases, the mistake is understandable. 
What women are behind the camera?
Despite the delays for Black Widow and Wonder Woman 1984, recent years have been good for females behind the camera. Patty Jenkins, who had directed Charlize Theron to her Oscar for Monster, directed Wonder Woman and its sequel. She was going to direct Thor: The Dark World before departing the movie over creative differences.
Last year, Captain Marvel was co-directed by Anna Boden and Ryan Fleck, representing a breakthrough for Marvel, but this year's representation was even stronger, with female directors for Birds of Prey (Cathy Yan) Black Widow (Cate Shortland) and Chloe Zhao (The Eternals). That makes four superhero features helmed by women in one year.
As things stand, The Eternals, which stars Angelina Jolie, Salma Hayek, and Kumail Nanjiani, is due out November 6. Perhaps female film directors could be a Jeopardy category if it hasn't been already.