'Black Widow' Final Trailer Release: Is Rachel Weisz's Character Really Natasha's Mother?
In Avengers: Endgame, Natasha Romanoff (Black Widow), spends quite a bit of time telling her coworkers they're her "only family." But we know that's not exactly true. In Black Widow, fans will see the heroine reconnect with her past, including Rachel Weisz's Melina Vostokoff. Here's what we recently learned about her character.
Rachel Weisz stars with Scarlett Johansson in 'Black Widow'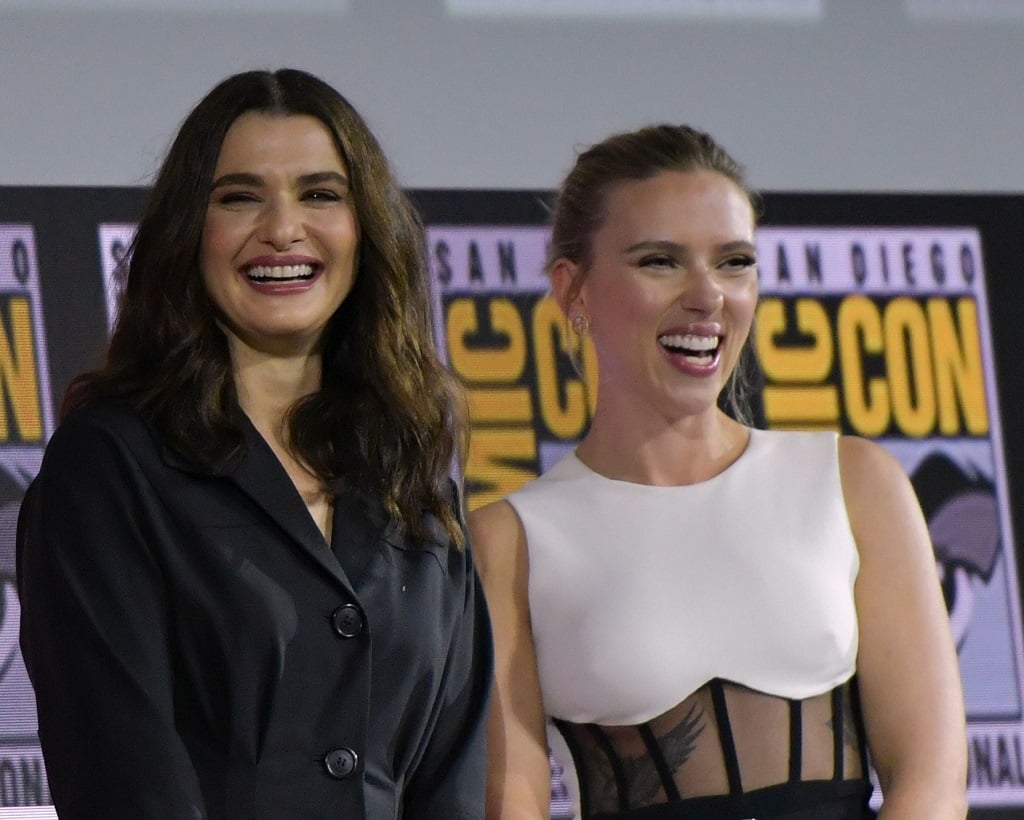 Over the years, Marvel Cinematic Universe fans have begged the studio for a film focused on the character played by Scarlett Johansson, who first appeared in 2010's Iron Man 2. Despite her death in Endgame, we're finally getting that film, which will take place in between the events of Captain American: Civil War and Avengers: Infinity War.
At San Diego Comic-Con in 2019, Johansson took the stage for the official announcement. And she was joined by her Black Widow co-stars: David Harbour, Florence Pugh, O-T Fagbenle, and Weisz. We learned very little about their characters then, but details have been revealed over time.
Who is Melina Vostokoff in the comics?
Weisz's character is Melina Vostokoff, a spy and assassin. At first, the character's last name was not revealed, but fans of the comics were quick to figure it out. (It was later confirmed when official hashtags for the characters were created.)
In the comics, Melina is Iron Maiden, a villain. Like Black Widow, she is originally an agent of the Russian government, but later sets out on her own. She is fueled by her hatred of Black Widow, and seeks to kill her. Iron Maiden wears a heavy suit of armor, including a mask (see above).
The final trailer for 'Black Widow' is out
Despite rumors that Black Widow would be delayed due to Coronavirus panic, Marvel has continued to go full steam ahead with the first entry in Phase 4 of the MCU. The final trailer was released on Monday, March 9, 2020, and it reveals quite a bit.
We see a lot of interaction between Natasha and her "sister," Yelena Belova (Pugh), another Black Widow. There's also a scene in which they have a meal with Harbour's Alexei Shostakov and Melina. In it, Melina tells her "Don't slouch," and Alexei tells her to, "Listen to your mother." Wait, what?
Is Iron Maiden her biological mother?
Could Melina really be Natasha's mom? From what we know about Natasha, she doesn't have a biological family. Weisz certainly doesn't look old enough to be her mom (although, for reference, she is 15 years older than Johansson). And we can't imagine they would drop in such a giant retcon in a trailer.
What makes the most sense is that Melina is Natasha's mother figure, the way Yelena is her sister. They formed a family while under duress, which is why Natasha feels so connected to them and wants to help them. It's also what makes the idea that Melina could actually be a villain even more upsetting. We'll have to see what's real and what's not on May 1, 2020.