'Black Widow' Leak Reveals a Shocking Twist, Secret Cameos, and Both Post Credits Scenes Months Before the Premiere
A major leak at Marvel may have just spoiled 'Black Widow' months ahead of the movie's May premiere.
We are still a few months away from Scarlett Johansson's first standalone film in the Marvel Cinematic Universe, Black Widow. The studio has been very tight-lipped about the movie's plot, but a new leak sheds some light on what's ahead for Natasha Romanoff. This includes the identity of the film's main villain, Taskmaster, as well as which characters are secretly working with Thaddeus Ross (William Hurt). Consider yourself warned – there are spoilers ahead!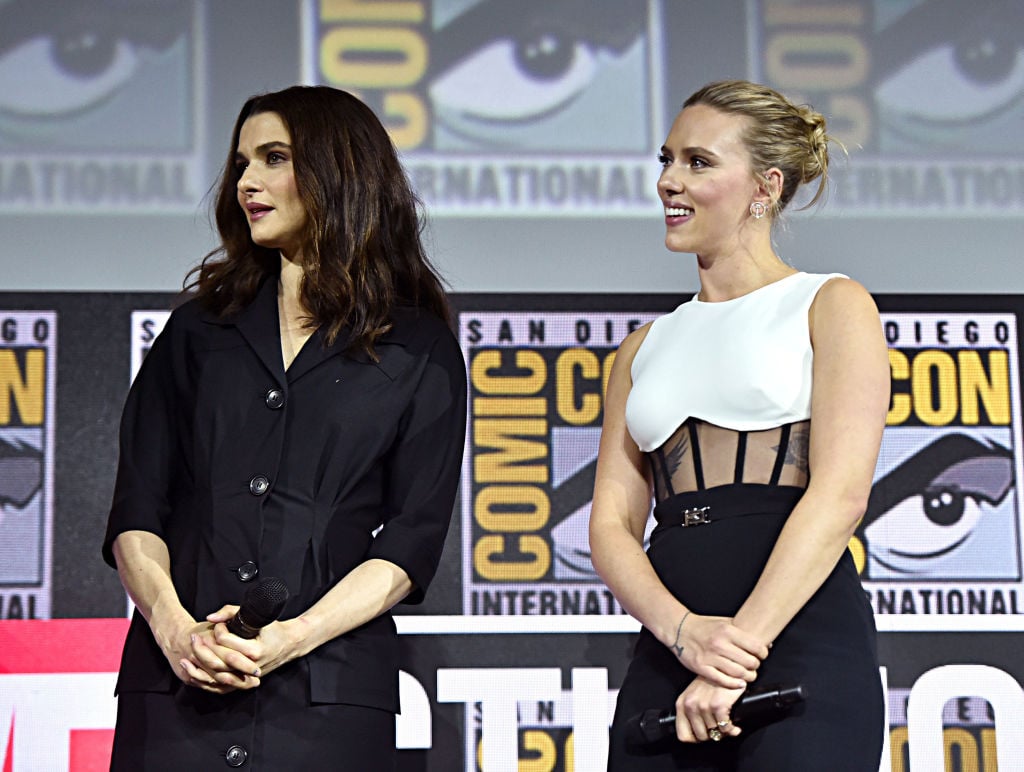 Inside the shocking 'Black Widow' leak
Marvel has been very secretive about leaking plot details for Black Widow, which wrapped up filming last summer. The studio released a trailer for the upcoming film last month, which gave us our first look at some of the new characters in the movie.
This includes scenes with Yelena Belova (Florence Pugh), Melina Vostokoff (Rachel Weisz), and the Red Guardian (David Harbour). The clip did not, however, release any details about the film's main villain, Taskmaster.
According to We Got This Covered, the new leak sheds some light on who is playing Taskmaster and how the movie might set up future projects in the MCU. The leak in question, which was posted on 4Chan, contains details about two post-credits scenes.
The first scene reveals that O.T. Fagbenle is playing the Taskmaster. The actor will also appear in the movie as Rick Mason, who later turns out to be Natasha's nemesis.
Who is Taskmaster?
Marvel has not confirmed who is playing Taskmaster, so the leak should be taken with a grain of salt. Apart from revealing his identity, the spoiler also claims that Yelena will be the one who shoots Taskmaster's mask off in the final scene of the film.
In the comics, Taskmaster has the ability to copy an opponent's fighting technique. This is why he matches up with Natasha in the trailer. He is also romantically linked to Natasha, which should make things interesting.
Black Widow is set between the events in Captain America: Civil War and Avengers: Infinity War. The film is due to hit theaters in May, so it will not be too much longer before we find out if the leak is accurate.
In the meantime, the leak also revealed details about a second post-credits scene that could have huge implications for the future of the MCU.
'Black Widow' post-credits scenes
The second post-credits scene allegedly features Yelena and Melina secretly meeting with Thaddeus Ross. Melina is also later revealed to be a traitor, though it is not clear how Yelena fits in with Ross just yet.
The idea that Ross has a hand in whatever is going on with Natasha suggests that he is in the early stages of creating his Thunderbolts team from the comics.
Marvel already has a handful of rogues on hand to form the team, such as Samuel Stearns, Ava Starr, Emil Blonsky, Helmut Zemo, and Justin Hammer, so it would not be completely out of the question if we see the Thunderbolts pop up in Phase 4.
The events in Avengers: Endgame will also likely push Ross to develop a team of heroes of his own, one that he can control with government oversight.
The second post-credits scene will also include Clint Barton (Jeremy Renner) visiting Natasha's grave. The scene is supposed to help give some closure after Natasha sacrificed herself in Endgame.
Which characters will have cameos in 'Black Widow'?
When it comes to surprising cameos, the leak also claims that fans will see a few fan favorites return in Black Widow. This includes an appearance from Iron Man (Robert Downey Jr.), Nick Fury (Samuel L. Jackson), Hawkeye, and Sonny Burch (Walton Goggins).
Downey Jr.'s cameo is not all that surprising given how it has been rumored for months. Hawkeye showing up was also expected considering how close he and Natasha have grown over the years.
But Sonny's appearance is a bit of a surprise. The character was introduced in Ant-Man and the Wasp, and fans are speculating that he has some kind of connection to Taskmaster.
Black Widow is due to premiere in theaters on May 1.