'Black Widow' Star Claims Their Character is the Best in the Marvel Cinematic Universe
One of the stars of the upcoming 'Black Widow' made the shocking claim that their character is the best in the Marvel Cinematic Universe.
Marvel fans are looking forward to Scarlett Johansson's first stand-alone film when Black Widow hits theaters on May 1. Barring any delays related to the coronavirus, this will be the first time Johansson's Natasha Romanoff leads a film in the Marvel Cinematic Universe. While fans have high expectations for the movie, one of the film's stars believes his character is the best in the MCU to date.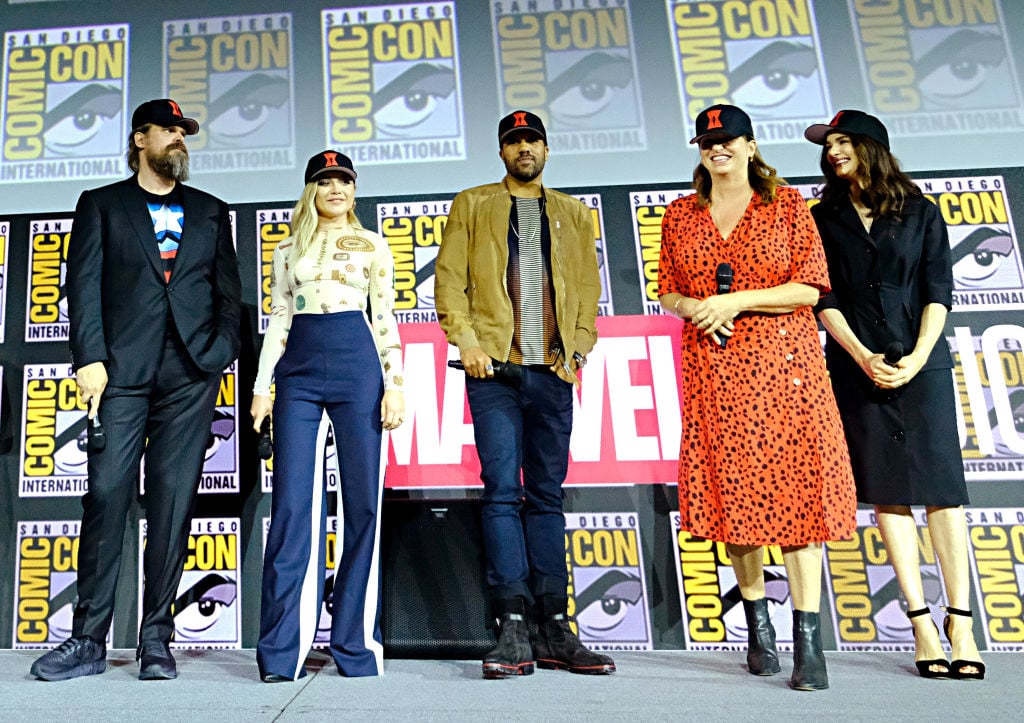 Marvel assembles stellar cast for 'Black Widow'
Johansson's first solo outing has been long in coming for the MCU. The actress first portrayed the character in 2010's Iron Man 2 and has reprised the role in all of Marvel's big crossover projects, including The Avengers, Avengers: Age of Ultron, Avengers: Infinity War, and Avengers: Endgame.
With Natasha giving her life in Endgame, Black Widow is set between the events in Captain America: Civil War and Infinity War. This allows Marvel to tell Natasha's story without having to mess with anything that happened in Endgame.
The project is helmed by Cate Shortland, who brought together a stellar cast for the film. This includes the likes of Florence Pugh, Rachel Weisz, William Hurt, David Harbour, and Ray Winstone. Robert Downey Jr. is also going to appear for one last time as Tony Stark, though the extent of his cameo has yet to be revealed.
There is also some mystery surrounding the main villain in the film, Taskmaster. Marvel has not revealed which actor will be portraying the character, but there has been plenty of speculation on that front.
'Black Widow' star claims his character is the best
Marvel has already released a trailer for Black Widow, offering fans a glimpse at some of the characters in action. This includes some good shots of Harbour's Red Guardian, who shares many characteristics with Captain America.
According to We Got This Covered, Harbour recently opened up about playing Alexei Shostakov, a.k.a. Red Guardian. Without holding back, the actor assured fans that his character is easily the best the MCU has to offer.
"I think I'm biased, but I think it's the best character in all of the Marvel Cinematic Universe. I mean, he is a narcissist, so it's very appropriate that I'm playing him. But he's just got so many layers. On one level, he's your classic superhero badass character, but then when you meet him, he has this need to be liked, and he wants to be thought of as funny and a big shot, which he isn't," Harbour shared.
We still do not know how much Red Guardian will be in the film, but it definitely looks like he'll be used for some comic relief. Based on Harbour's comment, it also sounds like we'll learn a lot about the character's backstory.
Black Widow is the first film in Phase 4, so there is a good chance that some of the characters who appear will continue to be a part of the MCU moving forward.
How similar is Red Guardian to Captain America?
In the comics, Red Guardian is pretty much Russia's answer to Captain America. There is no telling how closely Black Widow will follow the comics, but it does appear like Harbour's character shares similarities to Cap.
For starters, both Red Guardian and Cap were created via the super soldier serum. Harbour's version of the character appears to be past his prime, however, so it will be interesting to find out what he has been up to all these years.
Red Guardian also carries a shield that looks just like the one Cap wields and has since passed on to Sam (Anthony Mackie).
Although they share some similar traits, Harbour assured fans that his character is different from Cap. This is good news for fans, many of whom were afraid that Marvel might be treading over familiar ground.
A look at Red Guardian's shield
When it comes to Red Guardian's shield, the Black Widow trailer shows Red Guardian using his shield in a similar way as Cap. Even the characters' fighting styles are reminiscent of each other, though there is a very big difference in regards to Red Guardian's weapon.
After watching the trailer, fans have speculated that Red Guardian's shield might be the property of Taskmaster. The shield has the same insignia that Taskmaster uses, which suggests that Red Guardian has close ties to the Red Room.
Marvel, of course, has not commented on the reports surrounding the superhero. Ultimately, fans will find out more about the actor's character when Black Widow hits theaters in a few months.
Black Widow is currently scheduled to open at the box office on May 1.