Blake Griffin's Respectful Reason He Doesn't Perform During His Comedy Shows
Blake Griffin is already gearing up to have a career that lasts long beyond the hardwood. While many players try to get themselves a career in sports media or the game itself, Griffin has his eyes on a different sort of big stage. For years now, Griffin has been honing his stand up career in venues big and small. The story behind it, however, shows that it's a calculated move that could pay off in the long run.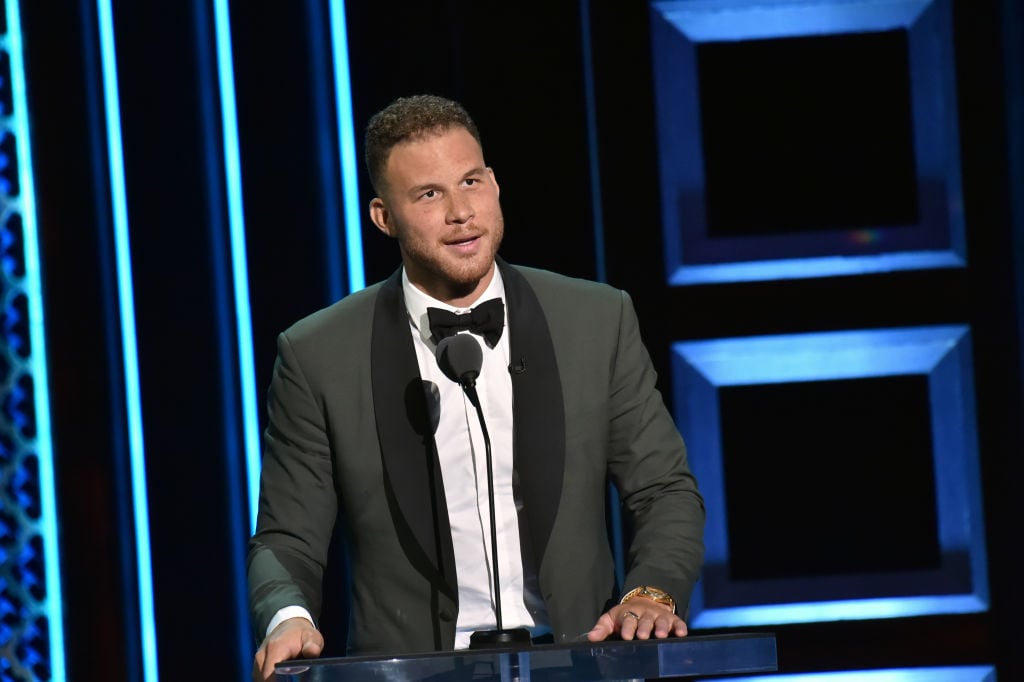 Blake Griffin's career and image
Griffin was a darling after one year at Oklahoma. His high-flying dunks combined with his rock-solid build made him the consensus number one pick of the 2009 NBA Draft. While superstars such as Steph Curry and James Harden eventually surpassed him in terms of talent, during those early years it was Griffin who looked like the draft's prize. 
After sitting out his first season with a knee injury, Griffin took the league by storm and immediately put up All-Star numbers as a member of the Los Angeles Clippers. It was his second year, however, that changed everything. After the Clippers acquired Chris Paul, the lowly Clippers immediately became one of the league's most popular teams. Paul's guard skills combined with Griffin and DeAndre Jordan's athleticism to create lob city. 
While Lob City was eventually overshadowed by the rise of the rival Warriors, the team was constantly on the cusp of contention but was unable to reach the ultimate goal. They eventually disbanded, and with it, Griffin's star slowly fell. Now a member of the Detroit Pistons, Griffin still has the same star abilities as before, but injuries have made him an unsure presence in the lineup. 
In recent years, Griffin's off-court life has also been hoisted into the spotlight. His relationship with Kendall Jenner made him TMZ fodder while ensuing relationships with pop stars Tinashe and Madison Beer helped his name reached a brand-new audience away from sports. While he might not desire this kind of attention, Griffin has plans of getting into showbiz after his career in basketball is over. 
Making people laugh
Griffin has always been charismatic and dry-witted on the basketball court. In his early days, he was a staple on television and other media thanks to this. He can crack a joke without smiling and has spoken about learning from guys like Tim Duncan while they talked eloquent trash on the basketball court. Off the court, however, he is still learning to make people laugh. 
Griffin doesn't just do stand up comedy because he can. He invests his time and creative energy in it as a passion, according to Complex. After filming a sketch at the 2014 ESPYs, he sparked up a friendship with comedy writer and stand up comedian Neal Brennan. That friendship eventually paved the way for Griffin to try his hand at performing on stage in 2016. Four years later, he is still going strong. 
Griffin's second career
Griffin got to perform his comedy for a national audience at the 2019 Comedy Central Roast of Alec Baldwin. There, he made a panel of comedians and celebrities blush as he laid into their appearances and made jokes about his own life. The set was a hit. Griffin isn't content with getting the occasional laugh, however. He wants to be genuinely good at it and devotes his time to doing so.
"During the basketball season, I watch basketball every single night," Griffin told Yahoo. "It's not because I have to watch the games, it's because I'm a fan. Comedy is the same way for me. Putting in the time, going about constructing jokes, constructing a set the right way, it's important to me. I don't want to be this hack who only gets the low hanging fruit."
Griffin isn't just using his celebrity to expand his own brand, however. He tends to host comedy shows not as a performer, but an MC. While he treats the audience to jokes, he also uses the moment to shine a spotlight on comedy's up-and-comers. He knows his lane and is comfortable staying in it, even if he has bigger goals. 
Speaking about his desire not to take away stage time from those who are looking to make a living, Griffin formed an apt analogy. "It would be like taking a friend to a basketball game and hearing the PA announcer introduce Kat Williams as the starting power forward," he told Yahoo.
There are lots of athletes who find life after their sports, but few enter the comedy world. Griffin is trying to do so and help expand the spotlight to other up-and-comers while he does it. Time will tell whether Griffin eventually has a comedy career, but he is putting in enough work to show that he is serious about it.