Blake Shelton Admits It Was 'Scary' Stepping in as a Parent for Gwen Stefani's Sons
Gwen Stefani has three sons from her previous marriage with Gavin Rossdale. Find out what Blake Shelton said about being a parent.
It sounds like Blake Shelton and Gwen Stefani changed throughout their relationship together. Stefani has released more country music and returned to be a judge on The Voice. Shelton has become another dad for her sons. He talked about why that was scary for him.
Gwen Stefani revealed what Blake Shelton is like as a dad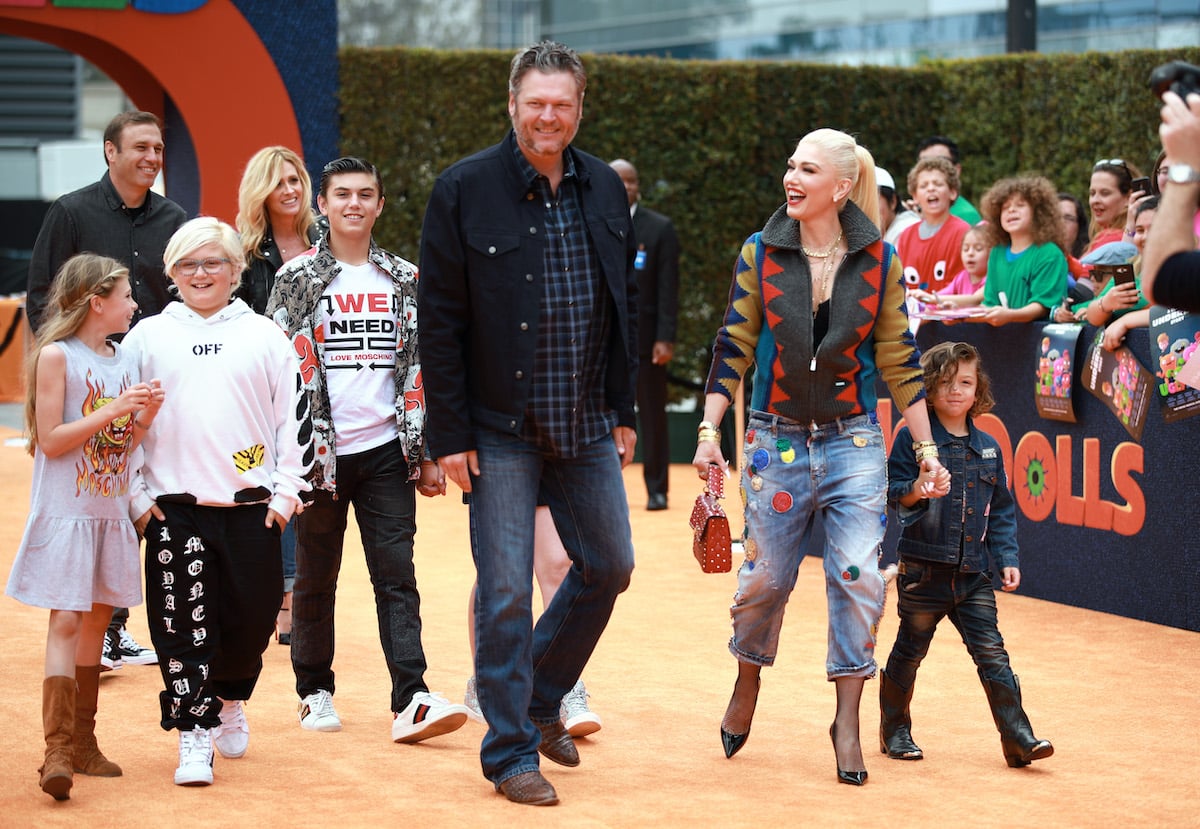 Stefani has three sons from her previous marriage with Gavin Rossdale. They still co-parent together but Stefani says Shelton has helped out too.
"He is a good dad," she told Hollywood Life. "He's been helping me out a lot. It's hard; I've got three boys. I have a 13-year-old (Kingston), an 11-year-old (Zuma), and the baby (Apollo) is going to be six in February and started kindergarten."
That's not the only time she's talked about Shelton's place in her family. She said on the Today show that she considers him to be a dad.
"He is a good dad, actually," she said. "He's been helping me out a lot, so I literally get to the point where I'm like, 'You gotta get home, I need help.' It's hard. I got three boys."
They are isolating with her sons
Shelton has been spending the past months with Stefani and her sons. He talked about their time together on his ranch in Oklahoma.
"We are quarantined with a bunch of Stefanis. I'm talking 'bout a pile of them. It's me and a bunch of Stefanis," Shelton said on The Tonight Show starring Jimmy Fallon. "My mom and stepdad live I don't know about 10 miles from here. I haven't seen them since the middle of March except for waving at them through the truck window and that's about it. We haven't left."
Stefani and Shelton have released a new song together called "Happy Anywhere." Shelton did a new interview where he talked about parenthood.
He said it was scary taking on the parent role
Shelton opened up about stepping into more of a parent role for Stefani's sons. He admitted the change was a big one for him.
He said on the Today show it was "a scary moment for me." The country singer explained, "It's one thing to be with the kids all the time and be their buddy but you do have to consider after a while that they start to listen to things that you say. There's a lot of responsibility that comes with that which is new to me."
Shelton said they've been enjoying their time during isolation together. "Pretty much this year, we've been doing things I wish I had time to do for the last 20 years. That's literally stupid things like pick blackberries," he said. The country singer also said they have a garden that keeps them busy.
Soon the music video for their new song will be released. Fans will get to see videos of their time in isolation.