Blake Shelton and Gwen Stefani Dropped a New Romantic Acoustic Song
Blake Shelton and Gwen Stefani have been together for 5 years after publicly announcing their relationship on The Voice where they were both coaches and judges. With hints of the couple having a wedding in the near future, all eyes have been on Shelton and Stefani. The couple, who has in the past experienced some scrutiny on the foundation of their relationship, have recently released a new acoustic version of the song "Nobody But You."
A duet out of a single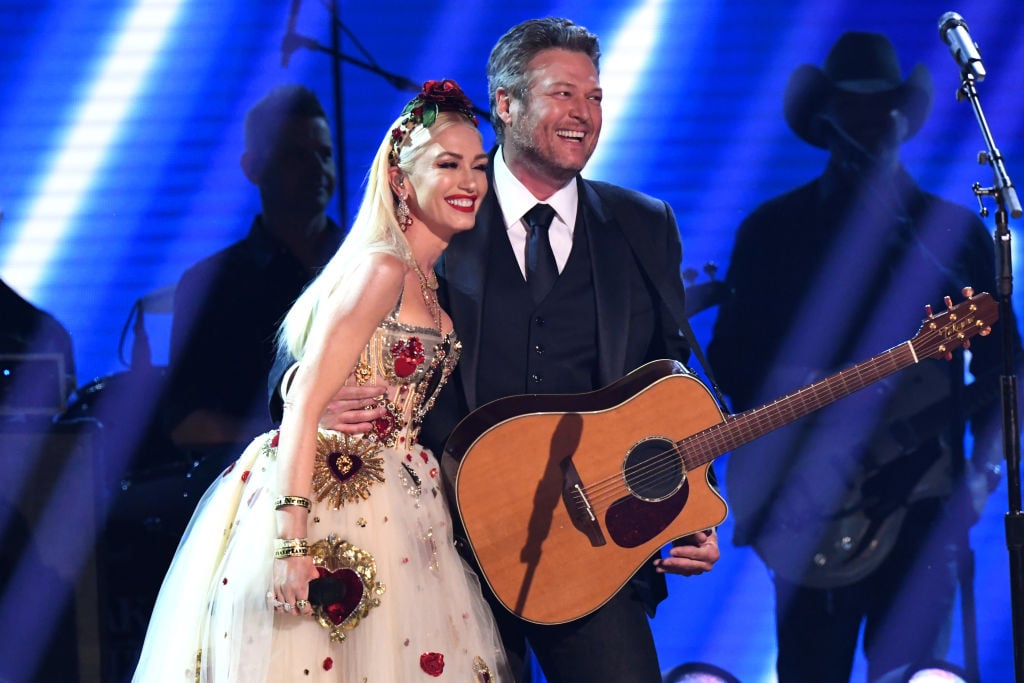 The original version of "Nobody But You" was actually from Shelton's solo album from 2019, Fully Loaded: God's Country. Shelton, who originally wrote the song as a single for his album, recently spoke about the fact that he never intended the song to be a duet. However, when he and Gwen were together working out at the gym, something clicked, and he realized it was meant to be a love song between them.
The couple first performed the song together at the Grammy Awards earlier this year. But that performance pales in comparison to their new acoustic version of the song.
This is Stefani and Shelton's first acoustic single and 3rd overall track together. The original two were a song from 2016, "Go Ahead and Break My Heart," which was on Stefani's album but featured writing from both her and Shelton. Their second single together was a Christmas song from 2017, "You Make Me Feel Like Christmas."
The couple who have noteworthy holiday traditions have been spending much of their social distancing time together, and it wouldn't surprise anyone if they end up releasing some new songs and covers together.
Why the song matters so much to them
There is no denying that Shelton and Stefani got a lot of flack for their relationship which started as their former marriages ended. But their relationship seems to be stronger than ever and the lyrics of their duet perfectly encapsulate their relationship. The song's hook captures the essence of the song and relationship best.
"I don't wanna live without you

I don't wanna even breathe

I don't wanna dream about you

Wanna wake up with you next to me"
Despite the words being a perfect fit for their relationship, Shelton and Stefani were not the original writers of the song. That credit goes to Shelton's writing team of Joshua Osborne, Ross Copperman, Shane McAnally, and Tommy Lee James. The emotion, however, can be felt from their singing and is wholly their own.
The song is now number 6 on US Hot Country Songs as of March 30th, and number 43 on the US Billboard Hot 100 and is expected to keep climbing.
A picture-perfect family
Despite any controversy, Shelton and Stefani have a rock-solid relationship and wonderful family together. Although the singers are not yet officially married, Stefani has commented on what a great dad Shelton already is. Her children already view and treat Shelton as a stepdad, proving that not much will change once they officially tie the knot.
Interestingly Stefani's ex, and father to her 3 children, Gavin Rossdale, co-parents with Stefani and has a fantastic relationship with Shelton, as far as husbands of exes go. Although not best friends, the two seem to have a working family dynamic and all parties put the children first.
Although Shelton and Stefani post frequently on social media platforms such as Instagram, they aren't seen together as often as when they both coached and judged on The Voice. However, with their new acoustic single, it is highly possible that Stefani will feature on Shelton's tour, which had to be postponed due to the restrictions of mass gatherings.
Hopefully, over the next few weeks, more will come out of the couple musically, but if not, you'll be sure to see adorable pictures of them on their social media.