Blake Shelton and Gwen Stefani Just Added to Their Family in the Most Adorable Way
Blake Shelton and Gwen Stefani are currently quarantined on his ranch in Oklahoma, where they just revealed that they have added to their family in the most adorable way.
Blake Shelton and Gwen Stefani just welcomed a few new members to their family. The couple is currently staying at Shelton's ranch in Oklahoma and shared a sweet video on social media in honor of Mother's Day. The clip revealed that The Voice stars added some new animals to the farm in what might be their most adorable post yet.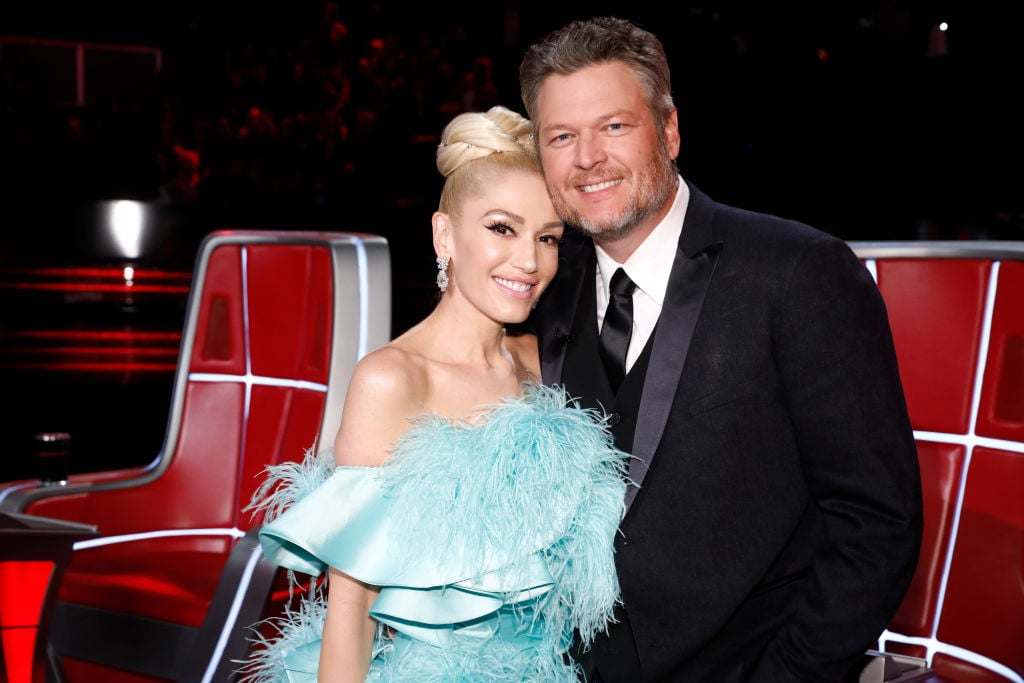 How did Gwen Stefani and Blake Shelton celebrate Mother's Day?
Over Mother's Day weekend, Stefani shared a sweet photo of Shelton driving his boat on the lake. The country crooner rocked a Hawaiian shirt for the outing and completed his look with a captain's hat.
"my captain #nobodybutyou gx thank u for a beautiful mother's day," Stefani tagged the image.
Stefani's oldest son, Kingston Rossdale (13), also got in on the Mother's Day fun. Taking to his own Instagram account, Kingston shared a pic of Stefani holding him when he was younger. He captioned the heartfelt post by writing "mama love you."
Shelton and Stefani have been spending the majority of their time at his Oklahoma ranch amid the coronavirus pandemic. Stefani shares three boys with her ex-husband, Gavin Rossdale, who also splits time with their sons.
Before Mother's Day, a source told Hollywood Life that Shelton was planning something special for Stefani. Rather than get her a big gift in honor of the holiday, he wanted to "pamper her all day."
"He wants to do whatever she wants on the day and just have her time to relax — even if that includes him taking the kids away from her for a few hours so she can have some alone time," the source added.
Gwen Stefani shares an adorable Mother's Day post
The photo of Shelton wasn't the only thing Stefani surprised fans with on Mother's Day. The No Doubt frontwoman also posted an adorable photo of the newest members of the family: a few baby pigs.
Stefani and Shelton are featured in the image feeding a pair of cute pigs while her youngest boy, Apollo Rossdale, sat nearby. We do not know if Shelton got Stefani the pigs as a Mother's Day gift, but they certainly stole the show.
The pop star first posted a photo of the pigs on Saturday. The following day, she shared some up-close images of the adorable animals, including a shot of her petting the tiny piglets on her Instagram stories.
While the couple was busy raising the newest members of their family, Stefani also took the time for a special appearance as part of a Grand Ole Opry performance.
Gwen Stefani enjoys her first Grand Ole Opry concert
Ever since she started dating Shelton, Stefani has been diving deeper into the country music genre. And her latest duet with Shelton, "Nobody But You," has been at the top of the Billboard Country Airplay chart for several weeks.
On May 9, Stefani performed the hit track with Shelton in what was her first appearance for the Grand Ole Opry. The pair sang their love song from Shelton's ranch in Oklahoma in what was the Opry's 4,923rd consecutive weekend broadcast.
The song is the 27th number one hit for Shelton and is Stefani's first country single to top the charts. "Nobody But You" was written by Shane McAnally, Ross Copperman, Tommy Lee James, and Josh Osborne. It was officially part of Shelton's most recent album, Fully Loaded: God's Country.
Other country artists that performed for the Grand Ole Opry over the weekend include Trace Adkins and Dustin Lynch.
Blake Shelton and Gwen Stefani reportedly buy a new mansion
While Shelton and Stefani have been hunkering down at his Oklahoma ranch, the pair recently bought a mansion in California. The couple, who first started dating in 2015, reportedly purchased a 13,000-square-foot home in Encino, which is located in the San Fernando Valley.
According to Taste of Country, the massive home sold for $13.2 million and was bought in a private sale to avoid making headlines. Stefani and Shelton have not confirmed the purchase, but this isn't the first mansion Stefani has owned.
The singer sold her previous mansion in 2017 following her divorce from Rossdale. Stefani put the home on the market for a whopping $35 million.
Blake Shelton and Gwen Stefani have not commented on the rumors surrounding their new home.