Blake Shelton and Gwen Stefani Don't Talk About Getting Engaged Anymore
Blake Shelton and Gwen Stefani's romance has been front and center ever since they went public with it. Since then, people have been entranced by The Voice stars' love for one another and eager to hear every detail about the relationship. For a while, it seemed that Shelton and Stefani were on the fast track to marriage. People were constantly speculating about it and Shelton and Stefani were pretty open about their relationship. Now, the two have stopped talking about marriage completely.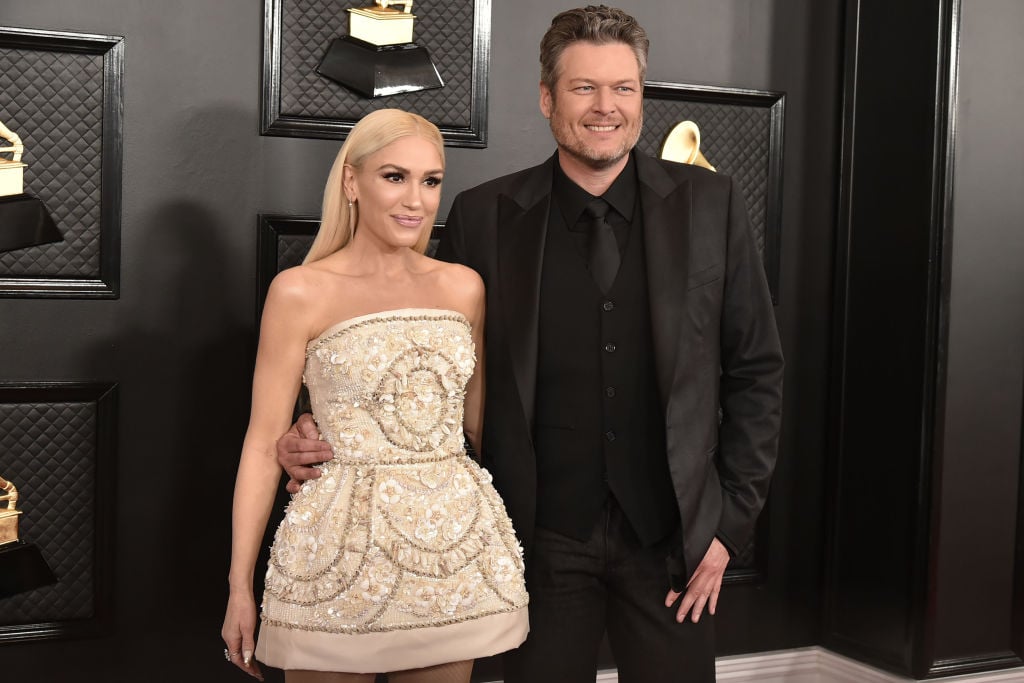 RELATED: Did 'The Voice' Season 18 Winner's Connection to Their Coach Give Them an Advantage?
Engagement rumors
The two lovebirds never hesitated to show their love for one another while they were on The Voice together which caused people to constantly wonder when they were heading down the aisle.
The marriage frenzy got worse when Stefani wore a show-stopping ring on her left hand to the 2019 People's Choice Awards in November.
"It might be a real ring, a real diamond but it's not a wedding ring. No, no," she told E! News of the rock. "It actually doesn't fit over the glove on this hand so I put it on this hand. But good, right?
But she promised to tell fans when she actually had some news.
"When I have something to say, I'll say it," she said.
RELATED: Gwen Stefani and Blake Shelton Just Took a Major Relationship Milestone
Why don't Blake Shelton and Gwen Stefani talk about marriage?
As COVID-19 has taken over the news, Stefani and Shelton's thoughts have moved on to things other than marriage.
"Blake and Gwen have been enjoying life in quarantine and have been dealing with it the best that anyone can," a source told HollywoodLife. "They've been busy and Blake recently was knee-deep working on The Voice so that took a bunch of his time and other than that he and Gwen are just living day by day in Oklahoma figuring it all out to the best that they can and just having fun. It has been a wonderful time being a family and speaking of family, toward the end of 2019 they have had many conversations about engagement and marriage and when it would happen but those conversations have stopped completely since they are focusing their attention on everything else that is going on in their lives."
This lack of conversation around the topic could mean a number of things.
"[Some] family and friends now are thinking that when it comes to getting engaged that it will actually not happen," the source said. "While others think the lack of discussion means something is bound to happen soon."
RELATED: Fans Say Blake Shelton and Gwen Stefani Look Like 2 People Falling In Love 'For the First Time'
On the one hand, the two could be a little marriage shy as they both have already been married. Shelton has been married twice and neither union worked out. But he reportedly is still ready to give it another try.
"Blake has been married twice and definitely wants to do it again, he has joked on many occasions that three is a charm and he's made constant comments about their future but even with that lack of discussion as of late, friends and family would be OK with whatever happens because a ring and or piece of paper is not going to define them," the source told the outlet. "Their relationship is solid and everyone looks at that as the main and important takeaway from it all."