Blake Shelton and Gwen Stefani Take the Whole Family to Kingston's Football Game and Ignore Gavin Rossdale
Talk about awkward. Gwen Stefani and Blake Shelton took their entire family to her son Kingston's football game only to completely ignore her former husband, Gavin Rossdale, who was also in the stands cheering him on. Shelton and Stefani appeared to have a blast at the game, but they strangely didn't seem interested in saying hello to Rossdale.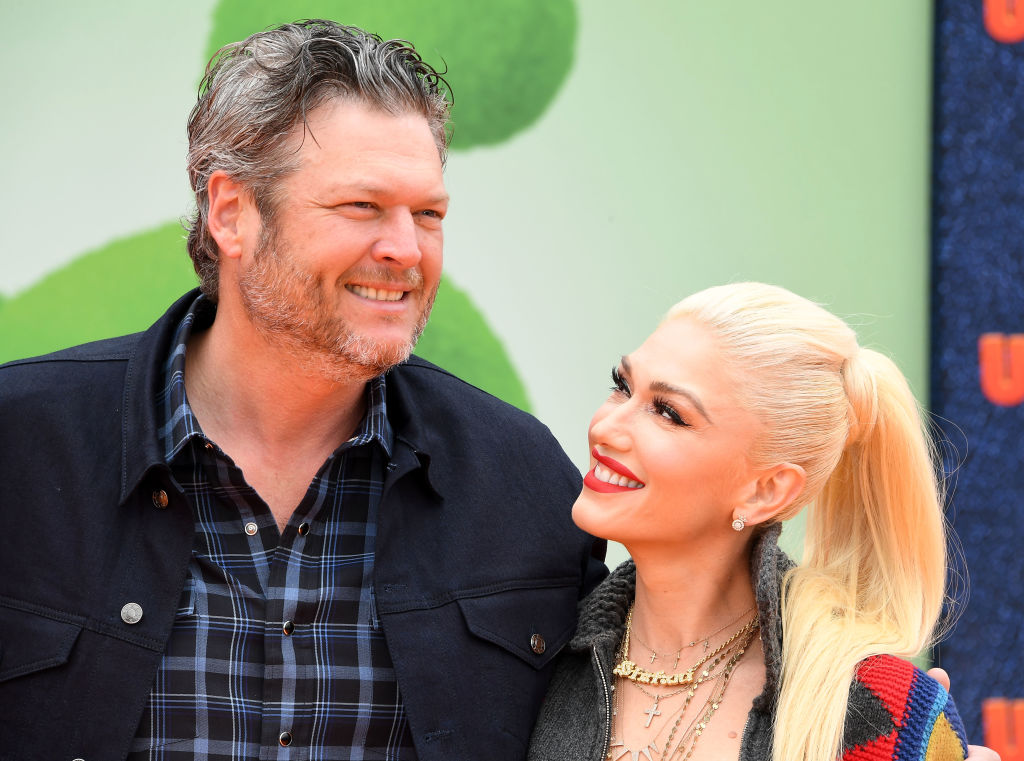 Blake Shelton and Gwen Stefani take the family to Kingston's game
Shelton and Stefani, who started dating in 2015 following her divorce from Rossdale, appeared in high spirits as they attended Kingston's football game.
Stefani rocked a white shirt and red pants for the outing while Blake Shelton kept things a bit more casual. The country crooner donned his usual look of jeans and a t-shirt, complete with a pair of boots.
While the couple made their way to the stands, Shelton was spotted holding hands with Stefani's second-oldest son, Zuma. Her youngest boy, Apollo, also sat on Shelton's lap during the game.
Over the past few years, Blake Shelton has developed a close bond with Stefani's three boys. Stefani has previously gushed about how much the country singer helps around the house, so it's not a huge surprise to see her boys getting so close to him.
"He is a good dad," Gwen Stefani revealed. "He's been helping me out a lot. I literally get to the point where I'm like, 'You've got to get home. Come help!' It's hard. I have three boys."
Rossdale claims he is on good terms with Stefani
Although things did not end well between Stefani and Rossdale, he says that things are very amicable between them. The pair filed for divorce in 2015 after being together for 14 years.
In the spring of last year, Gavin Rossdale revealed that he and Stefani are doing their best to co-parent their children and provide a healthy environment for them. The biggest hurdle they face, however, is the fact that he lives in the UK while she calls Los Angeles her home.
"You know, we both manage to feed them and get them to school on time, more or less!" Rossdale stated. "They are doing really good. They're really happy, and that's it. We're doing the best we can."
When asked what he thought about Stefani's boyfriend, Rossdale confessed that he just wants her to be happy. In the wake of their divorce announce, there was a lot of talk about why Rossdale and Stefani called it quits. Unfortunately, both parties have been very tight-lipped about the breakup.
Gwen Stefani and Blake Shelton originally met while working on the hit singing competition, The Voice. When they started dating, Shelton had just come off his divorce from Miranda Lambert. The two bonded over their shared heartbreak and have been going strong ever since.
Shelton and Stefani give Rossdale the cold shoulder
Considering how things are reportedly good between Stefani and Rossdale, it is a little puzzling why they didn't at least greet each other at Kingston's soccer game.
According to In Touch Weekly, sources at the game say that Stefani and Shelton did not say hello to Rossdale, who was seated in a different section at the match.
While they did not mingle, Gwen Stefani and Blake Shelton were reportedly very much into the game. At one point, they both stood up to support Kingston and his team. Rossdale, on the other hand, did not express too much emotion at the game.
Rossdale appeared in a white t-shirt and black pants. He also wore a pair of sunglasses and talked a lot on his cell phone during the game, at least according to the eyewitnesses.
Gwen Stefani gives Blake Shelton a shout-out on social media
Rossdale, of course, has not commented on Shelton and Stefani snubbing him during Kingston's soccer match. While we wait to see what happens next, it is clear that Stefani's romance with Shelton is as strong as it has ever been.
Taking to Instagram this week, Stefani shared a photo of herself wearing one of Blake Shelton's sweatshirts. The sweater included a graphic of a steer head alongside a globe and a set of wings. Stefani wrote, "xoxo" on the pic in a sweet tribute to Shelton.
With their romance going strong, there has been a lot of talk about Stefani and Shelton finally settling down and tying the knot. After all, the pair has been together for well over four years and are clearly in it for the long haul.
Blake Shelton and Gwen Stefani have not said anything about the wedding rumors, but it is great to see that he has developed such a close bond with her sons.