Blake Shelton Gave Gwen Stefani a Very Specific Piece of Jewelry for Her 51st Birthday
Blake Shelton and Gwen Stefani are finally back in Los Angeles after spending months quarantining at his ranch in Oklahoma. The couple has been consistently updating fans on social media, as they are back to work on the new season of The Voice. Recently, the couple marked two major personal events on Instagram. Stefani just celebrated her 51st birthday, and the duo has officially been together for five years.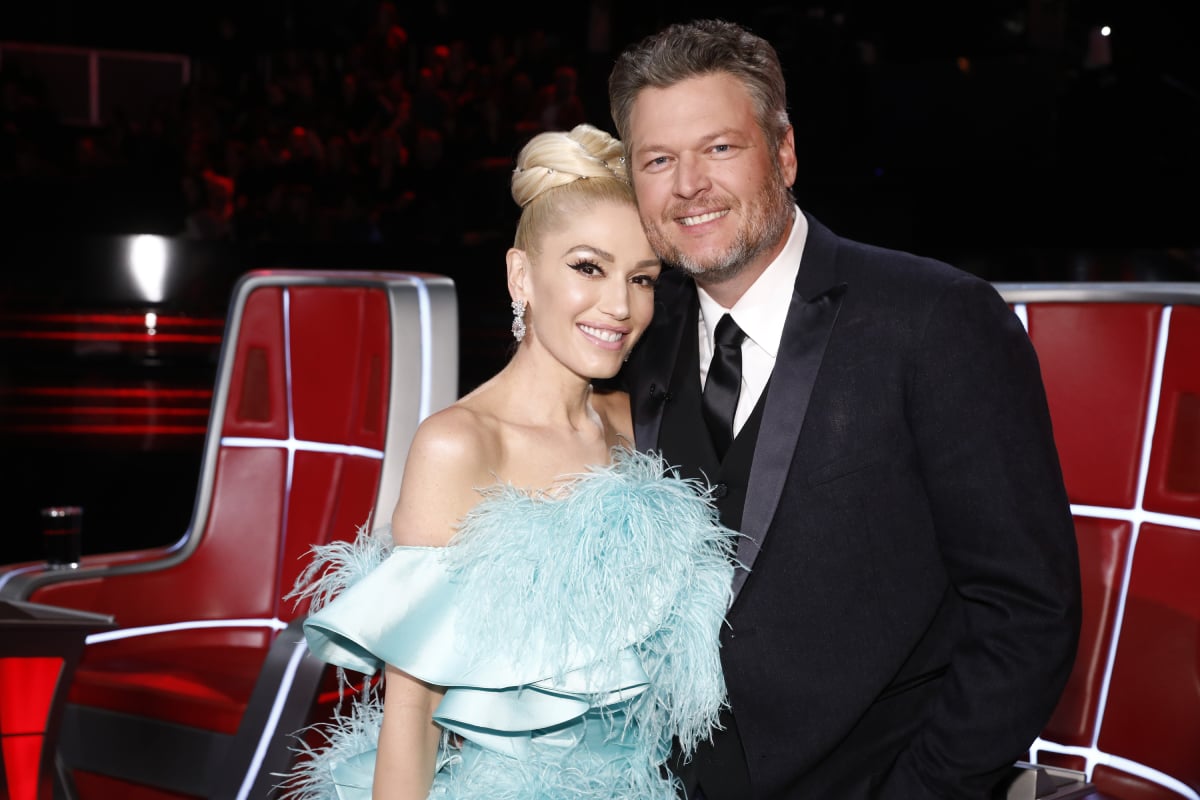 Blake Shelton and Gwen Stefani 'loved' their time in quarantine
During a recent appearance on The Ellen DeGeneres Show, Shelton shared his new mantra for this difficult year. The Smithworks Vodka brand owner said, "2020 sucks and I refuse to spend another minute of it sober."
Shelton later admitted during the interview that this year hasn't been quite so bad. According to E! News, Shelton said that he and Stefani "loved" being in Oklahoma for the past few months.
"It was cool because Gwen's—the time that she spent in Oklahoma over the years has been like a week here, a week there," Shelton explained. "But she got to be there and actually see it go from pretty much winter, to spring, to summer, and see some seasons change. And it's actually the first time that I've been able to be there for that long to see all that happen again. So we loved it."
They were not alone during the time on the ranch. Stefani's three sons – Kingston, 14, Zuma, 12, and Apollo, 6 – visited often. Her brother's family also joined them, as well as a few friends.
'The Voice' coaches shot their new music video in Oklahoma
Stefani says that over the years she's become a "video camera geek." She claims she has no idea how to work them, and she has a few that she has "no business owning." But her brother is a film producer, and he's "really good at that stuff."
When Stefani and Shelton released their new single Happy Anywhere this past summer, the couple made a music video. They edited together five years' worth of home movies, and they filmed some footage on the ranch at Lake Texoma.
Stefani's brother Todd shot the couple singing the song and edited the video together. Shelton says it's his favorite video he's ever done because it's "just so honest and real." It also gave fans a look at Stefani and Shelton's life on the ranch away from Hollywood. Instead of walking the red carpet together, the couple is wearing camo, boots, and cowboy hats.
Shelton admitted this past summer that he and Stefani have finally had time to do things he's been wanting to do for the past 20 years.
Blake Shelton gave Gwen Stefani a diamond '5' necklace
Stefani celebrated her 51st birthday on Saturday, October 3rd, and her family and friends didn't hold back on the gifts. The Make Me Like You singer posted several videos on Instagram of herself opening presents.
In one video, Stefani points out to Shelton a bouquet of flowers that her friend Eric gave her. With his signature dry sense of humor, Shelton simply said, "I'm jealous." On her Instagram Stories, Stefani shared a video of Shelton's gift.
Stefani opened the gift in front of the camera before showing it off. Shelton gave his girlfriend a diamond '5' necklace to mark their first five years together. Stefani immediately gave Shelton a kiss for the special piece of jewelry.
Shelton posted a special birthday message for Stefani. He shared a pic of the duo singing in Oklahoma. In the caption, he wrote, "It's a special day for a special lady in my life. Happy birthday @gwenstefani, I'd write a song for you every single day if I could…"