Blake Shelton Net Worth 2019: Is 'The Voice' Coach Richer Than Gwen Stefani?
America's favorite couple can be seen on 'The Voice' every week, but who is richer - Blake Shelton or Gwen Stefani?
Between his work on NBC's hit singing competition, The Voice, and his award-winning albums, Blake Shelton has built quite a career over the years. And with that success, Shelton has amassed a large fortune worth tens of millions of dollars. But is the country crooner worth more than his girlfriend Gwen Stefani? Here's a look at Shelton's wealth and how it stacks up to Stefani's fortune.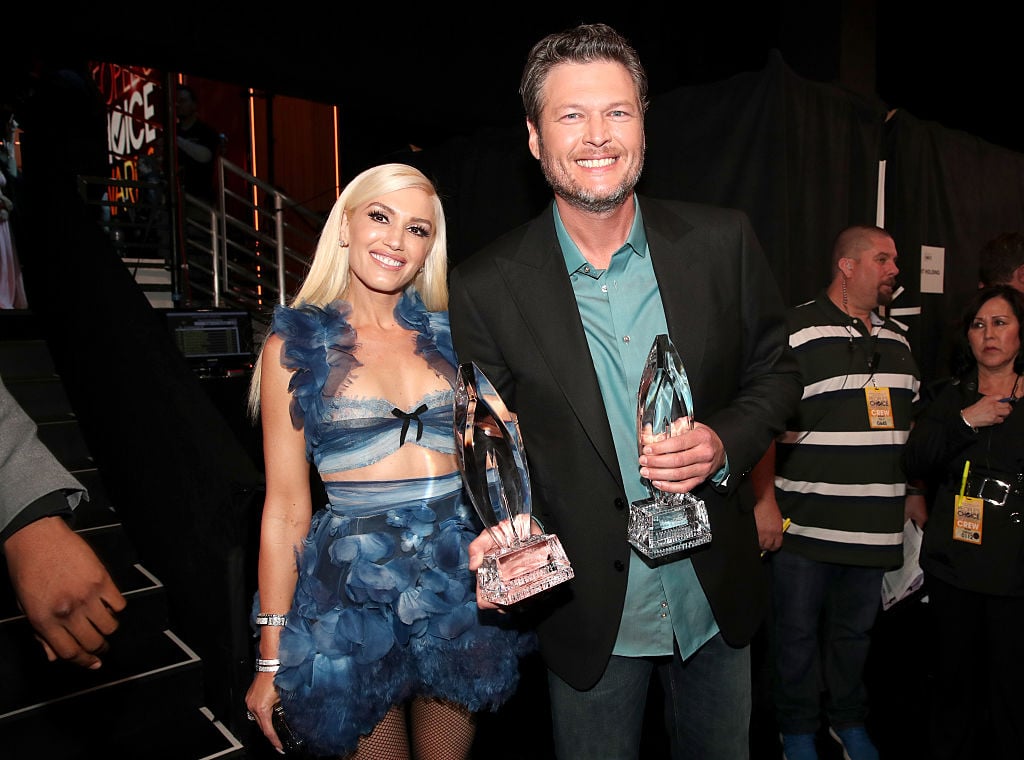 How much is Blake Shelton worth?
Shelton burst onto the country music scene way back in the early 2000s and has enjoyed a bunch of number one hits over the years. Some of his most popular tracks include "Some Beach," "Honey Bee," "Boys 'Round Here," "Mine Would Be You," and "God Gave Me You."
He signed his first deal in 1997 with Sony Music and released a solo album through Warner Bros. in 2001. That album featured popular songs like "Ol' Red" and "All Over Me." His second album, The Dreamer, hit stores in 2003.
According to Heavy, Blake Shelton's net worth is estimated to be around $60 million. He also owns several properties around the country, including a sprawling ranch in Oklahoma that contains some 1,200 acres.
While Shelton has earned a lot through his music, he really started making money when he was cast as a coach for NBC's hit series, The Voice.
Inside Shelton's 'The Voice' salary
Shelton has starred on all 17 seasons of The Voice and is competing against Stefani in the current season. Given all the time and energy he has put in the show, NBC pays him handsomely every year.
Shelton reportedly earns around $13 million for every season of the hit singing competition. This is the same salary as Adam Levine received, who exited after Season 16. As a side note, the highest paid coach on the show was Christina Aguilera at $17 million a season.
Over the years, Blake Shelton has won more seasons of The Voice than any other coach. His former winners include the likes of Jermaine Paul, Sundance Head, Craig Wayne Boyd, Danielle Bradberry, and Cassadee Pope.
Although his frenemy, Levine, is no longer a part of the show, Shelton recently admitted that he loves competing ever year. He may be in his 17th season, but it sounds like Shelton is determined to remain a coach until the very end.
How much is Stefani worth?
Blake Shelton's fortune of $60 million is certainly impressive, but it is not as high as Stefani's net worth. The No Doubt frontwoman is worth approximately $100 million, which she earned through music and The Voice.
Stefani has been in the music industry since the mid-1990s with the release of No Doubt's first album, Tragic Kingdom. She has released quite a few albums over the past two decades and released her first solo project in 2004.
The singer made tens of millions from her music and added to her fortune after being cast to star on The Voice. Stefani replaced Aguilera in season 7 of the competition and has gone on to appear in multiple seasons.
Stefani's earnings on the show are not as high as Shelton, but she still managed to take home $10 million every year. And while Stefani has Shelton beat when it comes to money, he does have one advantage over her.
Is Blake Shelton older than Stefani?
Stefani has done an amazing job taking care of herself over the years, which is why it's surprising that she's several years older than Shelton. Earlier this month, Stefani celebrated her 50th birthday.
For his part, Shelton is only 43 years old and won't turn 44 until next summer. Go figure.
Despite their age difference, Shelton and Stefani's romance is stronger than ever. The two started dating in 2015 and are rumored to be thinking about tying the knot in the near future.
When they started dating, Shelton had just divorced Miranda Lambert while Stefani was coming off her split from Gavin Rossdale, with whom she shares three children.
Fans, meanwhile, can catch Blake Shelton and Gwen Stefani in action when new episodes of The Voice air Monday and Tuesday nights on NBC.