Blink-182 Fans Have Suddenly Turned on the Band — Here's Why
Blink-182 is still releasing new music, but the band might have lost some fans in the process.
In the late 1990s and early 2000s, Blink-182 was at the forefront of the American rock/pop punk scene. The band has had some massive hits, including "All the Small Things" and "What's My Age Again?" which showed the group's diversity as artists but still stuck to their iconic style. However, the band recently released a new single, and fans have rapidly been turning on them. Here's why.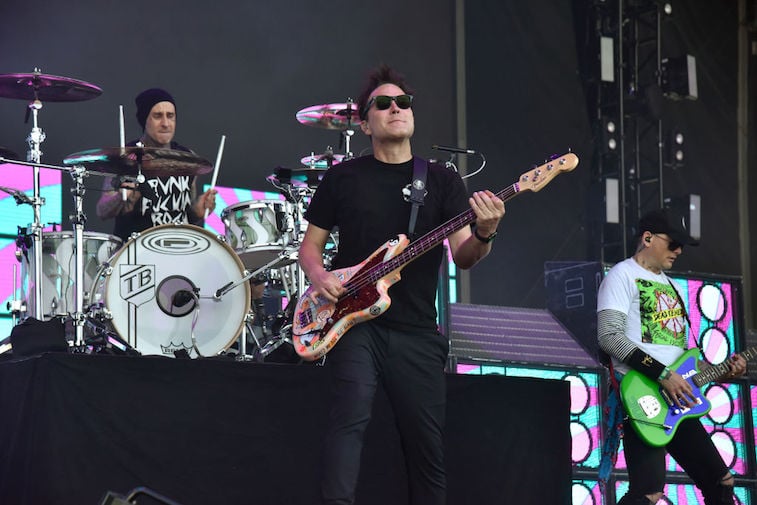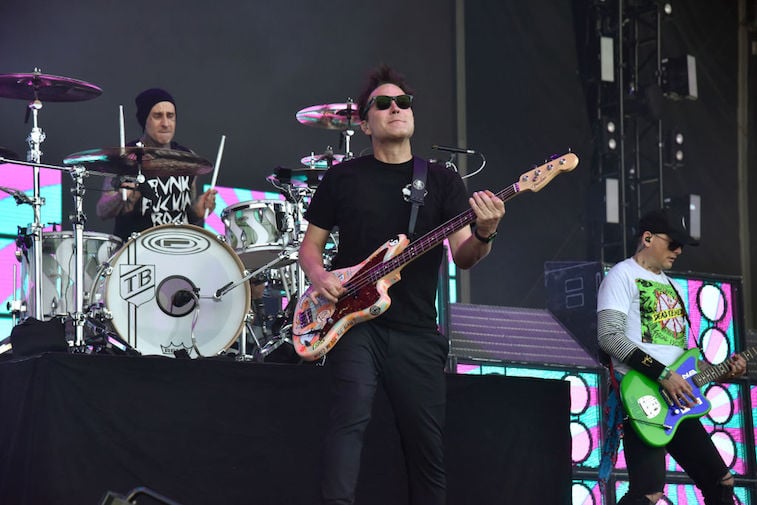 The band first formed way back in 1992
Bink-182 has been around for nearly 30 years, though their style has changed a bit since they first started making music. The group formed way back in 1992 and consisted of lead vocalist (and bass guitarist) Mark Hoppus, guitarist and vocalist Tom DeLonge, and drummer Scott Raynor. Today, though, Hoppus remains the only original band member; Matt Skiba and Travis Barker now do the vocals/guitar and drums, respectively. Barker replaced Scott Raynor back in 1998 after the band removed him because of his drinking problem. DeLonge left the band on his own terms back in 2015.
They shot to stardom with the release of 'Enema of the State'
Blink-182's first album came out in 1995, though they didn't see instant success. Despite not making millions right away, they continued to tour with the album and went back to the recording studio a few times before things finally took off; they released another album in 1997. The band's third album, Enema of the State, was released in 1999 and shot them to fame after it caught the attention of radio stations nationwide, as well as MTV. Several songs on the album, including "All the Small Things" and "What's My Age Again?" quickly hit worldwide popularity and set the stage for the band's successful run.
Their fourth album, Take Off Your Pants and Jacket, was released in 2001 and saw similar success. Its most popular songs were "The Rock Show" and "First Date."
The band recently released a sneak peek of their newest single
Though Blink-182 doesn't necessarily have the popularity level it did back in the early 2000s, it's still an active band with avid fans — and the group just released a sneak peak of their brand new single. The song, titled "I Really Wish I Hated You," won't fully be released until September 6, but front man Mark Hoppus tweeted out a sneak peek of the newest single, which fans could listen to on SoundCloud. Fans could also text a phone number to receive a link to the sneak peek of the song.
Fans aren't happy with the band's style: 'What even is this band now'
Though people were thrilled to learn that a snippet of the song had been released, the reaction from fans probably wasn't what the band had expected. People took to Instagram to share their distaste for what they heard from the newest single. "It's official. Blink has turned into a crappy pop boyband," one Instagram user wrote. "What even is this band now," someone else commented. "Why are they turning into a pop band," another user wrote, followed by a crying emoji. The band hasn't answered any fans' comments, though they did use an Instagram feature to limit the comments allowed on the post. People will have to wait until tomorrow to hear the entire song.
Today, pop-punk and rock aren't as "in" as they once were. It makes sense that Blink-182 is evolving their style to stay with what people currently listen to, though it's clear their longtime fans aren't here for it.