Blink-182's Mark Hoppus Has a Side Project Called Simple Creatures With This All Time Low Member
Many people know Alex Gaskarth as the frontman for All Time Low. Similarly, most music lovers know Mark Hoppus as blink-182's lead guitarist and overall punk rock legend. But what some might not know is Hoppus and Gaskarth have a band of their own — Simple Creatures. Here's how the supergroup came to be and when fans can expect new music from Gaskarth and Hoppus.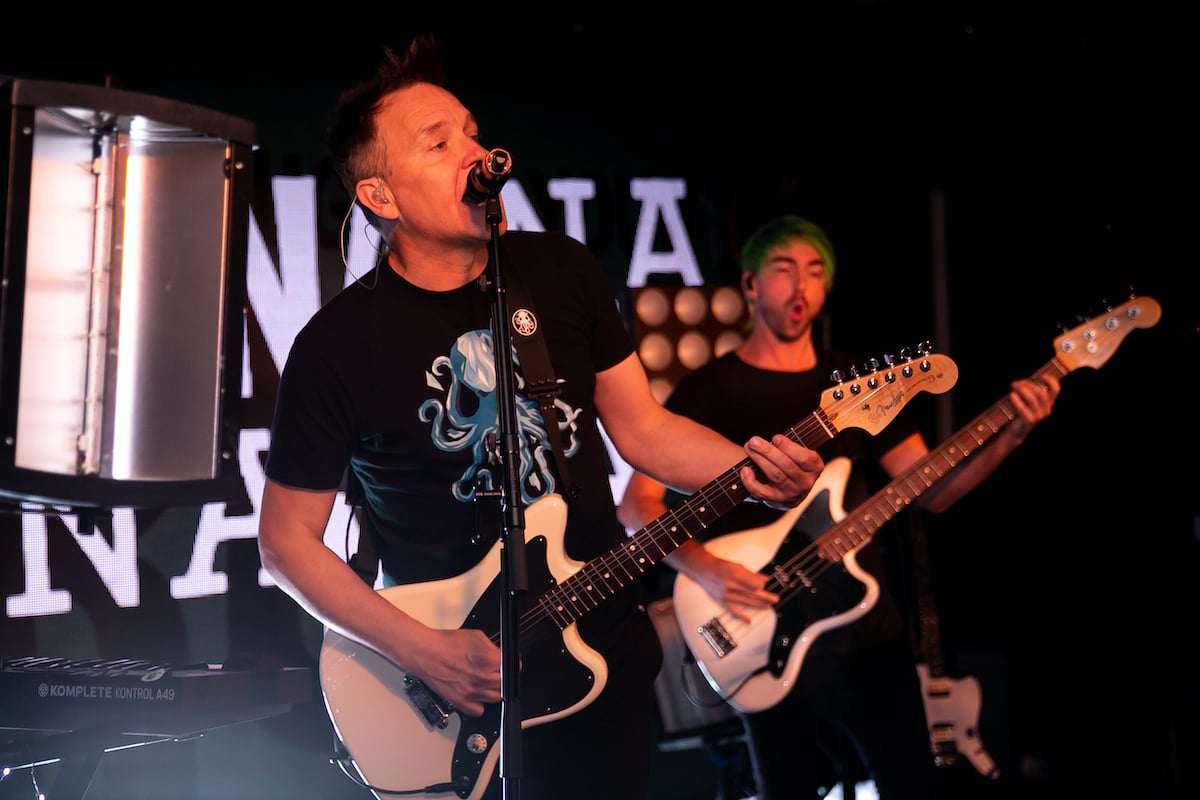 Simple Creatures brought Mark Hoppus out of a 'really awful depression'
Before the pop-punk supergroup came to be, Hoppus was on tour as blink-182's frontman. According to Alternative Press, Hoppus fell into a "really awful depression" after blink-182 finished their California tour. 
"I had this idea that I would make a record with all of my friends, all these people that along the way you see at a show, you tour together," Hoppus told the music outlet. "So, I got in the studio with Alex [Gaskarth], he was the first one that I called. And we wrote a song that I loved, and then he came back the next day and we wrote another song, and we wrote another song."
As a fan of blink-182, a lot of Gaskarth's music is inspired by Hoppus. Naturally, he said yes when Hoppus wanted to collaborate.
Ironically, Hoppus says he never considered working on this new project with anyone other than Gaskarth. The duo always talked about making music together but didn't start pursuing it until 2018.
Mark Hoppus and All Time Low singer Alex Gaskarth release 'Drug' as Simple Creatures
In January 2019, Hoppus and Gaskarth unveiled Simple Creatures. Hoppus and Gaskarth wrote their first single "Drug" with friend and producer Zakk Cervini, who worked with artists like Yungblud and 5 Seconds of Summer in the past. 
"Drug is always the first song we play people when introducing them to Simple Creatures, so it only makes sense that it's the first single," Hoppus explained to Kerrang at the time. ​"I love the ratty guitar lead mixed with the thumping kick drum. Lyrically, the song is about being destroyed by the things you love."
"Drug is a song about someone or something you want the most, being terrible for you — feels great until it doesn't, but then you can't stop," Gaskarth added. ​"In the studio it felt immediately like it was the song that best defined Simple Creatures; it's gritty, grimy, rooted in the musicality we both came up on, but with a twist that takes it away from anything we've worked on before."
Simple Creatures band has 2 EPs
As Alternative Press reported in January 2019, Simple Creatures had their first and second EPs recorded. Simple Creatures released their first EP Strange Love in March 2019. Their second EP Everything Opposite came out in October of the same year.
In regards to Simple Creatures touring, Hoppus and Gaskarth never wanted to take the traditional route. "We definitely want to take [Simple Creature's music] everywhere," Hoppus told AP. "[But] we don't want to do the normal 'go play a small club' thing." Instead, Simple Creatures wants to play warehouse parties and events. 
New music from Simple Creatures 
Both blink-182 and All Time Low released new music amidst a global pandemic. All Time Low's album Wake Up, Sunshine came out in April 2020. Meanwhile, blink-182 put out their single "Quarantine" a few months later in August.
RELATED: 6 Bands You Didn't Know Were Green Day
Despite working on music for their respective bands, Gaskarth promises more music from Simple Creatures in the future. "We had all these plans; we had music kicking around," he told Loudwire. "Then COVID hit, and it's obviously shaken the year up and plans have had to change, naturally."
All Time Low's frontman says a few songs need some "buttoning up." Once he and Hoppus can get into a studio together, it's only a matter of time before Simple Creatures releases new music.