'Blue Bloods': Anthony Makes a Mob Movie Reference as He Goes Undercover
Anthony Abetemarco (Steve Schirripa) is usually behind a desk or on the street with his badge and gun. But the latest episode of Blue Bloods made him more of a wise guy who isn't afraid to threaten someone. This is what happened when Anthony went undercover as a mobster. 
Anthony goes undercover as a mobster on 'Blue Bloods'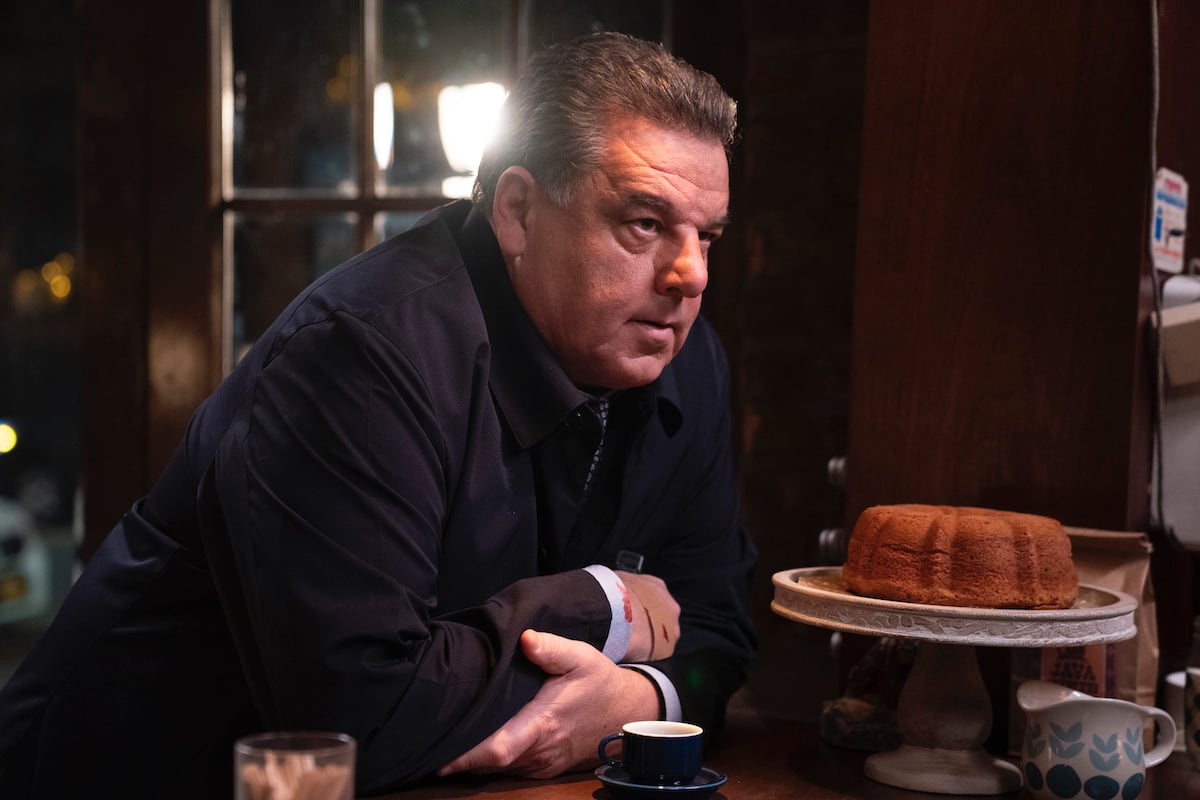 RELATED: 'Blue Bloods': Why Anthony Would Stand out in a Dinner Scene if He Ever Gets Invited
"The New You" starts with Anthony talking to Erin (Bridget Moynahan), and he's distraught. He asks if she didn't know him what she would assume his job would be. Erin answers a baseball umpire, but he doesn't find it funny. He reveals a man mistook him for a mobster in a bar and wanted to hire Anthony to kill his wife. 
Anthony goes undercover to learn more about this stranger. Erin coaches him not to make any movie references and not be vague when talking to this man, so the evidence holds up in court.
He meets the man, Lenny (Louis Mustillo), at a bar to learn about his situation. Lenny says he's been married for almost 20 years, and his wife doesn't love him anymore. He says his wife is now sleeping with his brother, Jerome (Charlie Fersko). The man tearfully says he doesn't want to kill her after all. He wants her to love him again instead. Anthony looks very uncomfortable in this situation, but he does something about it.
Anthony goes back to the bar on another night. He talks to Jerome, pretending to be a tough guy. He says Lenny is a respected friend of his boss, and he's come to deliver a message. Anthony shows him a picture of Lenny, his wife, and his kids. 
"You should be ashamed of yourself. Your own brother, you snively little creep," Anthony tells Jerome after shoving him.
It doesn't really make sense, given Lenny doesn't want to commit a crime anymore, so Anthony doesn't need to go undercover. But we can only imagine that Anthony wanted to help the poor guy out.
There is a reference to 'Goodfellas'
RELATED: 'Blue Bloods': Why Erin and Anthony 'Make a Great Combo,' According to Steve Schirripa
The actor is no stranger to playing a man part of organized crime. Schirripa previously played Bobby 'Bacala' Baccalieri on The Sopranos.
Anthony has a great sense of humor. He made a reference to the famous mob movie Goodfellas in the episode. "You think I'm funny? I make you laugh? I amuse you?" Anthony says to test the lie detector. Erin looked at him and said she didn't get it. This in reference to Tommy DeVito (Joe Pesci) asking Henry Hill (Ray Liotta) how he's funny and if he amuses him in a scene.
The show has certainly acknowledged that Anthony could fit into a life of crime. It was revealed his father was a gangster known as "Tony the Bat."
But Anthony is mostly harmless. He's been helping Erin win her cases since season 6. It looks like he's not against helping out strangers either.