'Blue Bloods': Does the Cast Ever Have Dinner Together Like the Reagans?
Fans of Blue Bloods love the dinner scenes. They probably imagine the cast also eating together when they're not filming. But this is what Will Estes, who plays Jamie Reagan, had to say about what happens behind the scenes.
The Reagans eat dinner in every episode 
The family has the tradition of eating together every Sunday. They catch up on work and life at this time. Sometimes they get advice for whatever work dilemma they have on their mind.
Frank (Tom Selleck) and Henry (Len Cariou) always sit at the heads of the table as the patriarchs of the family. Jamie (Will Estes), Eddie (Vanessa Ray), Danny (Donnie Wahlberg), and Erin (Bridget Moynahan) are usually always there.
But as time goes on, things have changed. The younger generation Nicky (Sami Boyle), Sean (Andrew Terraciano), and Jack (Tony Terraciano) have left for college. Joe Hill (Will Hochman), who is the son of Frank's dead son, Joe has also appeared a couple of times. 
Does the 'Blue Bloods' cast ever have dinner together like the Reagans?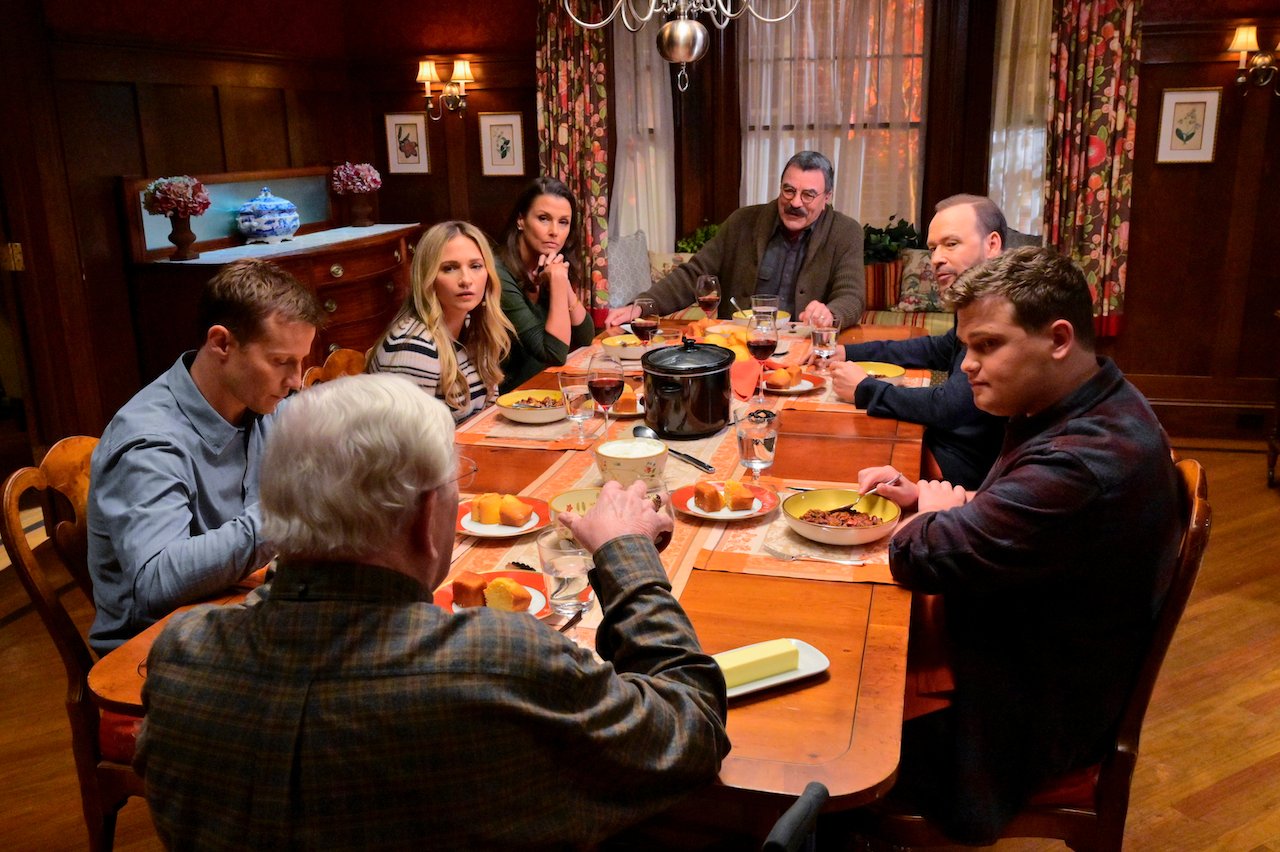 Fans get to see the cast break bread in every episode together as their characters. But do they also ever have dinner together in real life?
"We don't really have time," Will Estes told Looper. "Everyone sort of has a different schedule. Some of us will go out of town on the weekends to be with family and whatnot. But we have on about three occasions, unless they're all doing it without me, which is possible. But, as far as I know, it's not happening on any regular basis."
It makes sense that the cast members have different schedules. Their characters usually have their own separate stories. And the only time they all come together is to film the family dinner scenes. That would make it hard to hang out.
Selleck has talked about the dinner scenes being his favorite part of filming because of this. "We have to shoot everybody not just in a wide shot but in close-ups, but it's still my favorite part of the show," he told TV Insider. "I sound like the fans, but it's mainly because I get to see my friends. The Reagans are close, and we're close. With a cast this big, I might not see Donnie for a month. This format is like a weekly reunion."
The actor admitted they could get a little unruly at the dinner table. "We drive directors nuts because they want to get the shot done and we're joking around…a lot," Selleck said. 
The dinners are back for season 12. Fans will have to keep watching to see if there will be any new guests this season.