'Blue Bloods' Cast: What Are Their Real Ages?
Blue Bloods is a crime drama that follows the Reagans. The family is comprised of several generations of law enforcement agents, hence the title Blue Bloods! With the majority of the characters being related in some sense or another, how do the ages of the cast members stack up against their on-screen counterparts?
Len Cariou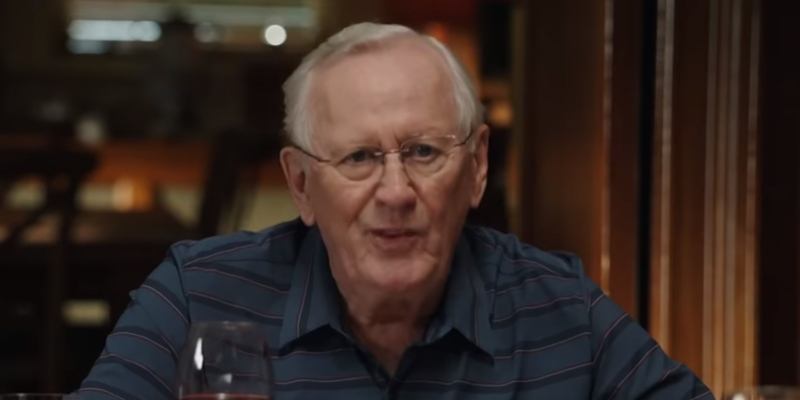 Len Cariou plays the patriarch of the family, Henry Reagan. Reagan is a retired Police Commissioner, amazing father (who regularly imparts excellent advice to his son), grandfather, and great grandfather. In the show, the senior Reagan is estimated to be in his 90s, quite an insult considering his real age!
Cariou was born in Winnipeg (back then it was known as St. Boniface), on September 30, 1939. That makes the Canadian actor 79 years old, over a decade younger than Henry.
Fun Fact: Cariou is a member of the Theatre Hall of Fame. Not too surprising considering the actor has a thing for Broadway.
Tom Selleck
In the latest episode of #BlueBloods, Frank will stop at nothing to right a past wrong. Stream the full episode here: https://t.co/nFN0ShQJhg pic.twitter.com/xviz2fhoS0

— Blue Bloods (@BlueBloods_CBS) January 12, 2019
Tom Selleck plays widower and current NYPD Police Commissioner, Francis "Frank" Xavier Reagan. He's a father and grandfather with a stern air about him. Despite his prudent nature, Frank is quite the family man. The commissioner is estimated to be in his 60s. Unlike Cariou's age, this is quite the compliment since Selleck's quite a bit older in real life.
Selleck was born in Detroit, Michigan on January 29, 1945, making the Magnum P.I. actor a whopping 73 years old. Isn't that crazy? Selleck and his on-screen father figure are only six years apart. Despite being a part of the same generation, these two pull of father and son beautifully on set.
Fun Fact: Selleck starred in six TV pilots, all of which failed, before landing his career-making role on Magnum, P.I.
Donnie Wahlberg
Leave it to Danny 💪🏽 #BlueBloods pic.twitter.com/rUdZlz2b4x

— Blue Bloods (@BlueBloods_CBS) January 12, 2019
Daniel "Danny" Reagan is brought to the small screen by Donnie Wahlberg. Danny is the eldest son of Frank, and his deceased wife, Mary. He's an NYPD police detective who isn't afraid to go the extra mile when it comes to catching the perp. His rough and tumble attitude certainly works but often lands him in hot water.
Wahlberg was born in Dorchester, a neighborhood in Boston, on August 17, 1969, making him 49 years old. He's no stranger to the family life considering he's number eight out of nine children. With that much experience it's no wonder he pulls off being a brother to three siblings so well. The only difference is Wahlberg is the second to the youngest in his real family. The well-known Mark Wahlberg is his baby brother. He also has some Irish blood running through his veins, just like the Reagan family.
Fun Fact: Remember when Wahlberg played Vincent Grey in the classic, The Sixth Sense? He lost an incredible 43 pounds for the role.
Bridget Moynahan
Bridget Moynahan plays the sole daughter in her generation of Reagans, Erin Reagan. She is the Bureau Chief at the Manhattan District Attorney's Office. While she followed in the footsteps of her dear old dad, just like the rest of the family, she took a slightly different route. Erin often errs on the side of caution and abides by the law 24/7. This puts her at odds with the other members of her family who don't mind taking unusual paths if it means catching the crooks.
Moynahan was born in Binghamton, New York on April 28, 1971. This makes her 47 years old, two years younger than Wahlberg. Considering her place on the family tree, this makes perfect sense. Moynahan has two brothers, a perfect parallel to her on-screen life. Just like Wahlberg, she also happens to be of Irish descent.
Fun Fact: The beautiful Moynahan was ranked one of the sexiest women in the world by Stuff Magazine in 2002.
Will Estes
On this week's #BlueBloods, Jamie strives to rely less on Frank's input to makes decisions. Stream the latest episode here: https://t.co/nFN0Shz7SG pic.twitter.com/o6sGhh6YpY

— Blue Bloods (@BlueBloods_CBS) January 5, 2019
Will Estes' character, Jameson "Jamie" Reagan, is the baby of the bunch. The golden child started his blue blood journey by attending law school. Ultimately he was unable to fight the allure of being a cop, underwent the necessary training, and followed the fate bestowed on the Reagan men.
Estes was born in Los Angeles, California, on October 21, 1978. This makes him 40 years old, once again a perfect match for his on-screen persona. The difference — Estes is an only child. That being said, solo babies typically get it all, just like the youngest sibling. Jamie was no different as his parents, especially his late mother, spoiled him.
Fun Fact: Estes has formal training in gymnastics as well as Brazilian Jiu-Jitsu.
Other Cast Members
Sami Gayle aka Nicky Reagan-Boyle: Born January 22, 1996 (Age 22)
Andrew Terraciano aka Sean Reagan: (Age 18)
Tony Terraciano aka Jack Reagan: Born August 20, 2000 (Age 21)
Abigail Hawk aka Abigail Baker: Born May 4, 1985 (Age 33)
Gregory Jbara aka Garrett Moore: Born September 28, 1961 (Age 57)
Marisa Ramirez aka Maria Baez: Born September 15, 1977 (Age 41)
Robert Clohessy aka Sid Gormley: Born June 10, 1957 (Age 61)
Vanessa Ray aka Eddie Janko: Born June 24, 1981 (Age 37)
Steve Schirripa aka Anthony Abetemarco: Born September 3, 1957 (Age 61)