'Blue Bloods': Danny Reagan Dropped Another Song Reference During Lyle Lovett's Guest Star Episode
Donnie Wahlberg, who plays Danny Reagan on 'Blue Bloods' loves referencing his own music. Find out what he said in the episode with Lyle Lovett.
There have been multiple New Kids On The Block references in Blue Bloods. That's all thanks to Donnie Wahlberg, who plays Danny Reagan. The show finally returned with an episode guest starring Lyle Lovett. Find out the reference that was hidden in the episode and more.
Donnie Wahlberg has a history of dropping NKOTB references on 'Blue Bloods'
Wahlberg still tours with New Kids On The Block. He dropped a few references to their songs in the first season.
"So I would tell, like Bridget [Moynahan]'s character, 'Hey, hang tough' and 'Call It What You Want,' 'Step by Step,'" Wahlberg told Showbiz Cheat Sheet. "I was speaking in song titles pretty much every episode and nobody was really catching it because of the way I did it."
He continued, "But my music fans and the [NKOTB] fans definitely were catching it. And every week they would hashtag whatever the song title was. It would usually end up trending on Twitter. I love it."
Lyle Lovett guest starred on the show
Singer Lyle Lovett played Texas Ranger Waylon Gates in the episode "Fog of War." Wahlberg teased the episode with a picture of their characters together on Instagram with the caption, "I'm seeing a spin-off! Anybody have any ideas for a title? I got #BlueBloodsTexas so far! @lyle_lovett sir — you rock!"
He also posted another picture of them with Marisa Ramierz. "Oh, you know, no big deal, just hanging out with this guy — Mr @lyle_lovett! He graced the set of #BlueBloods today, and delivered one of the best performances (and coolest roles) in the entire ten seasons of our show! Can't wait til you all get to see this episode!" the actor captioned the photo.
Baez and Danny lose a witness in the episode. Gates is determined to catch him so they have to work together. "I guess that makes me the hunter, and you the guides," the ranger tells Danny. "Well, you can call it what you want, cowboy. But we work together," Danny told him.
They managed to get their guy in the end. However, fans were left searching for a reference that Wahlberg dropped.
He dropped a new reference in the episode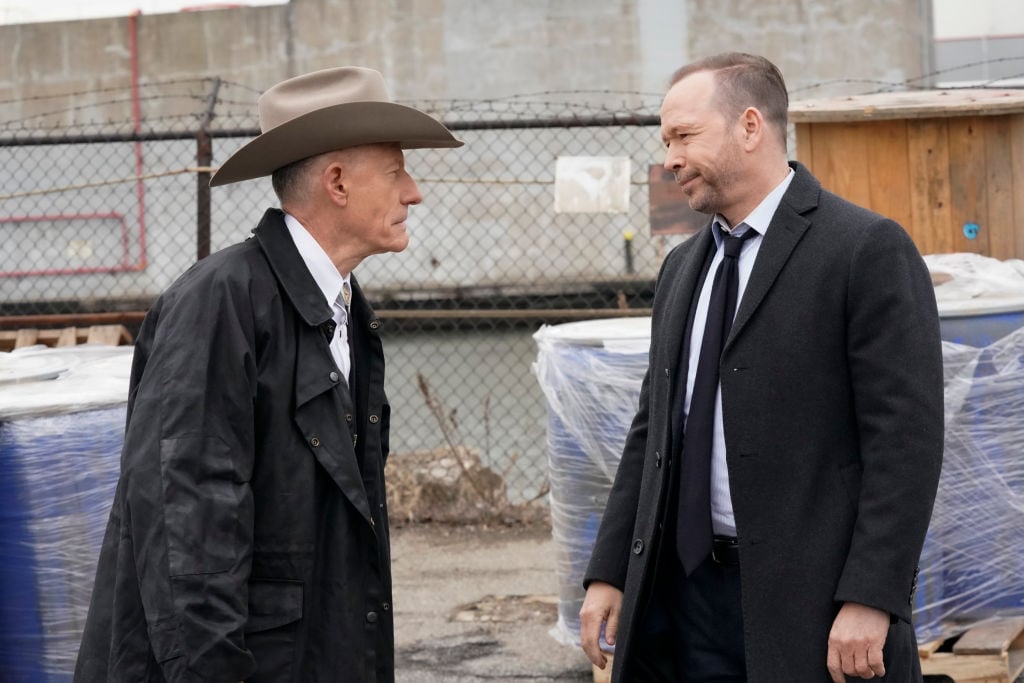 The episode had more than a musical guest star. It had another NKOTB reference in one of Danny's conversations.
"May be an @nkotb easter egg (we'll call it a Valentines Treat) in this episode! Let me know if you catch it! #BlueBloods," tweeted Wahlberg on the night of the episode. One fan replied, "Was it Call It What You Want?" He answered, "Bingo! @nkotb#BlueBloods@BlueBloods_CBS#CallItWhatYouWant was not in the script but it is in the show!"
Fans tweeted their love for the hidden references. One person tweeted, "so a certain Wahlberg slipped that in. Love when NKOTB meets Reagan happens. #BHLove." Another person tweeted, "Love when you do that! Season one was full of it! #BlueBloods."
The episode is probably a sign that ties between Blue Bloods and NKOTB aren't over. We might get more references in the future.