'Blue Bloods': Danny Reagan Will Reunite With Maggie Gibson, Will It Ruin Things With Maria Baez?
Blue Bloods is coming back and things could get complicated. Danny Reagan (Donnie Wahlberg) will reunite with Maggie Gibson (Callie Thorne) in the premiere, but what will that mean for him and Maria Baez (Marisa Ramirez)? Here is everything we know about the new episode.
Danny and Maggie have an interesting history on 'Blue Bloods'
Maggie first appeared on Blue Bloods in season 9. She's a psychic medium who helped Danny and Baez with their cases. She also helped Danny personally.
She told Danny that his dead wife, Linda (Amy Carlson) loves him. Maggie later pushed him to move on and that meant finally taking off his wedding ring. Some fans wondered if they would start dating, but Maggie hasn't returned.
In Season 11, Baez and Danny became closer instead. He invited her over for family dinner. They also acknowledged it was awkward talking to each other about dating other people. But they decided to not do anything about their feelings yet.
Danny Reagan will reunite with Maggie Gibson, will it ruin things with Baez?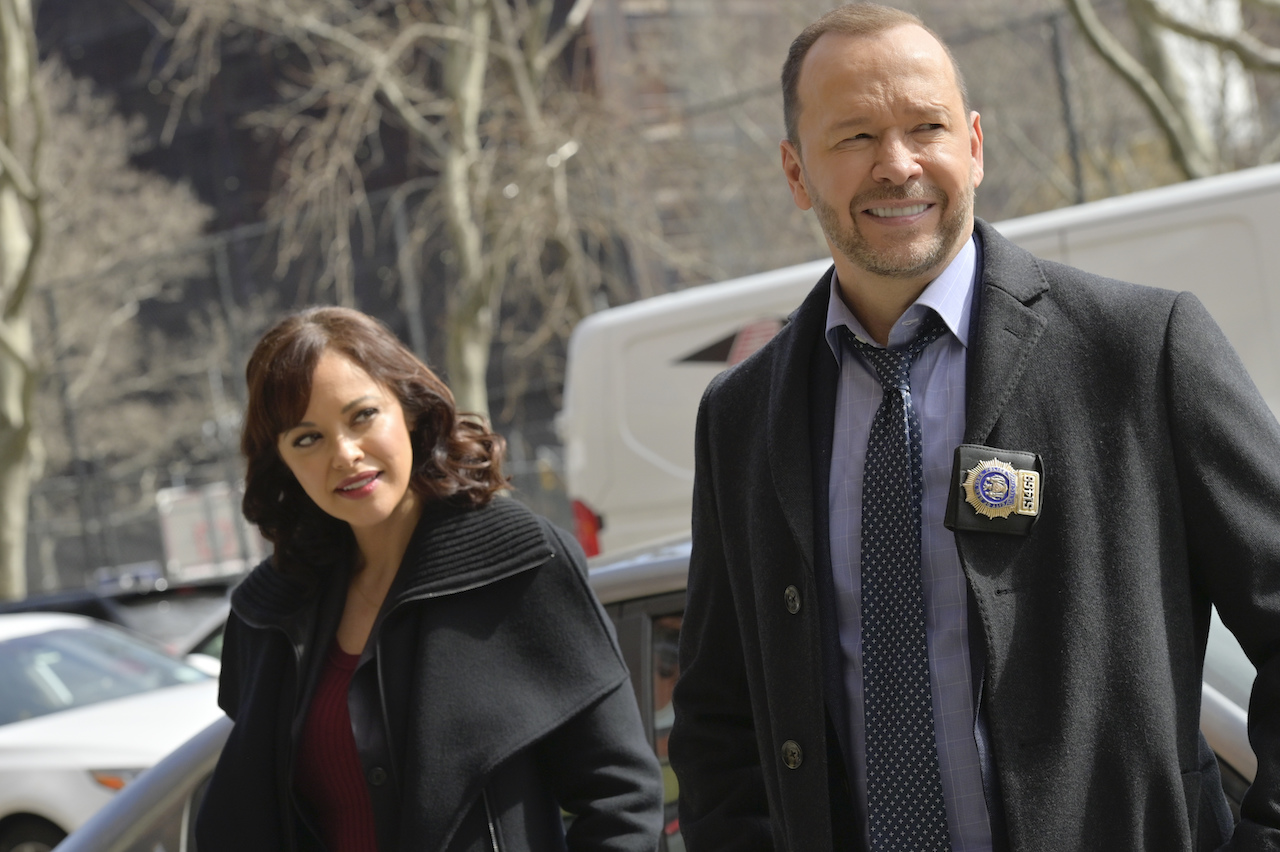 RELATED: 'Blue Bloods': Did Linda Send a Message to Danny from the Dead?
Season 12 will open with the episode, "Hate is Hate." A press release revealed Maggie will be back to help Danny.
"As Danny consults a psychic to solve the murder of a young boy, Frank (Tom Selleck) is at odds with the mayor over how best to protect the city from an uptick in crime following a high-profile shooting," reads the description. "Also, Erin (Bridget Moynahan) investigates a decades-old case in which the primary eyewitness to the killing is her boss, D.A. Kimberly Crawford (Roslyn Ruff), who was 13 years old at the time, on the 12th season premiere of Blue Bloods."
This should be interesting given Maggie and Baez had a tense conversation before. Baez accused Maggie of interfering with Danny's life. Will Baez be open to Maggie helping them again? Will Danny have feelings for Maggie now that she's back?
Donnie Wahlberg teased a possible love triangle between Maggie, Danny, and Baez
RELATED: 'Blue Bloods' Fans Aren't Happy Danny Was Flirting With Someone Other Than Baez and Maggie
It's not just in fans' imagination that there might be a love triangle. Wahlberg has talked about the three characters.
"They've definitely been flirting around with Danny," Wahlberg told Showbiz Cheat Sheet. "I think his connection with Baez has been growing. I think the medium Maggie played by Callie Thorne has been building an interesting relationship with Danny."
He added, "So I don't know what the future holds." The actor made it clear that he doesn't ask questions and likes to discover the story as he films. It sounds like he's open to whoever Danny will pick if he doesn't get a new love interest.
Fans will be discovering as they watch like the actor. It looks like the Oct. 1 premiere could be interesting for Danny.