'Blue Bloods': Edie Falco Weighs in on Eddie and Jamie Working Together After Getting Married
Jamie (Will Estes) and Eddie (Vanessa Ray) got married on Blue Bloods. They also sometimes work together. Edie Falco of the new show, Tommy weighed in on the couple's situation and said there is a good reason for couples to not work together. Find out what she said and more.
Jamie and Eddie are continuing to work together on 'Blue Bloods'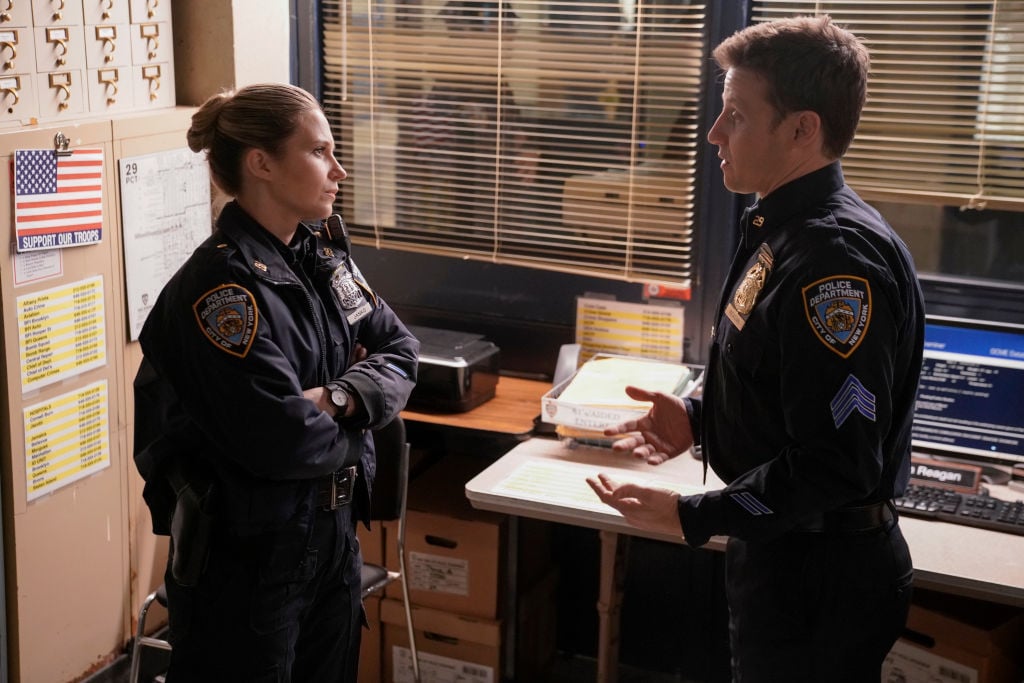 Jamie got promoted to sergeant and Eddie was moved to his precinct. They might not be partners in a cop car together, but the married couple still sometimes work together. When they're not working together it's because they work opposite schedules.
This has led to some arguments. One episode showed Eddie giving Jamie a list of things to do when he was leaving work. He wasn't happy about it and things got uncomfortable.
Another episode showed Jamie investigating whether police officers were giving people's private information to a doctor. Eddie warned him to stop because multiple cops and precincts were involved and others thought she might have told on them. Jamie didn't listen.
Some fans have complained that the couple is only having more troubles since they got married. There aren't any signs of their situation changing any time soon.
Vanessa Ray said the couple might wait to start a family
When will the couple have a baby? We might be waiting for that to happen even longer.
"They are crazy about each other, but there's a lot they have to deal with and sort out," Vanessa Ray told Hollywood Life. "I'm the worst keep of secrets, so no, I don't know if they're going to start a family soon, but it's something they talk about a lot."
The actress talked about what that change would mean for them. "Eddie and Jamie fell in love being equals, and one or both of them would have to step back from a bit of their career that they love so much [when they start a family]," she said. "There are days where they say, 'Yes, of course we're going to start a family.' And then there's days where she goes, 'I don't think I could give this up so casually.' It's interesting to see them play around."
Edie Falco said she would rather not work with a significant other
A new video showed Falco talking about different situations on Blue Bloods in a game of Would You Rather? She gave her opinion on the couple's work situation.
One of the questions is would she rather work with a significant other or change jobs so you don't work together. A clip was shown of Eddie and Jamie talking to each other in the precinct.
The actress answered, "I think not working with a significant other tends to work better so that when you come back together at the end of the day you can talk about how your day was."
Some fans replied to the video choosing the same option. "I would not work with my significant other," one fan tweeted. Another person wrote, "Rarely can spouses work well together Need some apart time."
Jamie and Eddie seem to be making it work for now. We will have to wait to see if anything will change.