Blue Bloods' Fans are Wondering If Eddie Could Be Pregnant
Blue Bloods is coming up on almost a decade on television. The drama, which premiered in 2010, doesn't seem like it will end any time soon. It's a fan favorite, and there's no wonder why. The show focuses on the Reagan family, who are in law enforcement and dedicated to public service. That means that there's drama in their professional lives, which sometimes bleeds through to their personal lives. Still, the family is tight, which fans love. They never let their differences divide them, at least not at the end of the day. Family dinners may not always be drama free, but they always happen, no matter what. 
Right now the only Reagan who is married is one of the youngest, Jamie. Fans are hopeful that Jamie and his wife, Eddie, may add another Reagan to the clan at some point. That's left them looking for signs of pregnancy everywhere.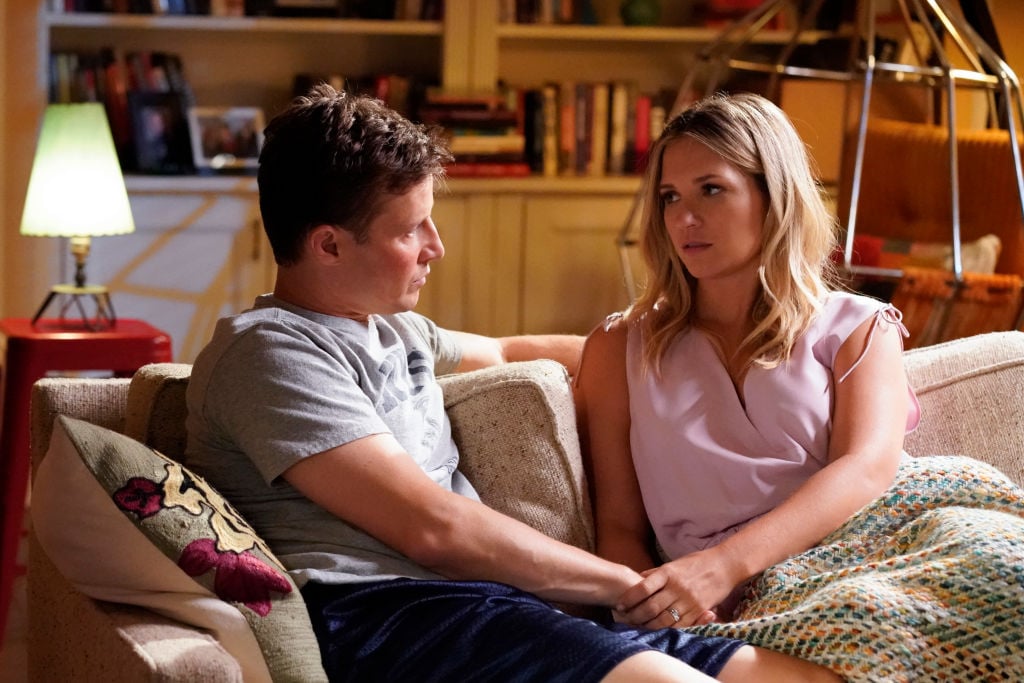 Fans think Eddie's moodiness may indicate she's pregnant
In a recent episode of the show, Eddie seemed very moody and prone to sudden outbursts of anger. It seems out of character for the tough NYC police officer. That left fans wondering if the newlyweds were going to be announcing a pregnancy at some point this season. 
The drama started over a list Eddie gave to Jamie. He didn't do all the things on the list, and she didn't seem to like his attitude about it. She started to question some of the dynamics in the Reagan family, specifically gender roles. Fans thought this was out of character for Eddie. Many immediately jumped to pregnancy.
There hasn't been an announcement yet, but fans are still on the edge of their seats. Every new episode, it seems like fans find something indicating that there will be a baby in Eddie and Jamie's future. 
Fans think the show is hinting a baby is in the future
In the last episode of the season, "Eddie's protective instincts take over when she and Jamie discover a newborn left outside their precinct." Even though it's clear from CBS's description of the episode that Jamie and Eddie end up finding a baby who is not theirs, fans wonder if it's foreshadowing. 
Many fans commented on Twitter that they think Eddie and Jamie will be making the big announcement soon. It could be that they think Eddie's protective instincts are hormonal, or that this will make Eddie and Jamie want to have their own baby.
It doesn't seem like there will be a pregnancy announcement before the end of the season, but that doesn't stop fans from hoping. Those who aren't hoping, however, are starting to wonder about Eddie.
What if Eddie is just short-tempered?
Not all fans are seeing pregnancy in every one of Eddie's short tempered snaps. Some are wondering if this is just Eddie's personality. Now that she's married to Jamie, it seems like she's changed. Could she just be a short-tempered person? Not all fans are into it. 
Jamie and Eddie have been fighting a lot. When she's not fighting with her brand new husband, she's crying over a case, or fighting with one of the other Reagans. Some fans just think she may be showing her true colors. It's possible Eddie is just a disagreeable person.
Only time will tell if Eddie's personality changes are pregnancy-related or not. Unfortunately, fans may have to wait longer than usual to find out. With everything shut down thanks to the global pandemic, many films and TV shows have stopped shooting. It's not clear when they'll pick up production again, or if the shutdown will mean a delay for Blue Bloods.