'Blue Bloods' Fans Aren't Happy Danny Was Flirting With Someone Other Than Baez and Maggie
The latest episode showed Danny Reagan (Donnie Wahlberg) was making small steps to have a romantic life on Blue Bloods. However, that didn't go over well.
Fans aren't happy that he was considering being with someone other than their favorite characters. Find out what they had to say and more. [Spoiler alert: Spoiler for the episode "The Puzzle Palace."]
Many 'Blue Bloods' fans think Danny will get with Baez or Maggie
Danny lost his wife Linda (Amy Carlson) a few years ago. He hasn't dated since, but that might change.
The detective became close to a psychic named Maggie (Callie Thorne) last season. She helped him solve a few cases and move on by convincing him to take off his wedding ring.
Danny is also still working with his partner, Maria Baez (Marisa Ramirez.) Many fans are rooting for them to fall in love, but it has yet to happen.
The newest episode showed he was flirting with Megan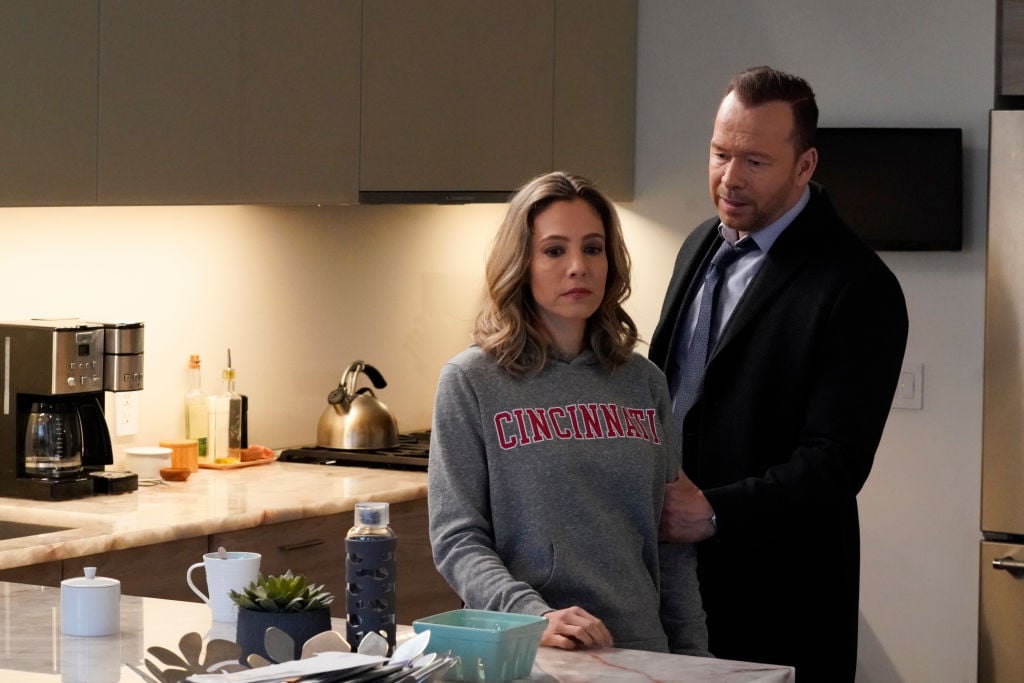 The episode, "The Puzzle Palace" showed Baez being upset when the results of an autopsy comes back as an accidental overdose. The victim had a caved in skull and the murderer could walk because of this ruling. Megan Carson (Leigh Ann Larkin) did the autopsy.
Danny and Baez confronted her. Baez was pretty suspicious, but Danny eventually stopped her from questioning Megan any further. They later talked about it.
"Oh, come on, Danny. You two have been flirting for the better part of a year now," she said to him. She accused him of defending her earlier, but he said he wanted more evidence that Megan covered things up and he found it.
The episode ended with Danny catching a man trying to attack the coroner. Megan then asked him for a ride home.
"I can. As long as you're OK with the fact that I'm probably going to give you a hard time about lying to the police and helping a murderer. Which is technically a crime and pretty much the worst thing you can do in my book," he told her. Megan decided to go home alone.
Fans weren't happy about it
Fans have their favorites when it comes to Danny and his potential love interests. So the new episode took them by surprise and they shared their reactions on Twitter.
The ones who were Team Maggie shared their thoughts. "Danny belongs with the Psychic. @DonnieWahlberg," one fan tweeted.
Of course, there are also fans who want the detective to get with his partner. "She can drive herself. Danny + Maria is the only [ship emoji] I sail lol," tweeted another fan.
They seem pretty happy that he didn't take the coroner home at the end of the episode. "Take the d*mn bus woman, you don't need to waste a detective's time, energy and gas to be your taxi," tweeted a fan.
There were a few fans that seemed open to Danny finding love in general. "Not the one I pictured Danny being paired with but could be a start. Danny deserves to find happiness again. #BlueBloods," tweeted one fan.
It seems like the fandom is still torn over who Danny should end up with. For now, the detective seems to be against moving forward with Megan.