'Blue Bloods' Fans Debate Whether These 2 Characters Will Be the Show's Next Couple
There aren't many couples on 'Blue Bloods' but fans are hoping for more. Find out which two characters fans are talking about as possibly the show's next couple.
Multiple members of the Reagan family are single on Blue Bloods. Fans are wondering if there will be a new couple now that Jamie (Will Estes) and Eddie (Vanessa Ray) are married.
Some fans are rooting for two unexpected characters to fall in love. Find out who they are and the debate the fans are having about it.
Anthony Abetemarco previously shut down Jack Boyle on 'Blue Bloods'
This season Anthony Abetemarco (Steve Schirripa) has continued to work with Erin Reagan (Bridget Moynahan.) Sometimes her personal life gets involved with her work and he has to be there for her.
Erin's ex-husband, Jack Boyle (Peter Hermann) returned in the episode "Higher Standards." That's because he had a client that was wrongfully convicted and she was part of his case.
"I joined a charity that takes on innocence cases. And I'm representing a client that's been in prison for five years and Erin, he didn't do it," Jack told Erin. "He was put away for murder based largely on an eyewitness account and the witness recanted, and the detective who handled the case let's just say this wasn't his first questionable conviction."
Anthony wasn't thrilled to find out about this. "Every time this guy comes around there's trouble, every time," he told her. He still helped her with the wrongful conviction case, but fans loved that Anthony was protective of Erin.
Anthony almost died this season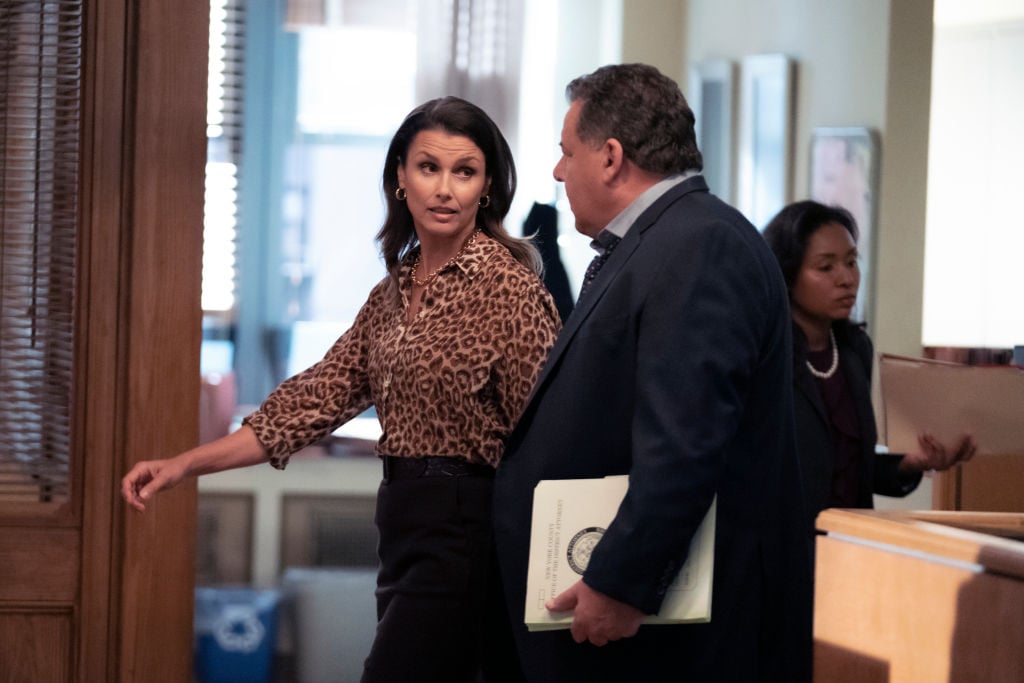 Anthony was caught in a dangerous situation in the episode "Bones to Pick." That's because he was angry a burglar was back on the street because of a new law where he didn't need to make bail. The burglar wasn't afraid to insult Anthony leaving court.
Erin tried to talk him down, but he decided to follow the burglar. In the end, he was shot but thankfully he was wearing a vest. Erin was still not happy with him.
"I told you to stay away from there. I told you to stand down!" she yelled at him as she hit him in his hospital bed. Anthony apologized but many fans found the exchange kind of touching given it shows how much they care about each other.
Fans debate whether Erin and Anthony should become a couple
Erin and Anthony definitely are a great team working together. They call each other out when they're being stubborn or making a mistake. Some fans think this could lead to something more between them.
"I'd love to see Erin and Anthony get together as a couple! He has always appreciated her, idolizes her and looks out for her," one fan tweeted. Another fan tweeted, "When are you going to make them a couple? They sure fight like one The hubby & I would be happy if you paired these two romantically.I mean,why not???"
However, not everyone agrees that the coworkers should go beyond friendship. "I enjoy their friendship! They support each other but also call each other out when needed. It's a good dynamic. I'd do not see a romantic spark between Erin & Anthony like some others do, though. #BlueBloods," one fan tweeted. Another fan tweeted, "Nooooooooooo! Anthony, for lack of a better word, not in her league. Good working partnership, but anything is 'ugh.'"
It looks like Blue Bloods fans are torn over this one. Time will tell if anything romantic actually builds between the two characters.