'Blue Bloods' Fans Hope Jamko With a Dog Is a Sign Things Will Change for the Couple
Fans of Jamie (Will Estes) and Eddie (Vanessa Ray) on Blue Bloods might be in for a treat this week. That's because the couple will be spending time with a dog. A photo was released teasing the episode. Find out what fans have to say about it and their hopes for the future.
Fans aren't happy with Jamie and Eddie's story on this season of 'Blue Bloods'
Last season ended with Eddie and Jamie's wedding. This season started with them figuring out their new life together.
They now work opposite shifts. They also argued about chores, work, and money. Fans haven't been thrilled about this and shared their disappointment on Twitter. However, this new episode seems to have a very different story for them.
They will consider keeping a stray dog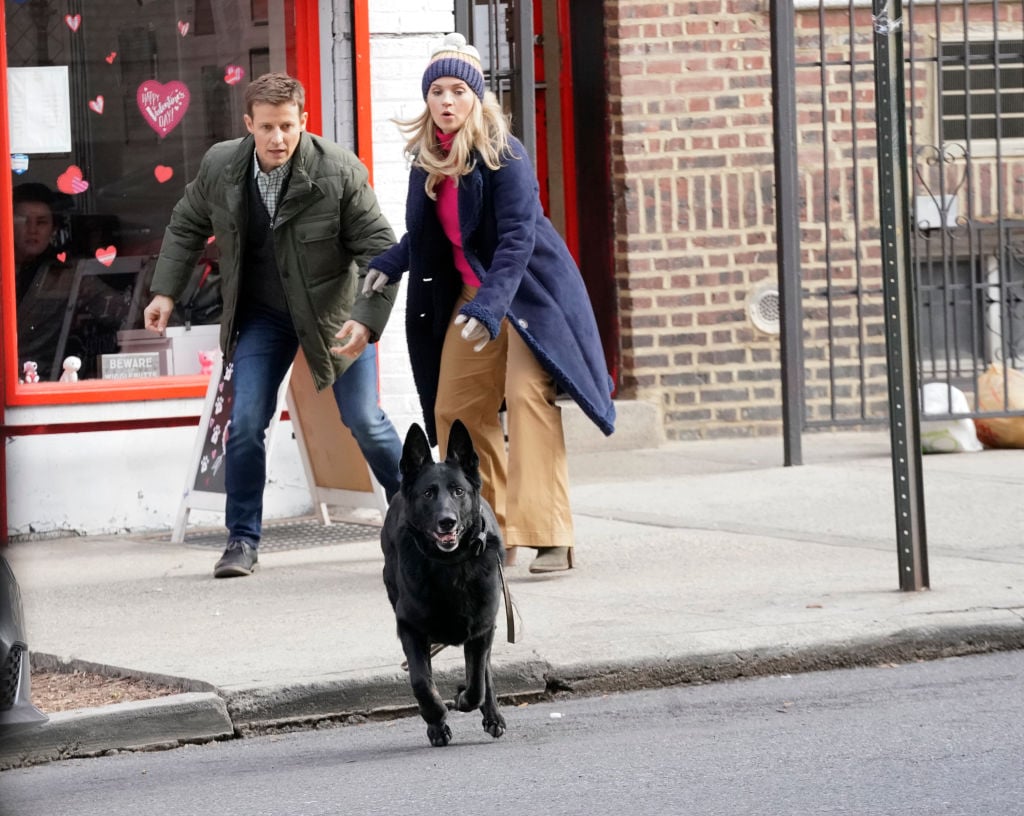 A new photo was released showing the couple accidentally losing their grip on the leash of a dog. The show's official Twitter account captioned it with "Could a furry friend be in #Jamko's future? Find out in Friday's all-new #BlueBloods."
TV Insider previously revealed the stories of March 13's episode, "The First 100 Days." The couple will reportedly argue about keeping a stray dog that helped them find a crime scene.
This is exciting given the couple won't be having a baby any time soon. "They are crazy about each other, but there's a lot they have to deal with and sort out," Ray told Hollywood Life. "I'm the worst keep of secrets, so no, I don't know if they're going to start a family soon, but it's something they talk about a lot."
Their dedication to their jobs seem to be the reason for this. "Eddie and Jamie fell in love being equals, and one or both of them would have to step back from a bit of their career that they love so much [when they start a family]," she said. "There are days where they say, 'Yes, of course we're going to start a family.' And then there's days where she goes, 'I don't think I could give this up so casually.' It's interesting to see them play around."
Fans are hoping this is a sign
This season the couple has been facing some hard situations. Fans are wondering if this will lead to some sweet moments.
"I hope more screentime and less bickering is in #jamko's future!!!! #bluebloods," one fan tweeted. "Plus more screen time together for them. Please," another fan added.
Fans generally seem excited about the idea of the Reagans getting a pet. One fan tweeted, "It should be interesting for a big family like the Reagan's [sic] I'm surprised they never had a dog on the show. They should adopt a dog as a storyline. They find a animal shelter & they find a beautiful doggie in need of love they adopt it."
There will also be other dramatic moments in the new episode. Erin (Bridget Moynahan) will survive a car crash and her ex, Jack Boyle (Peter Hermann) will make an appearance. Frank will confront Mayor Chase (Dylan Walsh) and ask him for more cops. He then threatens to publicly talk negatively about him when Chase says no.