'Blue Bloods' Fans Are Torn Over Danny and Baez's Feelings for Each Other
Danny Reagan (Donnie Wahlberg) has been single for some time on Blue Bloods. It looks like he might have feelings for his partner, Maria Baez (Marisa Ramirez), now, and fans are torn over it.
'Blue Bloods' Danny and Baez have been partners for years
Danny Reagan (Donnie Wahlberg) used to have Jackie Curatola (Jennifer Esposito) as his partner on the job from season 1 to 3. Jackie decided to take a leave of absence once she realized work took over her life, and she wanted to find good people in her life.
In real life, the network announced Esposito asked to change her schedule. "Jennifer has informed us that she is only available to work on a very limited part-time schedule," the statement claimed, according to The Hollywood Reporter. "As a result, she's unable to perform the demands of her role, and we regretfully had to put her character on a leave of absence." 
The statement added, "She is a wonderfully talented actress, and we hope that she will be able to return at some point in the future." It didn't take long for the show to find her replacement.
Danny then had a few partners before sticking with Baez, who joined the show in season 3. The detectives are seen solving cases in every episode. 
Danny and Baez are starting to have feelings for each other
Danny's wife, Linda (Amy Carlson), died a few years ago. He's been focused on raising his sons and work since then. But now it looks like he's ready to express his feelings for Baez.
"More Than Meets The Eye" shows Danny and Baez continuing to hunt down a serial killer. Baez acts more like Danny throughout the episode by going into dangerous situations on her own. She catches the killer, but Danny asks her never to go on her own again. She asks why since he does it all the time. "I don't want you to be like Danny Reagan," he tells her, then says, "Because I like Maria Baez."
The next episode, "For Whom the Bell Tolls," starts with Baez finding a dead man in her front yard. She actually dated him, and things got awkward when Danny asked her about it.
The episode ends with Baez telling Danny she felt awkward about telling him she's dating for some reason. That's why she didn't tell him. He admits he also felt awkward. "Maybe that can just be enough for now," Baez says.
'Blue Bloods' fans torn over Danny and Baez's feelings for each other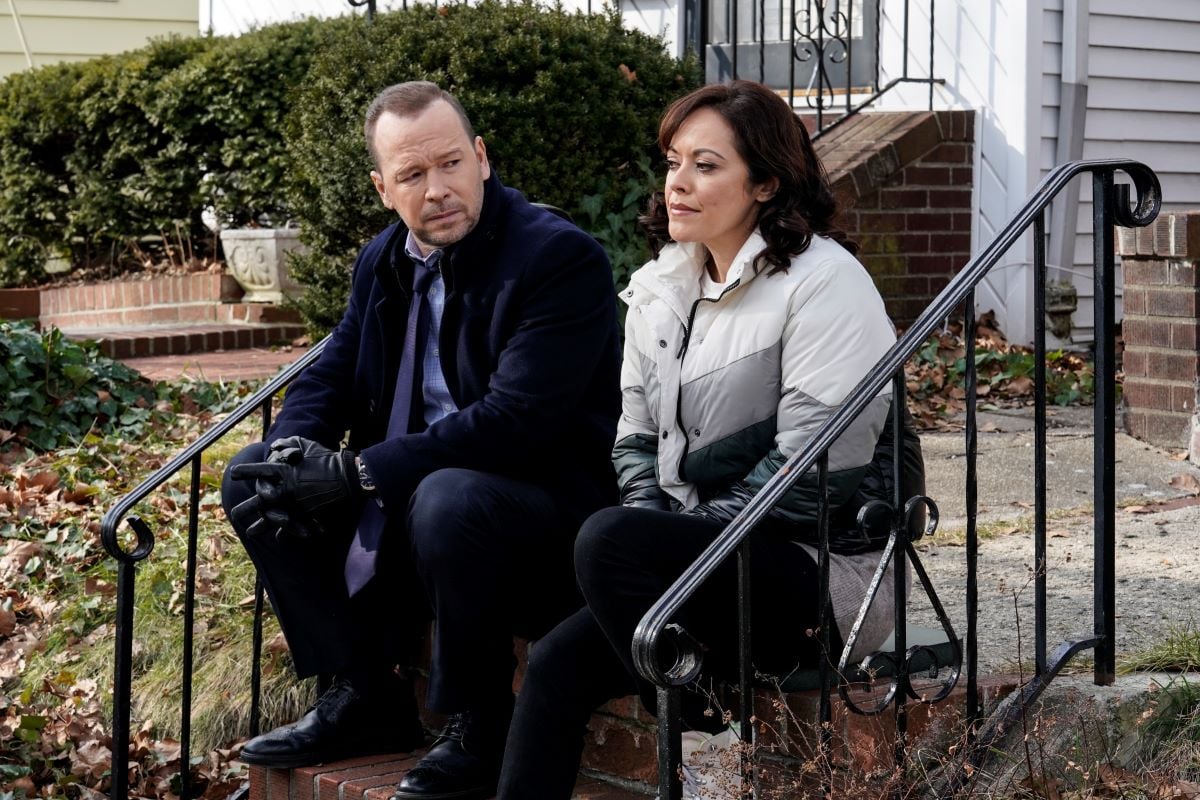 The fandom isn't united when it comes to Danny and Baez falling for each other. The reactions to the newest episode are mixed. The show's Instagram account posted a picture of Danny and Baez sitting together outside her home. The comments show fans are all over the place with this change.
"Please no! Please don't make them a couple. A ham and cheese sandwich has more chemistry!!! I love this show too much. I have to [sic] many years invested. I really want to see this show through the end," one fan wrote.
"I love them as partners but NOT as love interests … NOOOOOOOO! We already had jamko as partners for years and falling in love and that worked… don't repeat the same storyline, please…" another fan wrote.
Of course, there are some fans who are all for the partners falling in love. "I wish these two would hook up so bad," one fan simply wrote. Another fan wrote, "I aboslutely [sic] think these two are cute together as [a] couple."
It looks like some fans think Danny and Baez getting together would just be repeating history. But others are enjoying watching their work relationship possibly turn into something more.