'Blue Bloods': Frank Struggles After Joe Hill's Secret Is Discovered
This week on Blue Bloods, Frank (Tom Selleck) is having a tough time after Joe Hill's identity is discovered. Here's what Showbiz Cheat Sheet knows about the upcoming episode. What happens during 'Blue Bloods' Season 11, Episode 3 During season 11, episode 3 (titled "Atonement"), we'll see what happens after the public learns that Joe …
This week on Blue Bloods, Frank (Tom Selleck) is having a tough time after Joe Hill's identity is discovered. Here's what Showbiz Cheat Sheet knows about the upcoming episode.
What happens during 'Blue Bloods' Season 11, Episode 3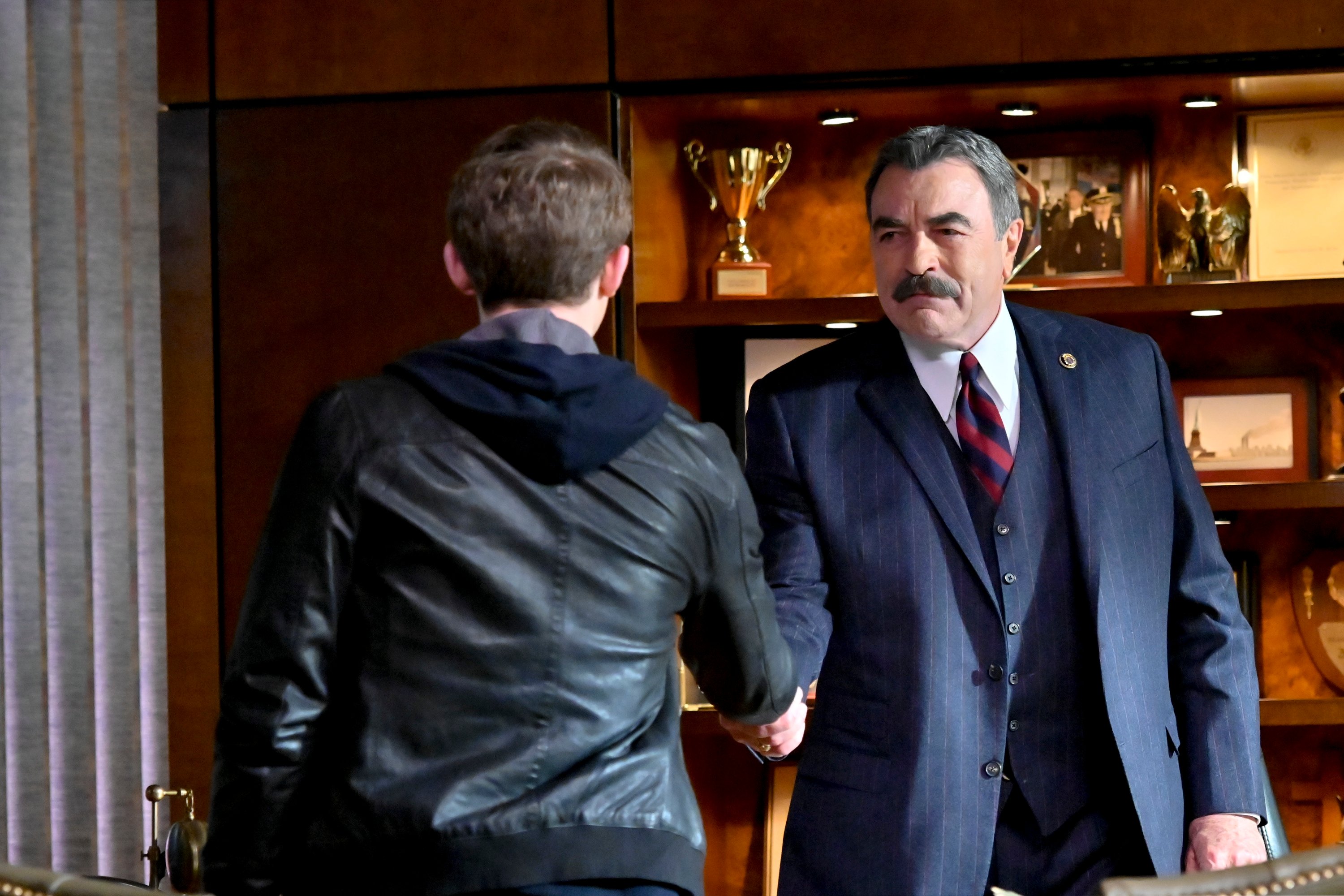 During season 11, episode 3 (titled "Atonement"), we'll see what happens after the public learns that Joe Hill (Will Hochman) is related to the Reagans. Now that the secret is out, it will have a major impact on the families involved.
Frank is having a hard time because he wants to protect his grandson from the sudden attention. Joe says he doesn't like having the spotlight on him, not even during birthday parties. "It feels like all the attention is on me just for being me," he told Frank during episode 3 (titled "In the Name of the Father").
Frank understands exactly what Joe is going through because his late son, Joe Reagan, went through the same thing. Frank mentioned during episode 3 that his son initially wanted to be called Joe Connor when he was going into the police academy (Connor is his middle name). However, he later decided to face the music and use the Reagan name.
"I guess he felt that as a cop, he would either be standing in our shadows or in the spotlight," explained Frank. Frank wants to help Joe, but he's trying his best to keep his distance and let him fight his own battles.
Danny and Jamie clash
A woman visits the precinct about her father being pushed down the stairs, but Jamie doesn't pay attention. The plot thickens when Danny tells Jamie more details about the case. Jamie becomes upset because he brushed the woman off when she came into the precinct earlier. Jamie said he didn't take her seriously and he didn't even write up a report.
When Jamie asked the woman how she knew someone pushed her father down the stairs, she said God told her. However, the woman's story checks out. Danny let Jamie know that there is video evidence of the man being pushed. Since the man died, it's now a murder case.
Danny and Jamie approach their work in very different ways. This becomes evident when the brothers are called on to solve the man's murder. It's no secret that Danny has an issue with authority. Jamie, on the other hand, prefers to follow the rules. Danny generally clashes with everyone he works with, so this isn't too much of a surprise.
Frank and Erin talk about Joe Hill
Frank is concerned about Joe now that everyone knows he's a Reagan. During lunch with Erin, he expresses his concern. Since he doesn't know Joe well, he can't really tell how he's taking the sudden attention.
Frank is worried about how this will all turn out. Will Joe crack under the pressure? Will he go back to being cold and distant? We wouldn't be surprised if Paula storms down to Frank's office again and blames him for what happened.
Blue Bloods airs Fridays on CBS at 10:00 p.m. Eastern Time.
Follow Sheiresa Ngo on Twitter.