'Blue Bloods': How Danny and Baez's Relationship Is 'Very Similar' to Donnie Wahlberg and Marisa Ramirez
Family is important on Blue Bloods, but so are partners on the job. Danny (Donnie Wahlberg) and Baez (Marisa Ramirez) have been working together for years. But how do the actors feel about each other in real life? Wahlberg once explained why their characters work so well together.
Danny and Baez have a strong relationship on 'Blue Bloods'
Fans get to see Danny and Baez solve a case together on Blue Bloods in ever episode. Sometimes they talk about their personal life with each other, but their relationship has mostly been about business.
However, season 11 started with them taking a big step. Baez got hurt on the job after she pushed down a flight of stairs. She called out Danny for taking his close family for granted since he argued with Erin (Bridget Moynahan) before the incident. The episode ended with Baez joining the Reagans for family dinner.
This was a huge moment since only family goes to the dinners. But Baez fit right in and the family gladly welcomed her.
Donnie Wahlberg's relationship with Marisa Ramirez is similar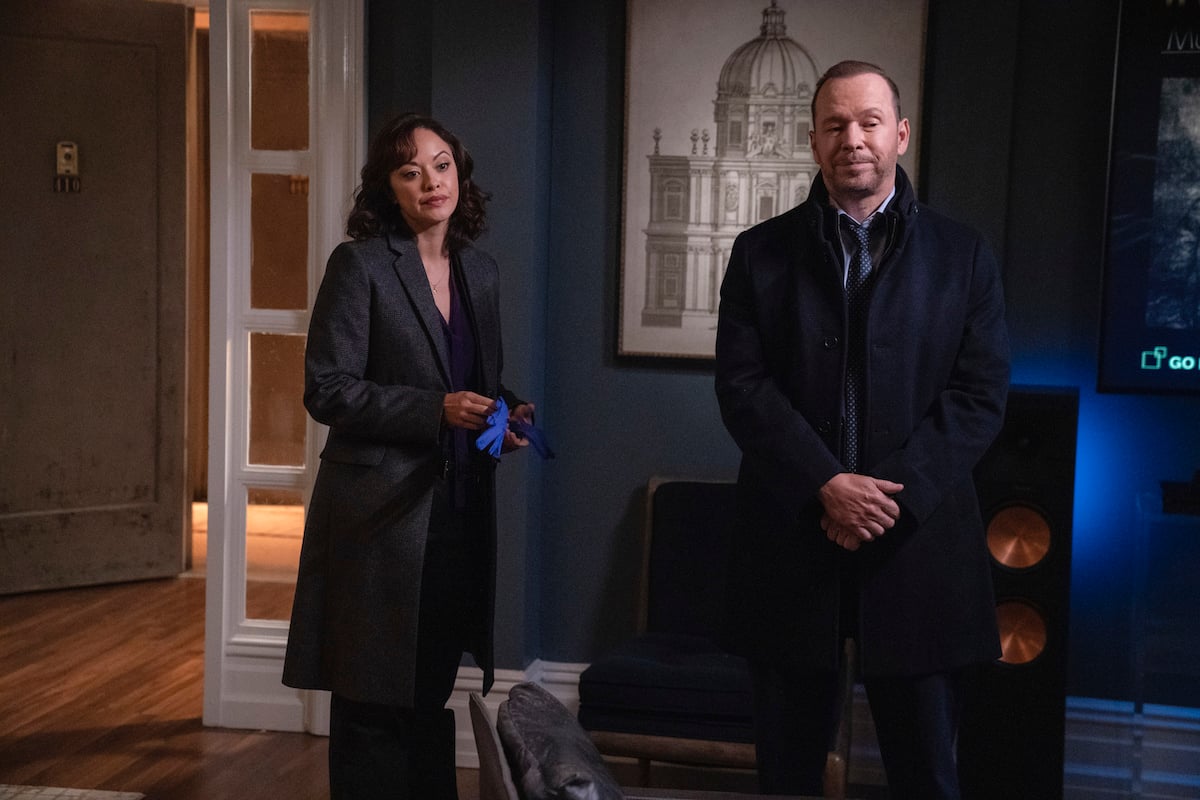 The actors often work closely given their characters are partners on the job. Wahlberg said his relationship with his co-star in real life isn't that different.
"The relationship on-screen and off is very similar," he told TV Insider in 2019. "Why Danny and Baez work so well together are the same reasons why Donnie and Marisa work so well together."
He continued, "A lot of respect for each other. We communicate, we listen, and we're patient with each other."
Baez isn't Danny's first partner. Ramirez joined the show in season 3. The actor talked about when she first started and why the actor is a good fit.
"Marisa's very respectful of me and when she came onto the show after a few years, she was very respectful of my position in the show, but I also respect what she brings to the show and I encourage her to use her voice and speak up and really own her place on the show as well," he claimed.
Wahlberg went on to say that "camaraderie" makes it onto the screen. That's why Baez and Danny work so well.
Some fans hope Danny and Baez will fall in love
Danny wife, Linda (Amy Carlson) died a few years ago. Fans are starting to hope the detective will fall in love again.
Some of them think Danny and Baez might become a couple like Eddie (Vanessa Ray) and Jamie (Will Estes). She's definitely the closest woman to Danny, but it's unclear if it'll happen.
"They've definitely been flirting around with Danny," Wahlberg told Showbiz Cheat Sheet in 2019. "I think his connection with Baez has been growing. I think the medium Maggie played by Callie Thorne has been building an interesting relationship with Danny."
He still claimed he didn't know where any of Danny's relationships are heading. We just know that Danny and Baez are good friends. That's partially because Wahlberg and Ramirez are also close in real life.