'Blue Bloods': Luis Delgado Will Cross Paths With Danny Reagan Again
Luis Delgado (Lou Diamond Phillips) is going to cross paths with Danny Reagan (Donnie Wahlberg) again this season of Blue Bloods. Last time we saw him he was behind bars for being involved in the cartel that killed Linda Reagan (Amy Carlson.) Find out how he'll return and more.
Linda Reagan was killed by the cartel on 'Blue Bloods'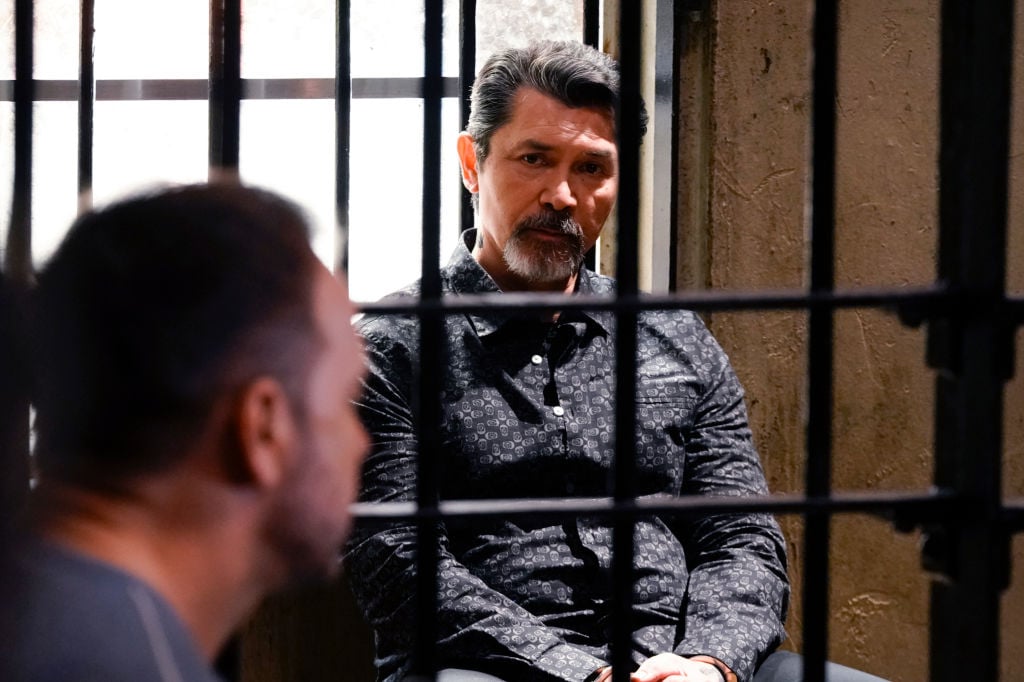 It was believed that Linda Reagan was killed in a helicopter accident years ago. The truth was she was murdered by the cartel by Jose Rojas (Danny Trejo) specifically.
Danny had an unlikely ally with Luis Delgado. "We both want Jose Rojas. He's responsible for the murder of my wife and of yours," he told Danny after he was arrested in the episode, "Common Enemies."
The police managed to catch Jose and the episode also ended with Luis behind bars. Luis didn't have much hope that Jose's arrest will stick and thought Danny should have killed him instead.
"I hope that consoles you when you're watching the trial and all his high-priced lawyers paint him as the victim," the criminal told the detective. Danny said back, "He'll never get out of prison."
It's been revealed that he will appear again
We will see the criminal again in the Jan. 10 episode, "Where the Truth Lies." According to Carter Matt, Luis says he'll only testify against his former cartel if his sons are protected. Danny and Baez (Marisa Ramirez) will probably have to make this deal happen.
The actor confirmed the news on Twitter. Phillips tweeted, "It's true! Special thanks to #ProdigalSon and @jasonsokoloff for cutting me loose long enough to drop in on my buddy @DonnieWahlberg and the rest of his fabulous #BlueBloods family!"
Blue Bloods fans are excited about the upcoming episode. "So pumped! I love your Character! You and Donnie have awesome chemistry!" one tweeted in response to the actor. Some were worried about what this could mean for Phillips' other shows.
"They can't keep you! We need you back at #prodigalson," one fan wrote. He tweeted back, "No worries! Staying put. Just a little field trip!"
Will we see Maggie Gibson again?
Danny had to face what happened to Linda by finding her murderer. But Maggie Gibson (Callie Thorne) also has pushed the detective to move on in other ways.
The psychic has given him a message from Linda. She also sat him down to tell him that he has to let his past go. That meant taking off his wedding ring. Maggie and Danny have kept in touch to solve more cases, but Baez isn't thrilled about it. She accused Maggie of interfering with his life teasing a love triangle.
"I think his connection with Baez has been growing," Wahlberg told Showbiz Cheat Sheet. "I think the medium Maggie played by Callie Thorne has been building an interesting relationship with Danny." He added, "So I don't know what the future holds. I don't look beyond the script that I'm doing right now."
It would make sense for Maggie to appear again given she's another person who has pushed Danny into moving forward. Fans will have to wait and see how the new episode plays out on Jan. 10.