'Blue Bloods': Marisa Ramirez Knew She'd Cry Talking to Tom Selleck
One of the biggest stars in the Reagan family is Tom Selleck, who plays Frank Reagan. So it's not surprising that many cast members of Blue Bloods have talked about being star struck by him at some point. Marisa Ramirez, who plays Maria Baez, revealed why she knew she'd cry talking to him while filming a recent scene.
Marisa Ramirez filmed with Tom Selleck in 'Blue Bloods' Season 9
Season 9 ended with Eddie's (Vanessa Ray) and Jamie's (Will Estes) wedding. We got to see most of the cast in the same room which is rare. Donnie Wahlberg, who plays Danny Reagan, was asked who would be his date for the event.
"I would think his partner, Maria Baez (Marisa Ramirez)," he told TV Insider. "They're so close and she would want to be there with him, knowing how emotional it will be without Linda (Amy Carlson)."
Baez was seen as a guest at the wedding. But she wasn't there for the rehearsal dinner. So Baez didn't get to eat with the family until later.
Maria Baez had dinner with the Reagans on 'Blue Bloods'
The Reagans usually only have family over on Sunday. But that changed in "Triumph Over Trauma."
Baez and Danny tried to find a killer together. But instead they got trapped in a basement together, and Baez got hurt. They were later rescued and Danny invited his partner over for dinner.
The Reagans gave her a warm welcome by applauding her for putting up with Danny. Ramirez also got to talk to the cast members when they weren't filming.
Marisa Ramirez knew she'd cry talking to Tom Selleck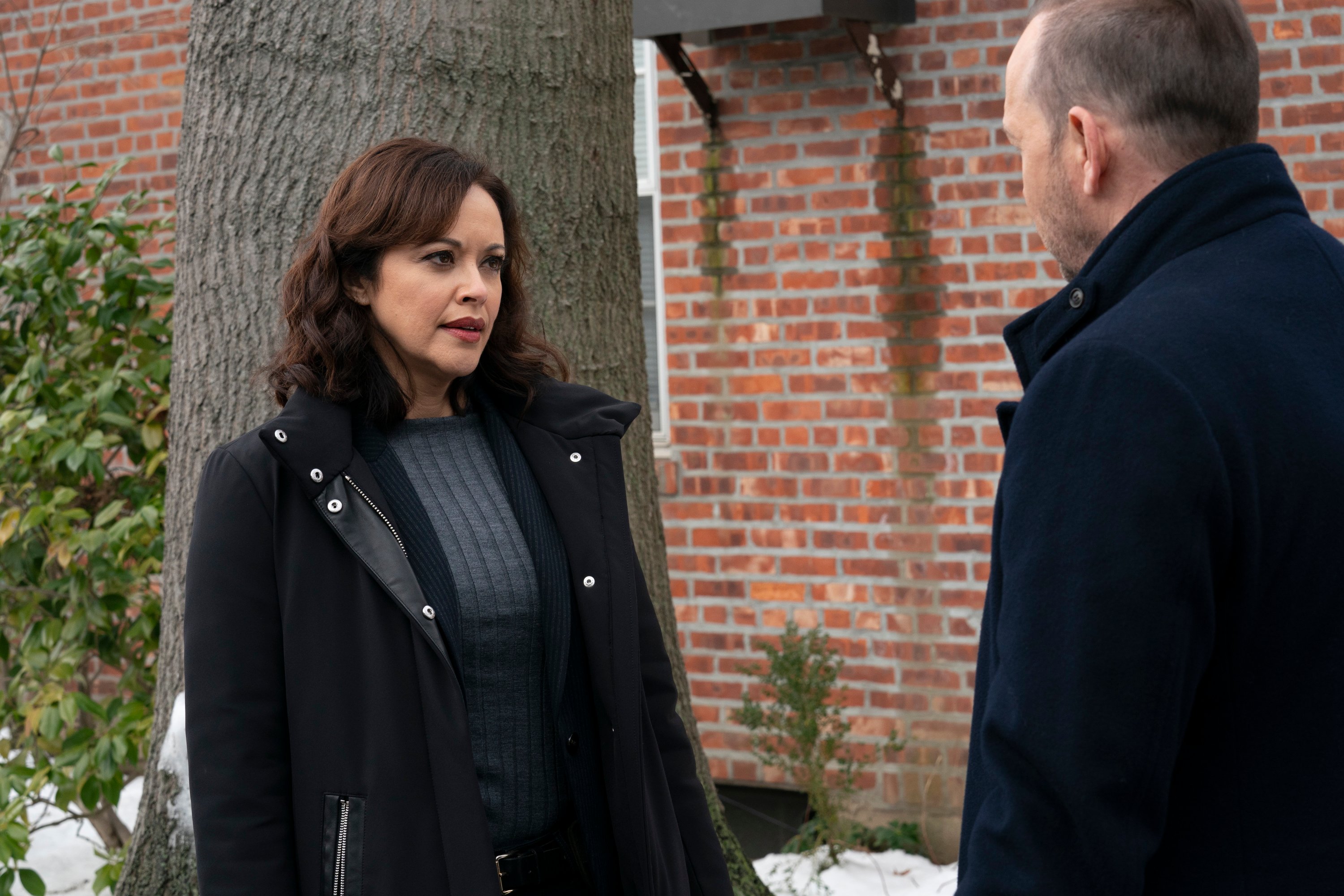 Ramirez doesn't normally get to work with Selleck. But she finally got to eat with him in the episode. She told PopCulture.com filming the scene was "emotional" for her.
Her grandmother, who was a big fan of the Magnum P.I. star, died two weeks before she filmed it. Ramirez said that was on her mind while filming with him.
"I so badly wanted to say something to Tom about the fact that, 'My grandmother was such a huge fan of yours,'" she said. "But I knew I wouldn't have been able to get out the words without crying." 
Ramirez wanted to be invited back so she didn't want to get emotional. "But I kept thinking about her while I was there," she said. "And it almost made me feel more comfortable and calm, and just was able to really take in the surroundings and the warmth and the fact that they welcomed me there." 
The actor added, "But again, the fact that she wasn't going to be seeing that episode, it was touching a rough spot in my heart." It sounds like the actor had her own family on the brain during the family moment for the show.