'Blue Bloods': Marisa Ramirez Says Dinner Scene Was 'Nerve-Racking' Without Masks
Blue Bloods actors have previously talked about being nervous for their first dinner scene. But Marisa Ramirez, who plays Maria Baez, revealed her scene was nerve-racking because it was filmed during the COVID-19 pandemic. 
'Blue Bloods' Season 11 doesn't show the characters wearing masks
Season 11 started with acknowledging the COVID-19 pandemic by having Eddie (Vanessa Ray) find the body of a man who died during the pandemic in "Triumph Over Trauma." But the show's events take place after the pandemic so the characters don't wear masks despite it being filmed during it.
"On the other hand, on a purely practical level I don't want to watch masked actors, particularly," showrunner Kevin Wade told Deadline. "Now, I've seen other shows that are doing it and it feels, on the one hand, true and on another hand, anachronistic."
Wade also addressed how those big dinner scenes look during the pandemic. "Everybody's wearing masks on set all the time except when the actors are filming. Obviously, they're not masked then. Everybody else is," he said.
"That being said, I just thought people seem to have hung their hats on that family dinner scene for a long time," the showrunner continued. "It wasn't something I wanted to mess with."
Maria Baez had her first dinner scene with the Reagans
The same episode also showed Baez and Danny (Donnie Wahlberg) on the hunt for a killer. Someone pushed Baez down a flight of stairs and trapped them in a basement. 
Danny and Baez had an emotional conversation down there about his family. They were later rescued and Danny made the kind gesture of inviting her to family dinner. 
This was a huge deal given friends aren't normally invited. Baez joined the show in season 3 and managed to finally break bread with them.
Marisa Ramirez's family dinner scene was nerve-racking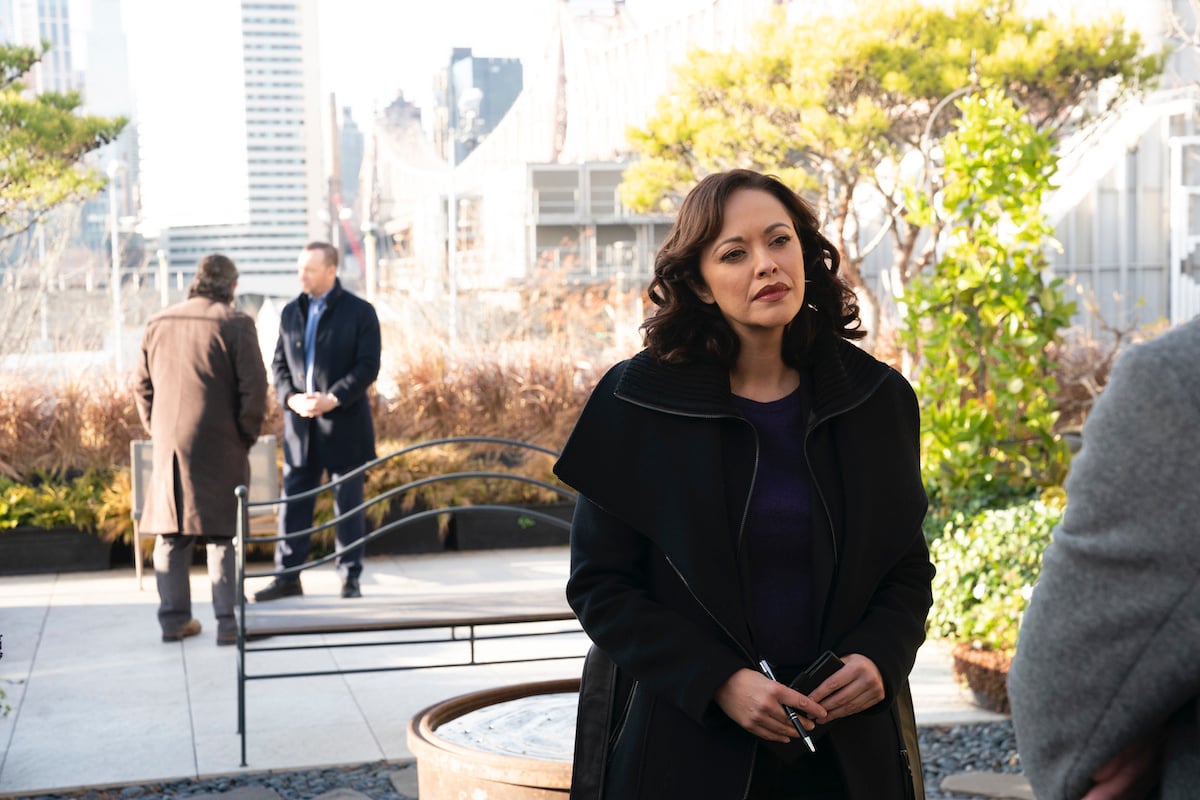 Baez finally got to sit down at the Reagan dinner table. Ramirez admitted to PopCulture.com that it wasn't easy. 
"It's eight years I've been there now, and it was actually very emotional for me on so many levels, which I didn't share with anyone at the time," she said. This is because they filmed the scene during the COVID-19 pandemic.
"Because first of all, it was emotional and a little nerve-racking for me, as it was the first time I was in a room with so many people without masks on," she said. But she noted everyone was tested before they were in the room together.
Ramirez finally got to work with cast members who she doesn't normally see. But there is still one actor she wants to work with more often, which is Abigail Hawk, who plays Abigail Baker.
"I think we sat with each other at [Jamie (Will Estes) and Eddie's] wedding, and we just had such a good time together," Ramirez said. "And there was that female energy that we were craving more of together. We text and we talk every now and then, but it would be really nice to kind of be able to spend the day with her again at work."
Hopefully, Ramirez will get her wish. For now, she's on the shortlist of people who ate at the Reagan family dinner table.